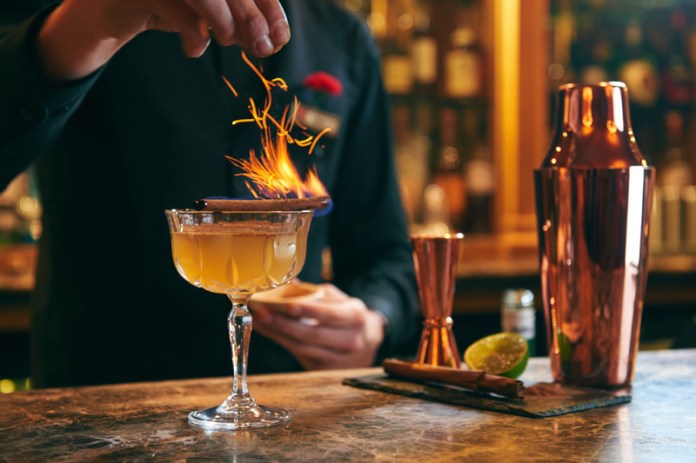 If someone told us to sip on cocktails all day and all night long, how many of us would be totally up for it? We know we would be! Come on, summers are on their way and it's time to bid adieu to the good, old Rum and make way for cheery cocktails!
BTW, our city has some amazing spots which serve really hatke cocktails. Yup! We're talking wine with coffee, Kala Khatta with vodka and what not!Don't believe us? Scroll down and check out where you can get these innovative cocktails in the city!
1. Kala Khatta at Monkey Bar
Yes, we know most of you have been here and are super excited to know which drink we are talking about! So, without any further adieu, let's get to it immediately. The Kala Khatta cocktail here is delish and will send down a burst of flavours down your tongue. It's the same Kala Khatta flavour which we all have had as ice-golas as kids. Yuss! You can either choose a base of rum or vodka with this one.
Where: Local Shopping Complex, Vasant Kunj Marg, Pocket B-C, 6 & 7, New Delhi
2. Hendricks G&T with Rose Petals & Cucumber at Town Hall
If you love Gin and Gin'O clock is your forever mood, then head to Town Hall and try this rose petal and cucumber-infused gin cocktail. Trust us, there is nothing better tha you would have tasted. This drink is perfect to beat the Dilli heat. Try their batter fried prawns with this drink and let the conversations with your gang flow!
Where: Khan Market, New Delhi
3. Elder Fashioned with cherry smoke & Jim Beam at Lock & Key
Whiskey lovers, we got your back too. Jim Beam has to be one of our favourite bourbon whiskeys of all times. And mix that up with some elderflower with the taste of smoked cherries and voíla, you got yourself a lip-smacking drink. And trust us, this ain't no ordinary drink! Best goes with a nachos or hummus platter.
Where: 1st Floor, Cross Point Mall, DLF City IV, Sector 28, Gurugram
4. Passionfruit & Gondhraj at Serai, Olive
Sounds interesting? Tastes equally interesting as well. Straight from the exotic region of Peru, this culinary tequila-based cocktail is so delicious that you will not realise when you have gulped around 5 of them! It is tangy in taste and is served with a little platter of PINTXO sandwich with the chilli and cheese that gives this cocktail a whole new taste.
Where: One Style Mile, Haveli 6, Kalka Das Marg, Mehrauli, New Delhi
5. Tropical Mojito at Irish House
This mid-winter weather and rum has given us the feels! And if you are someone who loves drinking rum in this season, then rush to the Irish House. They do a Tropical Mojito like no one else. And as the name suggests, this cocktail is also a summer favourite. That's what we call a double whammy! Best goes with the headless chicken and veg platter.
Where: Epicuria, Nehru Place, New Delhi
6. Mint Julep at PCO
TBH, we cannot ever say no to any drink that has mint in it. Isn't it absolutely refreshing on a hot summer day? And that too at a cocktail bar that is internationally acclaimed for their array of collection. Head over to PCO for a fun night out with your friends and enjoy the amaze music and vibe while you sip on their Mint Julep cocktail. Don't forget to try their scrumptious sandwiches.
Where: D-4, D Block Market, Vasant Vihar, New Delhi
7. Coffee Sangria at Perch
Coffee AND Wine? YES, PLEASE! No one does sangrias as well as Perch and this definitely tops our list. A unique flavour of coffee with wine in the form of a sangria, Perch has been a favourite for all cocktail lovers, and for the right reasons. Also, they have stunning interiors and a great view outside that you can enjoy while sipping on your cocktails. Weekend plans sorted? We think so too.
Where: 71, 1st Floor, Khan Market, New Delhi
Feature image source: Magic Cocktails