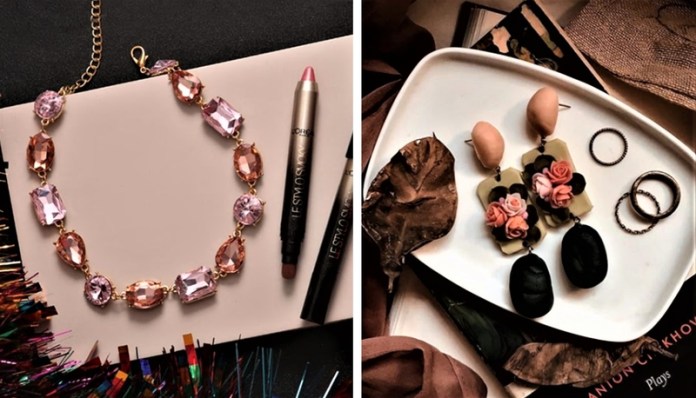 "A girl can never have enough jewellery". Do you also resonate with this statement? We sure do! Donning a stunning piece of jewellery is probably the easiest way to jazz up a bland outfit or to prep up for a party look. Right? Thankfully, you don't have to spend big bucks to get hold of some really pretty, daily wear jewellery now. Why? Well, because we got you the best bunch of homegrown brands which have some stunning jewellery pieces you can adorn.
QuirkSmith
Are you looking for silver accessories or quirky nose pins or rings? Then look no further than this brand called QuirkSmith. They have earrings, brooches, finger rings, rings with various intricate patterns. True to their name, they have really funky and quirky pieces, most of which are in the shape of funky text (you can see it in the pic above). The brand was started by a sister duo from Bangaluru their ideology behind the brand is 'to be you'. We couldn't agree more!
2. Bhavya Ramesh
Are you a boho art lover? Then this is one homegrown brand you should definitely check out! It is inspired by banjaaran culture and the pieces have a really boho vibe about them. Each of the statement pieces are unique and you won't find it anywhere else. Their pieces too are really offbeat, so make sure to keep your outfit a tad bit simple while teaming it up with their jewellery.

3. Pipa Bella
Pipa Bella has got to be one of the most popular brands out there when it comes homegrown jewellery. Their collection is quirky, unique and has stunning designs, from earrings to necklaces to rings or even personalised jewelry. Yes yes, you can personalise your piece with a design of your choice or even with your name. Sounds super cool right?
4. Myrtle
Bored with silver or junk jewellery? Or are you trying to look for something totally unique when it comes to your jewellery collection? Then, Myrtle is your one-stop solution! Specializing in handmade jewellery made with clay (yes!), they have gorgeous pieces which look straight out of a Parisian dream! Whether you are into Indian traditional wear or western wear, their unique pieces will gel well with all of your outfits. Also, you'd defo get the personalised touch here, since the owner of the brand, Saptaparni Mahalanabish, makes each and every piece by hand. Ah-mazing!
5. Dhora
If you are the type of girl who likes to keep it simple and classy, then you should defo check out Dhora. One look and you will instantly fall in love with their collection! The mastermind Aavriti R Jain has conceptualised her designs inspired from Milan and Rajasthan's artwork. Yes, that's precisely why you can see a mixed cultural vibe in her pieces. They have Chand Balis, Ashfari necklaces with beautiful tassels, and much more!
6. Dulhanama
Who all loves Floral jewellery? We can see a lot of hands going up! Dulhanama brings to the table some gorgeously handcrafted accessories with both artificial and real flower-based accessories. The label itself describes it that it's for the bride-to-be. So if you are heading for your own or a friend's big day, make sure you have some pieces in your collection from this brand.
(Featured Image Source: Rock Salt)