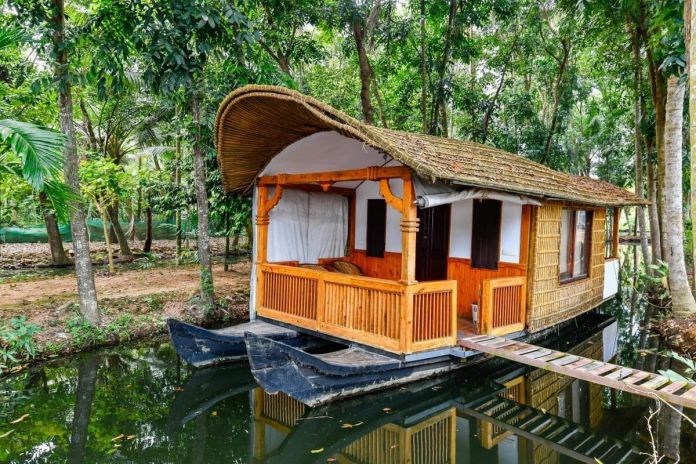 People, if you are looking for your next vacation destination, then we have a surprise for you. How would you like to spend a few days, away from all the noise, just you and your partner, literally floating on Kerala backwaters? Fancy, right? Yes, there's a floating cottage called Canoe Ville near Punnamada Lake in Kerala. And it's the perfect spot for an intimate getaway with your SO. Scroll down to know more about this floating cottage.
Cottage Near The Punnamada Lake
Image Source: canoeville.com


Image Source: canoeville.com
Located 5 km North of Alleppey, Canoe Ville offers you an ambience just like a small Kerala village. Facing the Punnamada Lake, this fantastic property is a floating canoe cottage. It looks like a smaller version of a houseboat and floats on a small inland canal. If you are someone who is looking to opt for something truly immersive and different, then you should book a stay with your loved ones here.
Not just stay, the place is best known to host weddings, exhibitions, family gathering functions. In every aspect, this property promises you a different perspective of Alleppey.
It's Even Got Its Own Verandah
Just a few meters from the lakeshore, this canoe cottage floats in a small inland canal. Designed like the version of a houseboat, it features rustic decor with all the necessary facilities. Apart from an air-conditioned bedroom, the cottage has a verandah where you can admire the scenic surroundings. The facilities include a fully functional bathroom with all the necessary and useful amenities. 

Image Source: canoeville.com


Image Source: canoeville.com
Talking about the activities and all the adventures, the Canoe Cottage is close to the Alleppey's backwaters, so you can opt for activities like fishing, canoeing and backwater tours. You can walk around hand-in-hand with your partner admiring the scenic views nature has to offer. And if you're craving for signature Kerala meals, you ask them to serve you one! 
There's A Conference Hall Too!
Just next to the cottage is a conference hall too. So, if you are planning to organize a business conference or off-site for your employees, you should check this out. Built-in the midst of green and watery surroundings, it is suitable to host meetings, family gatherings, exhibitions and seminars.

Image Source: canoeville.com


Image Source: canoeville.com
If you love travelling to Kerala, then stay at this pretty floating cottage should be on your bucket list for sure. Go and book your spot and relax with your loved ones here!
Where: Choolakadavu Road, Punnamada, Kottankulangara Alappuzha, Kerala
(Featured Image Source: canoeville.com)