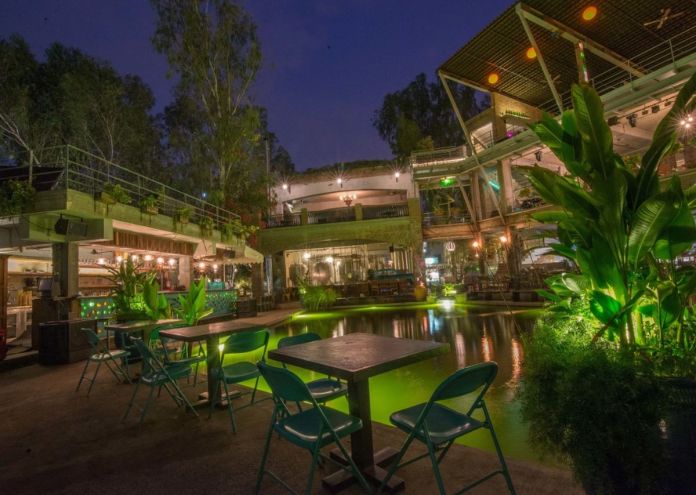 How does the idea of dancing away with a drink in hand after a tiring week sound to you? If you are nodding your head for some swaying to some upbeat music and some drinks, then we have something that will be of your interest. We have curated a list of 9 best nightclubs in the city where with your gang you can head for clubbing. Be it weekday or weekend, pick a nightclub of your choice and go ahead to make the most of the night with your gang.
1. NoLimmits Lounge And Club

Image Source: Zomato


Image Source: Zomato
Known for their large dance floor, NoLimmits Lounge And Club is one of the best places to party with your gang. You can dance on hip-hop, commercial and trippy Bollywood songs and let your hair down. Once you get tired, take a break and order their delicious looking cocktail while munching on their assortment of Continental, North Indian and Chinese cuisine. We are sure; your gang will love this place!
Where: 8, 2nd Floor, Allied Grande Plaza, Diagonally Opposite Garuda Mall, Magrath Road, Brigade Road, Bangalore
2. Glassy 2.0

Image Source: Zomato


Image Source: Zomato
It is one of the best night clubs in Bangalore, Glassy 2.0 is known for its quirky, vibrant ambience. The leather seating area with flashy lighting will surely give you a fantasy feels. When you are dancing at this flashy yet fantastic night club, we recommend you to take a pause and sip on their signature cocktails like Fire On The Rocks, Mai Tai and more. While sipping these cocktails munch on yummies like Crispy Corn, Mutton Takatak and more.
Where: 24-26, 414/80/2, Varthur Hobli, Outer Ring Road, Bellandur, Bangalore
3. Loveshack

Image Source: Zomato


Image Source: Zomato
Do you know why Loveshack is so famous? They are known for their LIT Karaoke nights. Whether you want to sing your heart out or dance the night away, it's always a good time at Loveshack. Also, their rooftop bar will give you all the chilled Goan vibes. The super enthusiastic crowd, foot-tapping music and gorgeous looking ambience is something to look here for. Drop here with your BAE and spark your romance!
Where: 541, 542&543, Amarjyothi House Building Cooperative Layout, Domlur, Bangalore
4. Vapour Pub & Brewery

Image Source: Zomato


Image Source: Zomato
Trust us, no matter what almost everyone ends up partying at Vapour Pub & Brewery on weekends. Spread across four floors, there's something for everyone like Pub quiz, Bollywood night, ladies night, hip-hop and retro night. Once you land in here with your gang, enjoy craft beers from their microbrewery, and the classic whiskey. So put on your party dress, heels and get ready to party!
Where: 773, HAL 2nd Stage, 100 Feet Road, Indiranagar, Bangalore
5. High Ultra Lounge

Image Source: Zomato


Image Source: Zomato
Located at the height of 430 feet above the ground, High Ultra Lounge is a place you should head to. Groovy tunes, free drinks, pan-Asian cuisine, you will mesmerize by the hospitality here. With a vibrant light dance floor and latest global chartbusters, you can dance all night with your gang here.
Where: 26/1, 31st Floor, Dr Rajkumar Road, World Trade Centre, Brigade Gateway Campus, Malleshwaram, Bangalore
6. Skyye

Image Source: Zomato


Image Source: Zomato
If you are someone who isn't afraid of heights, then Skyye is the perfect spot for you as you will be treated here with the city's skyline. Hit up with your gang to their Al Fresco space to dance till you drop and also be in sync with the colour changing underlit floors. And once you get tired to want to sit back and enjoy cocktails ranging from simple martinis to flaming cocktails at their circular bar.
Where: Uber Level, 16th Floor, UB City, Vittal Mallya Road, Lavelle Road, Bangalore
7. LOFT 38

Image Source: Zomato


Image Source: Zomato
It is one of the most popular clubbing spots in Indiranagar. With classy space, large dance floor, neon lighting, yummies and delicious drinks, the place will keep you up dancing all night long. Once you land in here, try their cocktail Bubbly Bangalore which has raspberry puree, vodka and sparkling wine. It's time to get the party started!
Where: 763, 100 Feet Road, Hal 2nd Stage, Indiranagar, Bangalore
8. Indigo XP

Image Source: Zomato


Image Source: Zomato
Indigo XP is a nightlife hub stop amongst partyholics! From Punjabi nights to Bollywood nights, all the party-goers will be treated with the full party mood. Treat yourself with spectacular cocktails, shots and yummy munchies with their gang. Just let your hair loose for that perfect weekend night here at Indigo XP.
Where: 5th Floor, 6th Block, Elite Building, Industrial Layout, Jyoti Nivas College Road, Koramangala 5th Block, Bangalore
9. Byg Brewski Brewing Company
Image Source: Zomato


Image Source: Zomato
Big Brewski Brewing Company will give you all those rustic feel with an open-air ambience and a vast lake in the centre. For all the performances, there's an amphitheatre sort of seating area. If you are a beer snob, there's Rauchbier, Stout, and Lager and more. Also, do try their signature cocktails such as Brewski Potion, and Gentleman's Lilac. We are sure; you will make a hell lot of memories here with your gang!
Where: Behind MK Retail, Sarjapur Road, Bangalore
(Featured Image Source: Zomato)