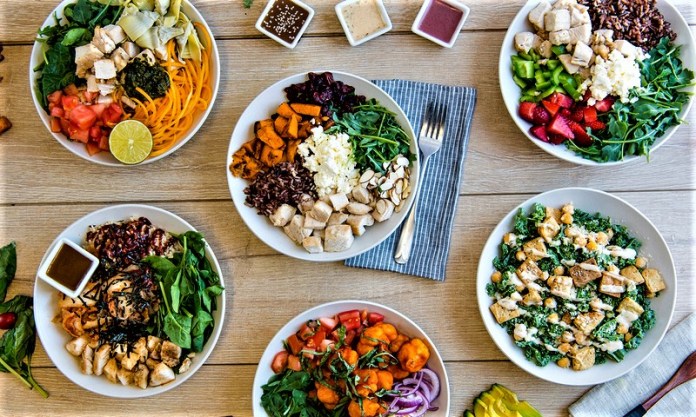 With the corporate culture comes the headache of ordering out food on a daily basis. How many of you can relate to this? Show of hands, please! We know how eating out from outside can become such a hassle and so many of us struggle hard to order healthy food online. Right? We know you know about Salad Days, Innerchef and what not!
But there are other pretty cool outlets too which you totally got to try RN!
Six pack kitchen

The name is quite self-explanatory, right? Well, even if you are not aiming for a six-pack, there's no reason why you shouldn't be including some healthy meals in your diet. The best part about them? Despite being in the health business, they don't have any boring food. From healthy subs & wraps to Tandoori chicken, to proper pre & post workout combos, they have a huge variety you can opt from.
Order: food delivery apps
2. Eat.fit

Part of the health and fitness parent company cure.fit, this one is the latest kid on the block which has gained popularity over a really short span of time. And that's probably because their food tastes just like a healthy homemade meal, which is really light on tummy. What works for them is the fact they have a very limited menu, so you know what you are in for. Their Idli and omlette for breakfast, dal-chawal for lunch, and detox smoothies is definitely what you should go for.
Order: Through their own app, website or food delivery apps.
3. Frsh

We know, we know, eating healthy can be tough at times. Right? But come on, healthy meals don't always have to be boring and salads! If you are someone who has just started eating healthy, you should defo try out Frsh. They majorly have really cool sandwiches and paninis which are super filling. The best part? They have a Desi twist to their meals. So you can find a Paneer Tikka & Bhelpuri combo, Achari Paneer sandwich, Chicken Seekh kebab panini etc.
Order: website & food delivery apps
4. Salad Company

For those of you who are by now deep rooted into the healthy eating scene, you've got to check out Salad Company. Of course, they have some amaze salads. But apart from that, they have a pretty in-depth menu, full with cold pressed juices, a separate Keto menu, pita pockets, all day breakfast menu and much more!
Order: website & food delivery apps
5. Caterspoint

Here's another web store with healthy food which offers everything, right from Tofu Sabudana Khichdi, to brown Curd Rice, multigrain sandwiches, detox juices and much more. It's one of those few places which also offers (exotic!) avocado sandwiches.
Order: website & food delivery apps
6. Health Nuts

If you are someone who wants to eat something different every single day, then you've got to order from this spot. They have a huge menu to choose from with some really amazing dishes which you'll never get bored of. Must try- super healthy bowls like chicken qinoa, Falafel rainbow buddha bowl, Moroccan chicken protein bowl; and cold pressed juices.
Order: website & food delivery apps
Featured Image: curefit