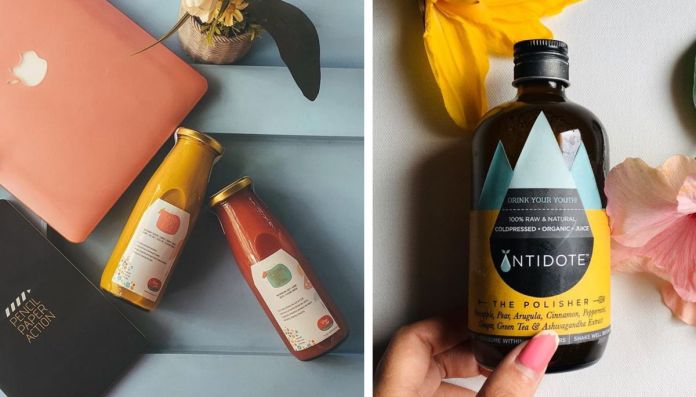 There is a lot of truth in the saying, "you are what you eat". And it seems like all the more important especially in today's time, with the coronavirus outbreak bringing life to a standstill. All the places of public gatherings are mostly shut, including the gyms. But that doesn't mean your fitness has to take a hit. To keep up with the current scenario, we have handpicked some of the best cold-pressed juices brands available which can boost your health.
For the uninitiated, cold-pressed juices are simply fruit & vegetable juices where no heat is involved while extracting the juice. Also, they are extracted using a slow hydraulic press which preserves the nutrients in the juice. Check them out RN!
1. Nutri Press
Image Source: Instagram/thecurious_appetite


Image Source: Instagram/thecurious_appetite
Along with a wide choice of about 20 juices, Nutri Press is convenient and affordable. With flavours like Grape Fruit, Amla, Ash Ground, Royal Litchi, King Mango and more, there are tons of options to choose from. All the juices are 100% made of fresh fruits, vegetables and herbs. No preservatives and sugar are added to these juices. So, suit yourself and get on a health hike as a 200ml bottle starts at Rs 100.
2. Antidote
Image Source: Instagram/antidotedrinks


Image Source: Instagram/antidotedrinks
Whether you are coping with the on-going trend of sipping those cold-pressed juices for weight loss or cleansing your body, Antidote has unique, organic flavours of juices. Although their packaging looks like a medicine bottle, each of their flavours has a refreshing taste. If you're diabetic or have heart issues, you can get them to even customise your juices. 
3. Salad Days
Image Source: Instagram/saladdaysco


Image Source: Instagram/saladdaysco
Yes yes, Salad Days apart from selling fresh salads and bread have a fantastic range of juices. They introduced a range of 100% raw, pure and unpasteurised juices that helps to get rid of bloating and cleanses your system. Available in five flavours namely- Orange, Red, Balck, White, Green and Yellow. Read the labels carefully of what all goes inside. One of their best juice is the 'Black' one as it contains charcoal, honey and kafir lemon that purifies your blood. What is your pick?
4. Cleanse High
Image Source: Instagram/cleansehigh


Image Source: Instagram/cleansehigh
Based out in Hyderabad, Cleanse High has an entire detox juice plan prepared for you. Juices are made only after consulting nutritionists, as all the vital vitamins and minerals are included in all of their eight juices. For a complete detox, they provide 8 kinds of juices that will keep your detox and fresh for the entire day. Each of their juice includes fresh fruits, organic veggies, spices, nuts, herbs and superfoods.
5. Raw King
Image Source: Facebook/rawking.in


Image Source: Facebook/rawking.in
Raw King offers many cold-pressed juice packages, including Daily, Weekly, and Monthly Plans. Some of their best-named juices are Samurai (Apple, Spinach, Kale, Green Apple, Chia Seeds); Ninja (Apple, Carrots, Red Cabbage, Beet, Red Bell Pepper, Lemon, Ginger); Gladiator and more. Do you the best bit about their juices? They are 100% vegan and gluten-free!
6. My Greens
Image Source: bwdisrupt.businessworld

Image Source: nidsun.org
Available in three different ranges, My Greens cold-pressed juices aim to address specific medical issues and promote a healthy lifestyle. Think of a combination of carrots, apples, beetroot, and watermelon infused with chia seeds. Isn't it tempting? Yes, My Greens offers some of the best combinations of healthy ingredients to make the best of the offerings. You will be spoilt for choice here! 
7. Crudo Juicery
Image Source: Trip Advisor

Image Source: Dine Out
Crudo Juicery is super easy on the pocket, and they serve everything right from cold-pressed juices to protein shakes to salads. It just adds a punch of savoury goodness! You can even create your juice by adding ingredients like Valencia Oranges, Watermelon, Pineapple, Washington Apples, Carrot, Beetroot, Tomato and Cucumber. Apart from this, Crudo Delight, Vita Boost, Watermelon Juice With A Twist and more. Which one is your pick amongst these? 
8. Imagine The Good Feeling
Image Source: nh1design


Image Source: nh1design
Imagine The Good Feeling makes cold-pressed juices accessible right at your doorstep. Just take your pick from their menu, and they will deliver it right to your home. Their juices are divided into two categories- Classic Blends and Probiotic Juices. Classic Blends includes flavours like Berry Go Round, Heart Bleet, Green Day and more. While the Probiotic ones have Strawberry and Apple flavour. We are ordering our set, how about you?
(Featured Image Source: Instagram/cleansehigh; Instagram/antidotedrinks)