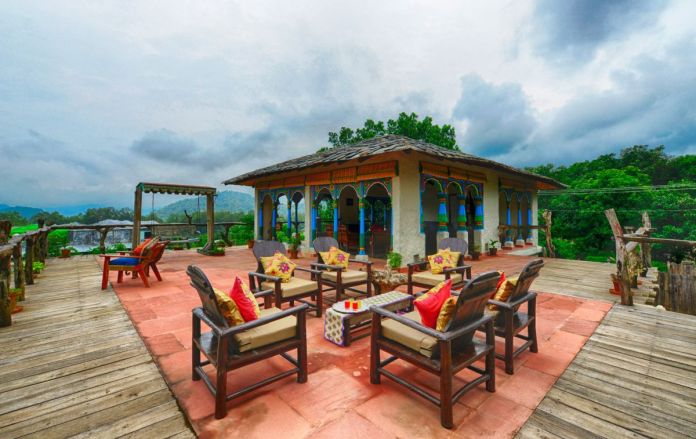 In the hustle-bustle of our life, we often miss out on a lot of things that give us joy. And a big part of that is literally being outside more often and being closer to nature. Which is why the World Wildlife Day sounds like a perfect excuse to get out and enjoy mother nature.
For those who are not aware, World Wildlife Day is a UN initiative which is celebrated every year globally on the 3rd of March, since 2013, to celebrate and raise awareness about the world's flora and fauna. And if you too want to spend some peaceful time amongst nature, then you should know that there are some amazing jungle retreats and resorts in India that provide unforgettable experiences. Scroll down to know more about them.
1. Jim's Jungle Retreat

Image Source: jimsjungleretreat.com


Image Source: jimsjungleretreat.com
Tucked in the Himalayan foothills, this is one of Jim Corbette's true treasures. Providing comfortable cottages in the vicinity of wildlife, a stay here has a lot to offer. Spend hours by the pool and go for their chemical-free spa or enjoy the scenic views while sitting at your private verandah. Jim's Jungle Retreat is a must-visit resort if you are seeking some peace amidst.

Where: Village & PO Dhela, Ramnagar, Corbett Tiger Reserve, Distt.-Nainital, Uttarakhand
2. Aman-I-Khas Resort

Image Source: aman.com


Image Source: aman.com
Located on the border of Ranthambore National Park, this resort offers 10 well-equipped air-conditioned luxury tents with the Aravallis in the backdrop. It's a picture-perfect spot with a well-equipped spa, dining tent and a lounge tent. The food is prepared from herbs and vegetables which are totally organic. You can chill and relax around a bonfire while sipping wine or you can book a safari to visit the nearby attractions and enjoy wildlife at its best.

Where: Sherpur, Khiljipur, Near Ranthambore National Park, Sawai Madhopur, Rajasthan
3. Paatlidun Safari Lodge

Image Source: Trip Advisor

Image Source: Plush escape
How about staying in the 'Jungle Book' kinda setup? Yes, bringing all your fantasies to life, Paatildun Safari Lodge is one unique place. It has a premium luxury cottage and bush cottage with all the luxuries and amenities you could wish for. Along with all the facilities, you get to see the splendid views of the forest and its lush greenery. You can go for a jeep safari, bath with elephants, river romp with elephants or visit a hilly hamlet. Cannot get any closer to wildlife than this!
Where: Jim Corbett National Park, Mohan, Uttarakhand
4. Jungle Hut

Image Source: junglehut.in


Image Source: junglehut.in
Situated at the foothills of the picturesque Nilgiri Hills, Jungle Hut is a fam-jam place that you will simply adore. Giving you the old world charm, their standard rooms are cosy and offer splendid views from the balcony. If you want a little dose of adventure, you can take a stroll in the surroundings, go for elephant camp or you can take a dip in the pool. It's time to take a quick vacation here to rejuvenate yourself! 

Where: Bokkapuram, Masinagudi, Nilgiris, Tamil Nadu
5. Spice Village – CGH Earth Resort

Image Source: Agoda

Image Source: Trip Advisor
It's an eco-friendly CGH Earth property that offers the epitome of luxury and comfort. The accommodation consists of a spice garden cottage and a deluxe cottage with a private garden that is set amid 14 acres of spice trees close to Periyar National Park. You can go for Ayurvedic treatments or dive into their outdoor swimming pool. And if you are adventure junkie, go for boat safaris through the national park, forest treks, bird watching, visiting a local tribal village, and take some Kerala cuisine cooking classes too!

Where: Kottayam-Kumily Rd, Thekkady, Kumily, Kerala
6. Singinawa Jungle Lodge Kanha

Image Source: Trip Advisor


Image Source: Trip Advisor
Sitting pretty within 110 acres of natural forest, this award-winning lodge is known for its commitment towards conservation and property. The 12 beautiful luxury rustic stone and slate cottages, plus a four-bedroom jungle bungalow, and a 2 bedroom jungle bungalow are a masterpiece. It's a good place to go for nature walks, birding and cycling trips around the forest. You can even go for Meadow spa with Indian and oriental treatments and go for a swim that is surrounded by nature. Isn't it amazing?

Where: Kohka, Tehsil Baihar, Kanha National Park, Madhya Pradesh
7. Mahua Kothi, A Taj Safari

Image Source: Taj Hotels


Image Source: Taj Hotels
Looking for a luxury staycation amidst the lush green jungles? Mahua Kothi is a Taj property that offers 12 charming suites with private courtyards, shaded seating and traditional mud floors. Interiors inside the suites are wooden shutters, handmade pottery roof tiles, and mud-coloured walls. Adventure junkies, you can go for nature walks, picnics in the wooded areas or for cycle trails. And yes don't miss out on their special mahua martinis, made from the trees' flowers!

Where: Bandhavgarh National Park, Madhya Pradesh
8. Asiatic Lion Lodge
Image Source: Goibobo


Image Source: Goibobo
Situated near Gir National Park, Asiatic Lion Lodge is the first lodge to be the eco-tourism property in the area. There are 16 cottages, constructed in an environment- friendly manner that offers you luxuries and basic amenities. You can enjoy the regional Kathiawadi delicacies of Gujarat, which are cooked with organic ingredients. Nearly 35 species of rare birds are often sighted and you can also go for guided nature walks and bird-watching walks. Bicycle riding, safaris to the national park and visiting a nearby tribal village are activities that you can explore.
Where: Gir National Park & Sanctuary, Sasan Gir-Bhalchhel-Haripur Road, Dist, Haripur, Gujarat
(Featured Image Source: Trip Advisor)