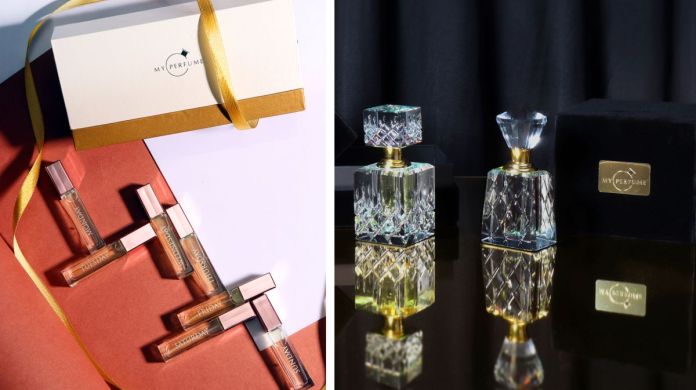 Are you bored of wearing that same old fragrance? Want to experience with different scents to find the perfect and best one for you? Well then, your search ends here at MyPerfume by A.W. Run by Anahita Wassan, this brand lets customize your fragrance according to your taste and preferences. You will be spoilt for choice, for sure! Read on to know what it's all about!

Image Source: Instagram/myperfume.co


Image Source: Instagram/myperfume.co
Mixing of The Fragrances To Find The Perfect One!

MyPerfume by A.W. lets you choose the fragrances that you want and then mix them up to make that perfect perfume, just for you. Wispy, dreamy, fruity, citrusy or an amalgam, this brand does it all for you. We got in touch with the 29-year-old founder, Anahita Wassan wherein she told us about the birth of her brand.

"I have always loved using perfumes and being married into a family whose business was aerosol filling, I joined their work and developed a keen interest in fragrance development. The concept of blending different notes to create an aromatic experience highly piqued my interest. I started creating perfumes for friends, and to give it a twist I started getting their initials engraved on the bottle and voila, MyPerfume was born".

What's So Special About Them?


Image Source: Facebook/My-Perfume


Image Source: Facebook/My-Perfume
Here you can choose your personality trait and see which notes from those you would like. If you know what notes you want, then these guys definitely create a perfume according to your preference. And if you are confused about your taste then, the sure-shot way to get a good fragrance is to recognize your personality type.

How About Buying Perfume According To Your Sun Sign?

Image Source: Facebook/My-Perfume


Image Source: Facebook/My-Perfume


Image Source: Facebook/My-Perfume
Sun signs or zodiacs also work on the basic principle that each of the sun signs holds a distinct personality. And to make it easier for us, they have created 12 fragrances based on the 12 different sun signs, that means 12 different personalities. For scent, Aries can choose from black pepper, bourbon, and vanilla as its primary notes. Taurus has rose, jasmine, musk, amber, while Gemini is all about woody, floral undertones. What's your sun sign?

Wait Up, There's More!

Apart from perfumes, MyPerfume by A.W. has ouds and ittar oil collection. Yes, Oud is valued strongly by perfumers for its warm sweetness mixed with woody and balsamic notes. It's an aromatic complex scent and is used in the form of oil. 


Image Source: Facebook/My-Perfume
We all buy presents for someone or the other and end up buying the same old gifts. But not anymore, because you can gift these as they have launched a new gift set that has 7 different fragrances, one for each day of the week. Peeps, their personalized bottles also make it a very good gifting option! Trust us, it can make anyone's day and can also be the perfect gift for your bae!

For more information check out her website and Instagram page.