There's no denying that Indian households celebrate with mithai! Be it a job promotion, a new car, a new baby in the family- every celebration stars with something meetha! But how about having a mithai with a unique twist? Yes, a Delhi-based brand called Nihira & Co. brings you traditional Indian sweets with a twist. From champagne laddoos to bubblegum barfi- they have it all! Don't believe us? Scroll to know more about this brand.
Concept Behind Nihira & Co.
Image Source: Instagram/nihiraandco


Image Source: Instagram/nihiraandco

Started in 2018, by a mother-daughter duo, Subha and Arshiya Aggarwal is giving us an experience of luxury while maintaining the nostalgia with Indian mithai. Known to craft luxury mithai by blending western elements is what Nihira & Co. are famous for. Giving contemporary makeovers to all the classic and traditional sweets be it panjiri or ladoos.
They add ingredients like lavender, tiramisu, cheesecake, and even alcohol into their Indian sweets. We got in touch with the founder of this fantastic brand, Subha Aggarwal, who told us about the concept and variety they offer.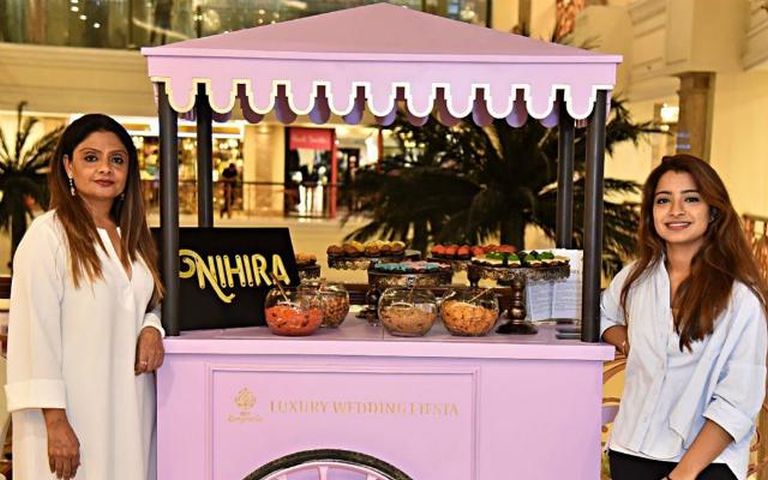 "When we thought of Nihira, we felt to give justice to its name. And as Nihira means- ' a newly found treasure' we decided to emerge the excellence and experience as one unique blend. And we are glad we chose using alcohol in Indian mithai, we believe we are setting up a monopoly in taking the exclusive Indian flavours, sweet making stories to a broader platform by doing that".
Liquor Ladoos, Chana Barfi, Red Wine Ladoos And More

Image Source: Instagram/nihiraandco


Image Source: Instagram/nihiraandco
The main USP is to give the essence of authentic Indian delicacies to all the sweets. They have boozy sweets like Mulled Wine Halwa, Red Wine Ladoos and Champagne Ladoos which are must-try. Apart from Indian liquor mithai, they have Mojito Ladoos, Cheesecake Barfi, Bubblegum Barfi, and Blueberry Panjiri, giving a combination of Indian and western flavours.
Apart from mithai, they also have savoury items like Peri-Peri Namkeen Paare and Jalapeno Matthi Crackers. Trust us all the items here are worth trying and won't leave you disappointed at all.

Image Source: Instagram/nihiraandco


Image Source: Instagram/nihiraandco
Now we have enlighted with this amazing Nihira & Co brand, so ditch the same old besan ke ladoo and switch to liquor ladoos RN!
Contact: 9717122667