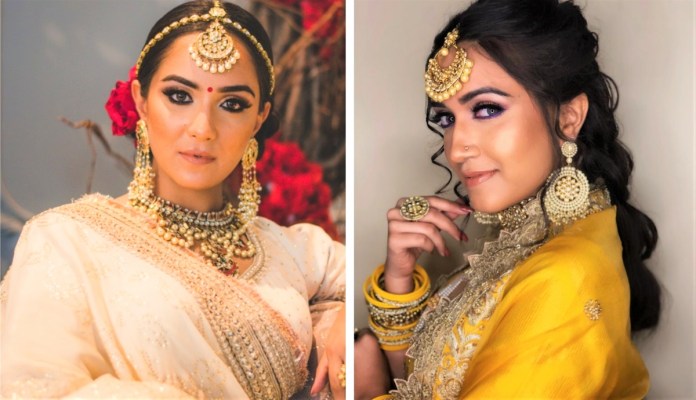 Okay, people, the D-Day is almost here and we couldn't be more excited. We're sure you all are thoroughly prepped for Diwali, including your wardrobe and the entire look! After all, you have to spam the gram also, right? But ladies, just in case you haven't decided on your makeup yet, we have some great news for you! We spoke to popular Delhi-based makeup artist Aakriti Kochar, who taught us some of the trendiest makeup looks you can rock this festive season.
1. Halo Eyes
If you like bright colours and have the confidence to make heads turn with your look, then this trend of halo or spotlight eye is for you. It creates an illusion for big and round eyes by placing darker coloured matte eye shadow on the inner and outer corners of your eyes and a bright metallic or shimmery eye shadow in the centre. Enhance the look further with curled up lashes and add some false eyelashes to it.
2. Pink Eye Shadow
Lately, we have seen a lot of usage of pink coloured eye shadow on the eyes in both matte and shimmery finish. You might use it as a single wash of colour on the eyelids as a soft everyday look. While you may use a beautiful gradation of several pink eye shadows starting the lightest pink eye shadow from the inner corner going darker as one moves towards the outer corners of the eyes.
3. Smouldering Black Eyes
Wear the darkest black kohl on both your upper eyelids and lower eyelids and smudge it using a black or brown eye shadow to create a smouldering smokey eye look. You can team this up with well-sculpted cheekbones using a matte bronzer and bright pop of highlighter to add the festive glow. To finish the look, add a nude lip shade and lots of gloss to your lips with this look.
4. Metallic Eyes
Liquid metallic eye shadows in colours like white gold, bronze, copper, silver are something which girls can rock easily. These are eye shadows and not glitter, but they have a metallic finished shine to them.
You can team eye shadows with a little bit of smokey or contrast matter eye shadow on the outer corner of your eyes. Curl up lashes with lots of mascara or just add false eyelashes!
If you are going with neutral tone metallic eye shadows then glam up with look with a bright lip colour or vice versa.
5. Extended Eyeliners With Bright Lips
The very classic yet very festive look is winged eyeliner! It makes almost all eye shapes look bigger, it can be carried off easily with a light shimmery eyeshadow and brightened up with lots of blush on the cheeks and bright lip colour.
6. Dewy Skin & Nude Look
Sticking to neutral shadows is the best if you are not a makeup person! Golds, bronze, plum are some favourites when picking neutrals. Do a light base and set in with loose powder, follow it with soft bronzer and blush. In the end, dust some powdered highlighter on the high point of the cheekbones, the centre of your face and collar bones. Girls, add some setting spray for an even dewier yet natural look!
7. Berry Look
Berry look is really pretty and attractive! Out of all the colours, plum matte is the most preferred by women for its vibrancy and versatility to go with most outfit colours.
Use a cream or water-based eye shadow in plum to give a wash of the colour all over the eyelids. Once there, use a softer tone of the same berry eyeshadow on the eye socket to blend harsh lines and make this look as blended as possible.
Accentuate the brightness of the eye shadow colours further on the lids by using a fuschia tone eye shadow all over and smudge in on the lower lash line as well. Add false lashes to the link and a nude eye pencil to the waterline. Keep rest of the face very minimal and nude. Just add highlighter to the face and you are ready to slay!
Ladies, we hope now you are totally ready to slay the D-Day look!