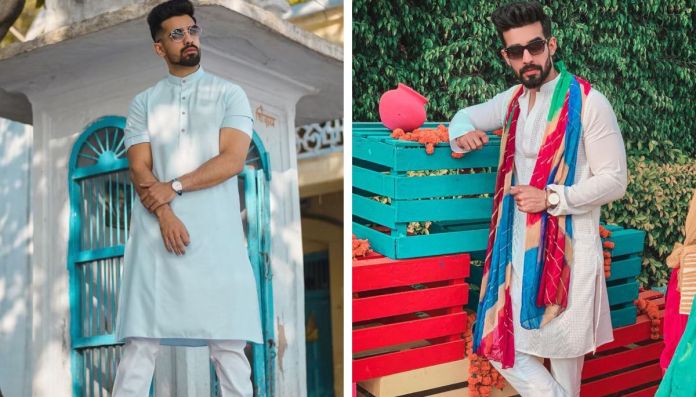 We hope, like us, you too are loving the festivity in the air! Now that Diwali is just two weeks away, we're sure all the partying must have begun already. And soon, you'll also need to decide what to wear on the D-Day. Festivals like Diwali is one of the few occasions where men get to flaunt their traditional attire like a boss! And if you're still confused about what to wear this Diwali, then don't worry. We've got your back.
To make it a little easier for you, we got in touch with popular fashion influencer from Delhi, Karron S Dhinggra. Urban clothing and classic silhouettes are what best describes Karron's style. He shared some unique outfits which men can rock easily this Diwali season!
1. Sherwani
Want to go highly traditional this festive season but don't want to look gaudy? Then, a well-tailored sherwani paired with white dhoti pants will help you achieve the perfect traditional look. If you aren't a big fan of baggy dhotis complete the look with Jodhpuris or churidaar pajamas.
A good leather Kolhapuri chappals, loafers or jutis will complete the look. With this look add a printed pocket square to the sherwani and you're set to go.
2. Casual Kurtas
Men's kurta has been a soul to Indian tradition since forever! Considering how versatile the traditional kurta for man is, the options are endless. Some styles are evergreen, and you can wear them anywhere and everywhere without much thought. You can pair a kurta with dhoti pants or even jeans for a casual yet chic look!
3. Chikan Kurta
Chikan kurtas are the ideal outfit to flaunt sartorial elegance in festivals like Diwali, Bhaiya dhooj. Paired with churidaar, it gives you that perfect grace and style. Choose fabric like cotton, or silk with interesting design. Go with pastel colours as it gives ethnic touch and royalty to anybody who wears it!
4. Printed Kurta
Keep solid colors aside and embrace prints and patterns this festive season to play with different looks. With printed kurta, remember to keep the rest of your outfit toned down. Go with a stripe or check kurtas to make head turns this Diwali!
5. Short Kurta
Longer than a shirt but shorter than a kurta, half kurta for men is one of the easiest looks to pull off. The comfortable length means you can pair it with any bottoms you prefer, including long shorts or ripped jeans. Perfect for Sunday brunch card party with boys!
6. Side Button Kurta
As it turns out, just shifting a set of buttons from the front to the side can do wonders. Of all the types of kurta for man, a side button kurta lends a streamlined look that's completely fuss-free & unique. Pairing it with herald pants is great choice.
7. Achkan
A sophisticated outfit with a lesser length than a sherwani combining a stylish look with ethnic touches is one of the trending outfits of the season. Therefore, men preferring a nawabi look for the festival should opt for achkans with simple trousers or pajama. The stylish pairs of loafers would serve the purpose.
8. Nehru Jackets
If you wish to stand out from the crowd, you can rock a Nehru jacket over top. You can go with a solid color Nehru jacket if you are wearing a printed kurta inside or vice versa. For a smarter and versatile look, add a pop colour pocket square.
Guys, it's time to experiment with these unique Diwali looks this season!
(Featured Image Source: Instagram/theformaledit)