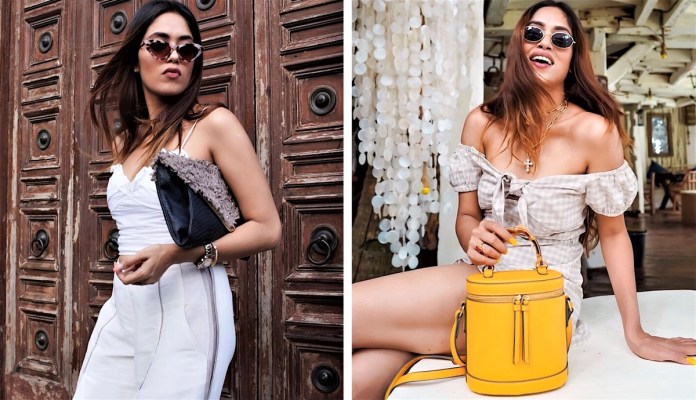 Girls and bags go hand-in-hand! Quite literally, right? Every girl searches for that perfect tote or clutch which not only fits her entire world in it, but also goes well with her attire. From a hobo to backpack to a clutch, we saw a ton of 'bag trends' in 2019. And if you are thinking of updating the 'bags' section of your closet, we've got news for you!
We got in touch with popular fashion blogger Greeshma Shetty who shared the top bag trends which are currently ruling the fashion circuit. Read on to know which trend resonates with your personal style!
1. Box Bag
Box bags have been my personal favourite. The shape makes it a statement.
Wear it to your workplace with a black pantsuit with a pop of colour in your heels. It can be worn cross-body, or as a shoulder bag or clutch. Also, you can easily transform it from day to night!
2. Transparent Bag
A bag with a croc-embossed handle and removable pouch are oh-so-chic! And if you do have something you'd like to keep hidden, then the zippered compartment comes in handy. Complete your monochrome look by adding this white transparent bag to your outfit!
3. Bracelet Bag
Consider this silhouette- a trendy round handle bag that also doubles as a bracelet. What could be cooler than that? It acts as a part of jewellery and a part handbag. It will instantly up your accessories game! A semi-circle bag with an embroidered bracelet makes the bag look elegant. These new-age wristlets are quickly becoming everyone's go-to.
4. Oversized Clutch
Sleek and oversized clutches have been bought back this year. These kinds of clutches add a sense of sophistication to any ensemble. Fur has been a trend for a long time now. If you are not overly fond of fur on your handbag, you should opt for this oversized clutch with little fur detailing.
5. Bucket Bag
The bucket bag has had a huge comeback, with the design going strong for the fall 2019 bag trends. Bucket bags are bags that are slightly longer, they are wide and with quite a lot of depth. They will often have a drawstring fastening, but they can also be closed with a clasp or a buckle.
6. Belt Bag
Hands-free bags are here to stay! Belt bags got their hype in fall 2019. As the more mature and sophisticated cousin of the fanny pack, the belt bag is a gorgeous choice for anyone on the go. Wide strapped belt bags are perfect to cover up your cinch.
7. Straw And Circular Bag
You have seen it, you have wanted it and perhaps you even have it. The circular straw bag is all the rage in fashion circles! Also, it is not only restricted to Instagram-worthy beach vacays. The fun circle shape also sets it apart from the boxier bag trends!
8. A classic Tote
It's a work bag which is a must for every girl. It's a classic piece you cannot NOT have! With a plethora of essentials, always necessary to be carried everywhere, comes the need for a tote bag. You can carry a tote bag to work, to shopping, to a brunch date with girlfriends!
9. Crochet Totes
If you are heading for a beach vacay anytime soon, then you should add crochet totes to your list. Crochet totes paint an overall boho and summery resort vibe for the season. Whether you're searching for a casual tote to bring to the beach or a semi-fancy one for dinner, there are more than enough crochet options to meet every desire.
10. Mini Backpacks
Mini backpacks have been another trendy pick this year. It's space-friendly and is definitely stylish! Make a style statement with this classy backpack. We are totally loving the explosion of design right in the middle that gives a uniqueness to it. Style it with denim on denim look!
11. Slings
For decades now, there hasn't been a single year where a chain bag didn't make it on to the fashion week runways. Delicate chain handles or straps on bags are a timeless design, although every once in a while they get a chunky or colourful update which is also a statement piece. Opt for a sweater dress and high-knee length boots and just add this classic sling. You are ready to slay!
(Featured Image Source: Instagram/miss.greeshma)