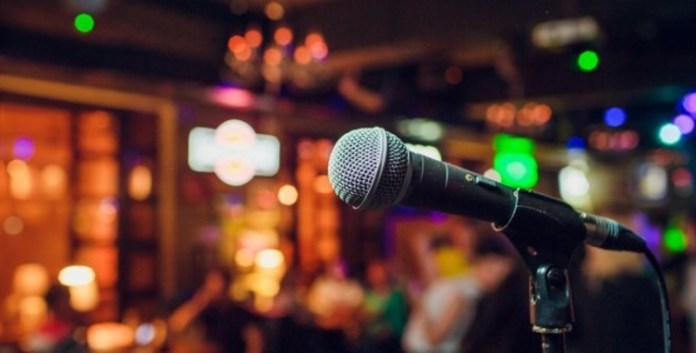 Are you someone who often catches yourself humming tunes? Do you love singing absolutely anywhere and everywhere? Or are you someone who is awkward AF when it comes to singing but 2 drinks down, you feel like Beyonce? If you are any of the above, we have just the perfect evening rendezvous planned for you and your friends! Delhi-NCR has many jazzy spots where you and your gang can sing classic and trending songs all night long and that too every day of the week!
1. Summer House
One of our favourite spots to party even on a weekday, Summer House hosts a fantastic Karaoke Night every Monday. Hosted by their in-house DJ, Shadab, you can sing some melodious and fun tracks. So, sing your way out of those Monday blues and get practising your favourite tracks already! The vibe here will get anyone to hum a few tunes no time!
When: Every Monday
Where: Aurobindo Marg, Hauz Khas, New Delhi
2. Raasta, Green Park
Another evergreen and favourite hangout spot for karaoke is Raasta. We're sure you've been here at least once! With a dreamy and boho vibe, it turns into an electrifying hub of singers every Tuesday. Inspired by Regga-music, sing along to some Bob Marley tracks and while you refresh yourself with some cocktails.
When: Every Tuesday
Where: Second, A2/A, Sri Aurobindo Marg, Green Park, New Delhi
3. Castle 9
Lesser-known but a hit amongst the corporate and college crowd for their budget-friendly options in food and snacks, Castle 9 is popular for their Karaoke nights. Be it the latest Bollywood song or a classic Backstreet Boys song, you can sing anything of your choice. It is very popular for corporate night outs and parties so if you want to blow off some steam on a weekday post work, then this is your place.
When: Every Wednesday
Where: B 45-47, Connaught Place, Near PVR Plaza, New Delhi
4. Garage Inc
With interiors that have a vibe of a garage, Garage Inc is your answer to to get into the mid-week mood! Their karaoke nights are always a superb show that people look forward to. They have an affinity for rock music but don't worry, if you don't like rock music much, they also have the likes of Coldplay and Ed Sheeran. Having earned a spot as an American Diner, do bite into their scrumptious burgers.
When: Every Thursday
Where: 30, Powerhouse Buliding, Hauz Khas Village, New Delhi
5. Route 04
Before any of the jazzy cafes and bars sprung up, there was Route 04. Dimly lit and every bit charming, Route 04 is very famous for their Karaoke nights which gets loud and electrifying by the end of the night. While you get down with your buddies to sing some superb tracks, gorge on some of their lip-smacking food and beverages there for sure!
When: Every Friday
Where: K-2, Middle Circle, Connaught Place, New Delhi
6. Feel Alive
Karaoke all day, every day? Yes, please! Feel Alive has garnered a status quo as one of the top karaoke bars in NCR. And not only have they nailed their karaoke nights, they have some amazingly scrumptious food as well. And if you don't want to show off your "excellent" singing skills, then you can also book a private space for you and your friends.
When: Every Saturday
Where: SCO 53, 2nd Floor, Main Market, Sector 29, Gurgaon
7. TC Bar & Restaurant
If you love rock music and want to indulge in a night of listening and singing to your favourite tunes, then TC Bar & Restaurant is where you should head RN! They have a huge seating space as well as a dance floor where you can show off some rockstar moves as well. Tag your rock music-addict friends and sing along some Greenday and ACDC songs.
When: Every Sunday
Where: 81, Adchini, New Delhi
Featured image source: Turismo de Madrid