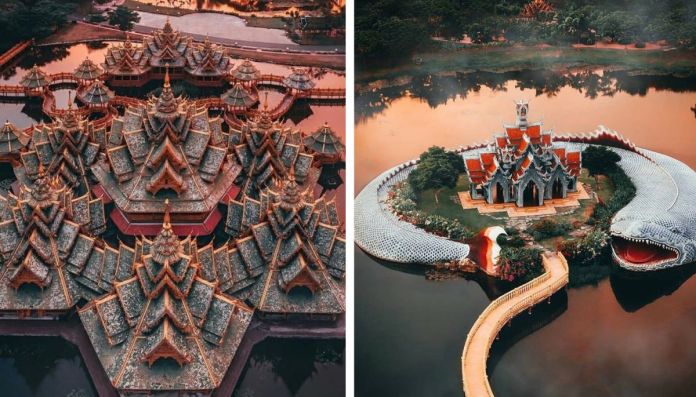 Thailand has always been one of the favourites and mystical Asian destinations for us. Colourful nightlife (yes, yes we all know it!) ornate temples, tropical beaches, shopping hubs, flavorful food- the place has it all. But, the ancient city of Thailand- Muang Boran is something that demands your attention and is a must-visit. You must be thinking why? Apart from historical temples, colourful palaces, and instagrammable lakes the city also houses the world's largest outdoor museum! Scroll on to know more about this stunning ancient city!
World's Largest Outdoor Museum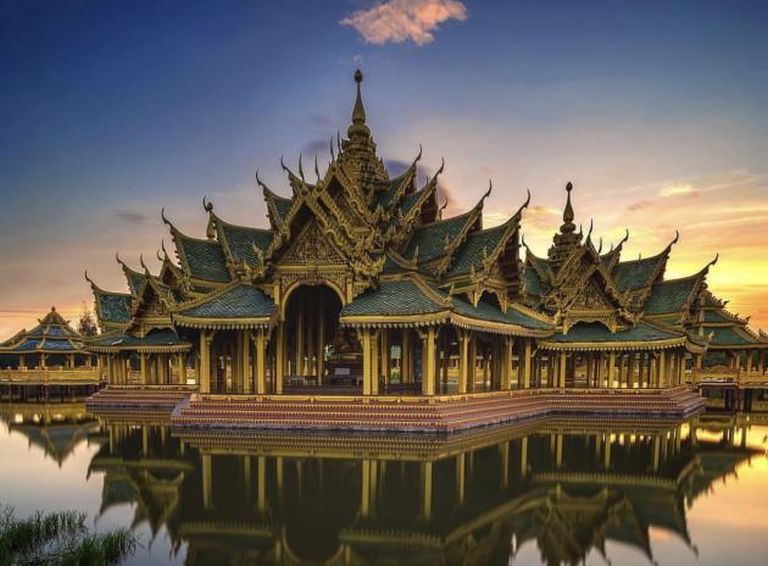 Ancient Siam is known as the world's largest outdoor museum in the city and was founded in 1963. It features 116 structures of Thailand's famous monuments and architectural attractions. It proudly celebrates everything Thai – even the grounds of the museum is set in is shaped like the outline of Thailand. You will find replicas of grand palaces like The Royal Stand, The City Wall and Gate and more; temples, shrines and even a floating market. The magnificent Ancient City was created by the multi-millionaire Lek Viriyaphant who passed away in 2000. He also created the Erawan Museum in Samut Prakan and the Sanctuary of Truth in Pattaya.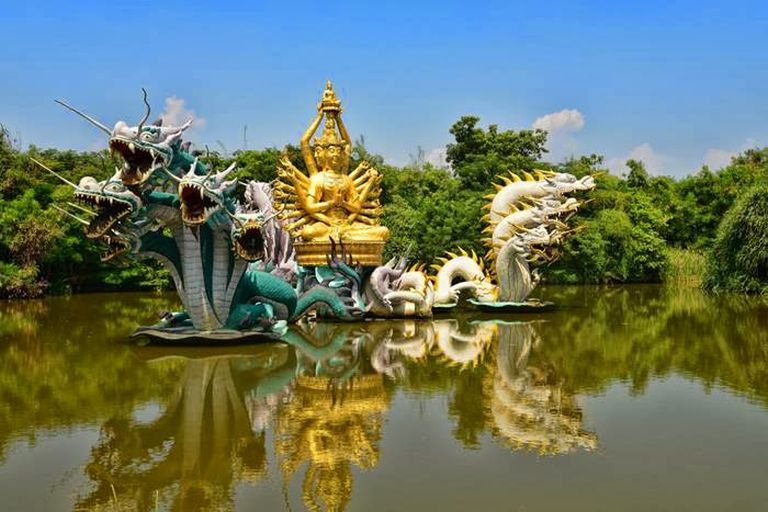 Major Highlight is Sumeru Mountain Palace & Pavilion of the Enlightened
One of the major attractions in the Ancient City is the Sumeru Mountain Palace which is guarded by a giant Anand fish and is breathtaking. According to Thai cosmology, the Sumeru Mountain is considered the pillar of the world and centre as the universe. The mountain is supported that stays above the surface of the water.
Image Source: Viator

Image Source: tomyamthailand.com
On the other hand, the Pavilion of the Enlightened and the Golden Bridge makes a perfect picture spot. While the lakes are filled with beautiful attractions, including the intricate statues in the shapes of dragons, you can go for a stroll. The Pavilion of the Enlightened symbolizes the story of 500 monks who all became enlightened and reached Nirvana.
Wait Up, There's More!

Image Source: tomyamthailand.com


Image Source: tomyamthailand.com
While strolling around, you can witness the Sikhoraphum Stone Sanctuary is a group of five brick building, finely constructed, standing on the same base. Dated back to the 12the century AD, the sanctuary was built according to Hinduism beliefs. Another stunning palace is the Sanphet Prasat Palace that was initially developed in the reign of King Baromatrai Lokanat, the eighth king of Ayutthaya. It is gorgeous! You will also see a beautiful golden temple with a Buddha statue standing in front.
There are over 100 buildings in the Ancient City of Thailand, and it demands your visit. Now that we have given you a bit tour of the city, it's time to plan a vacay with your BAE and enjoy the Thai culture!
(Featured Image Source: Instagram/olga.shows.the.world)