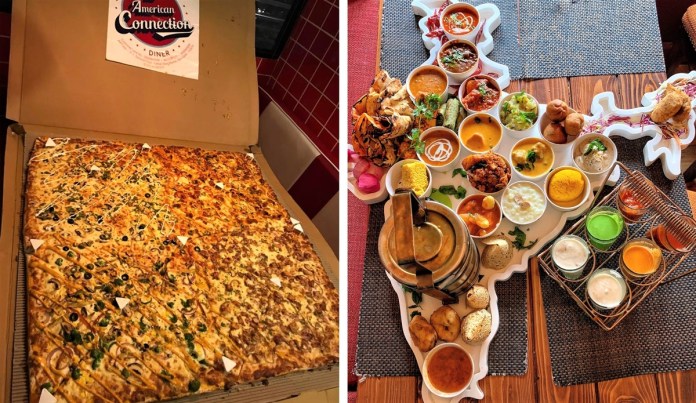 If you call yourself a real foodie and also have a huge appetite, then you must hear this out. Have you ever tried the massive and biggest dishes in the city? Well, if you don't know already, some amaze eateries in our city serve gigantic dishes like a 34″ pizza and 42 pieces of sushi! These large size dishes are enough to satisfy you and your entire gang's hunger. It's time to challenge the foodie inside you and head to these places!
1. Family Naan @ Bukhara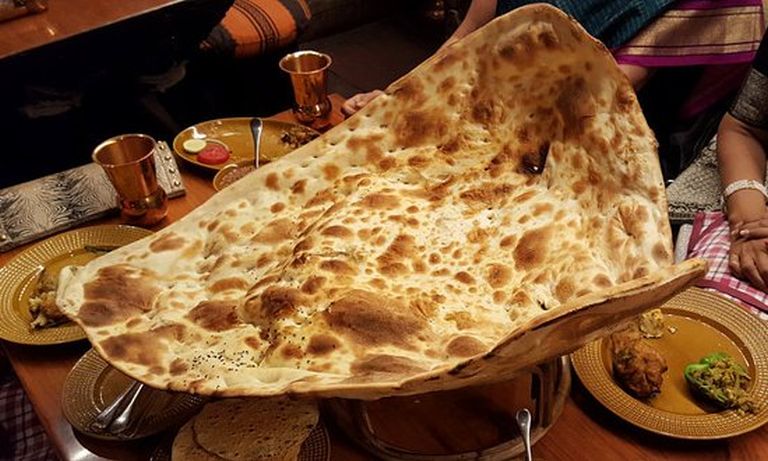 Are you one of those who always pick Dal Makhani and Naan at any North Indian restaurant? Then this family naan at Bukhara should be your choice. Almost the size of the table, even 4 people together can't finish this monstrous and soul-satisfying naan! Cooked with perfection, the crisp naan best goes with their signature dish Dal Makhani and Peshwari Kebab. Trust us, it's worth every penny!
Where: ITC Maurya, Chanakyapuri, New Delhi
2. Longest LLIIT @ Hauz Khas Social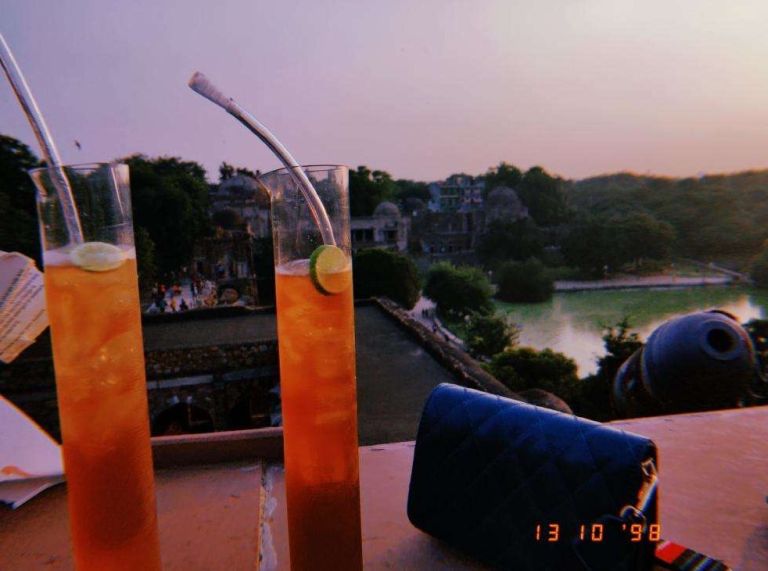 All the thirsty drunkards out there, this Longest Long Island Ice Tea is for you! Hauz Khas Social came up with this fantastic concept that is not for one person. More like a pitcher, this one for those who want to sip something the entire night. The longest LIIT comes in three different flavours- classic, electric and toxic. So, get your dose of tequila, vodka, gin, rum- all in one go!
Where: 9-A & 12, Hauz Khas Village, New Delhi
3. Chole Bhature @ Punjabi By Nature 2.0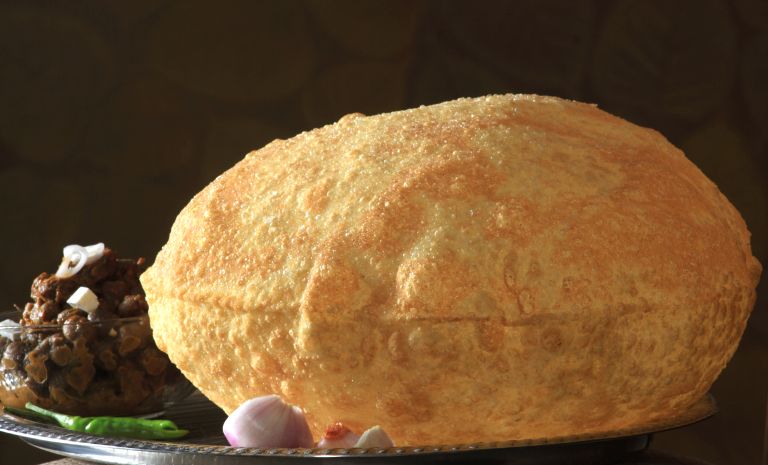 Chole Bhature is one of the most loved dishes for Delhiites! Have you ever tired the biggest bhature? Punjabi By Nature 2.0 serves this massive bhatura, and sure it will keep your stomach and heart satisfied for a long, long time. Make sure to pair it with their mint water or lassi!
Where: 30-B, F Block, Connaught Place; T-305, 3rd Floor, Ambience Mall, Vasant Kunj & more outlets
4. 42 Pieces of Sushi @ Sushiya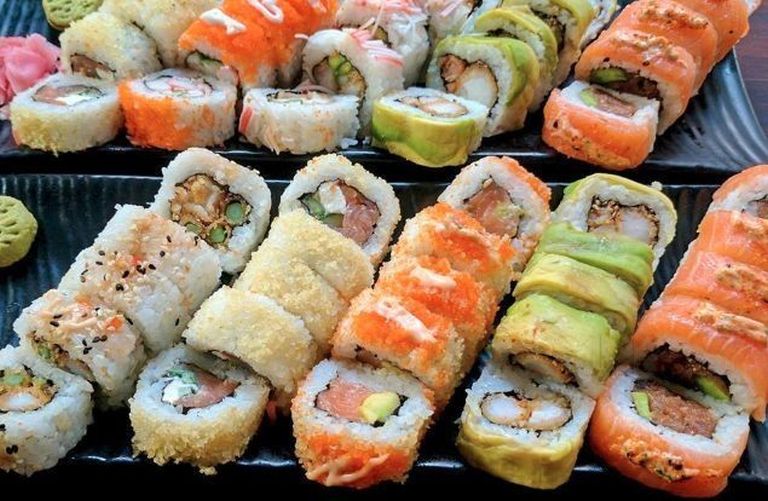 All the sushi lovers, if you haven't had your share of sushi for a quite long time, then head straight to Sushiya. They do these sushi boxes that are such a steal at their price that we can't stop ourselves from hogging every single time. The Midori party pack comes with 42 pieces in one box! So, who will you take along?
Where: 9, MMTC Market, Shivalik Road, Malviya Nagar; 2nd Floor, Govind Ram Palace, Opposite Metro Pillar 52, Sikandarpur Market, DLF Phase 1, Gurgaon & more outlets
5. Massive Paratha @ Prisha Paratha Junction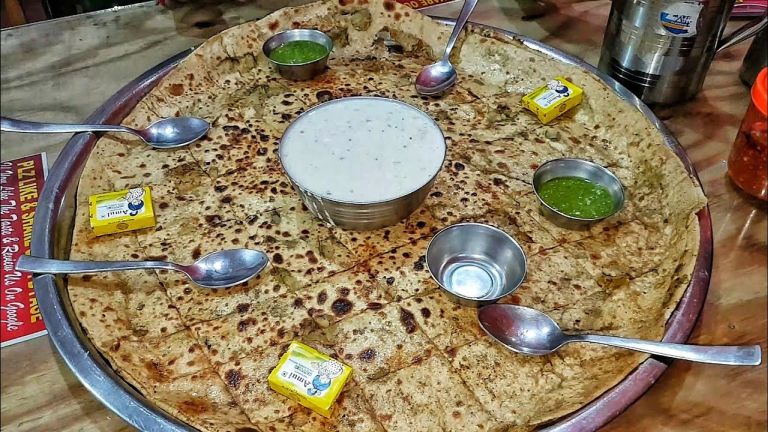 The Prisha Partha Junction is known for their giant paratha. Not just that, if you have the capacity of devouring three massive paranthas, you can win Rs 11,000! Each of their parathas is made out of 600 gm of flour filled with veggies and chunks of butter. Take your bhukkhad buddy there RN!
Where: 274 A, Opposite Metro Pillar 715, Near Uttam Nagar West Metro Station, Uttam Nagar, New Delhi
6. United India Thali @ Ardor 2.1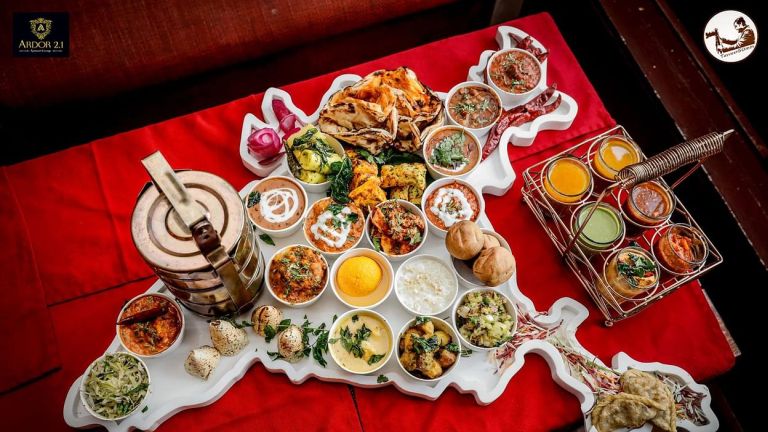 Ardor 2.1 needs no introduction! Known for their massive and yummy thalis, all the foodies out there you can't miss out on this one. Taking inspiration from Article 370, they came up with 10.5 kgs called the United Thali that serves flavours from all over India. From Kashmir to Kanyakumari, United India Thali has dishes from all the states. Get ready for a binging session like never before!
Where: N-55/56 & 88/89, Outer Circle, Connaught Place, New Delhi
7. Giant Burger @ Prankster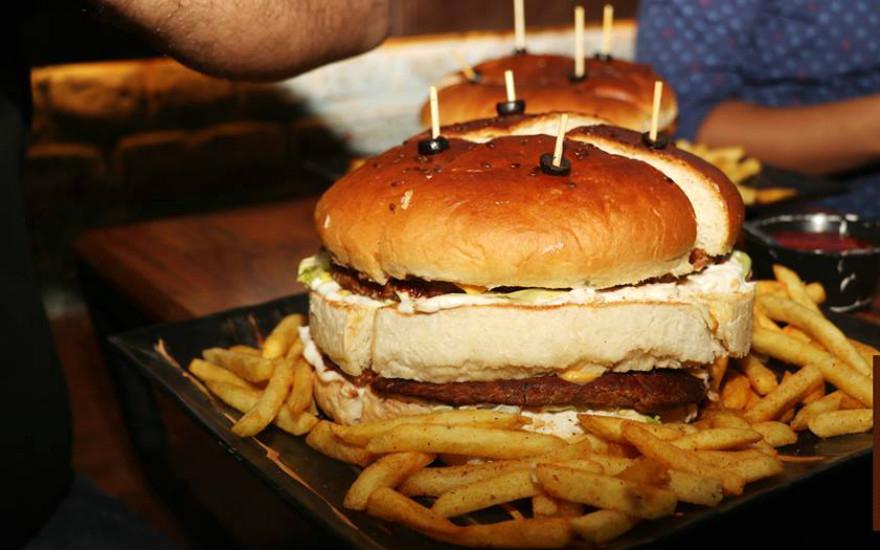 The Happy Chicken Burger is one of the hot-selling dishes at Prankster. This burger weighs 2 kg and contains 1 kg of chicken in it. The Happy Chicken Burger is big enough to serve four people! Trust us, it's not only that big, but it's also delicious.
Where: Site 8-10, Sector 29, Gurgaon
8. Family Dosa @ Moets Coco Palm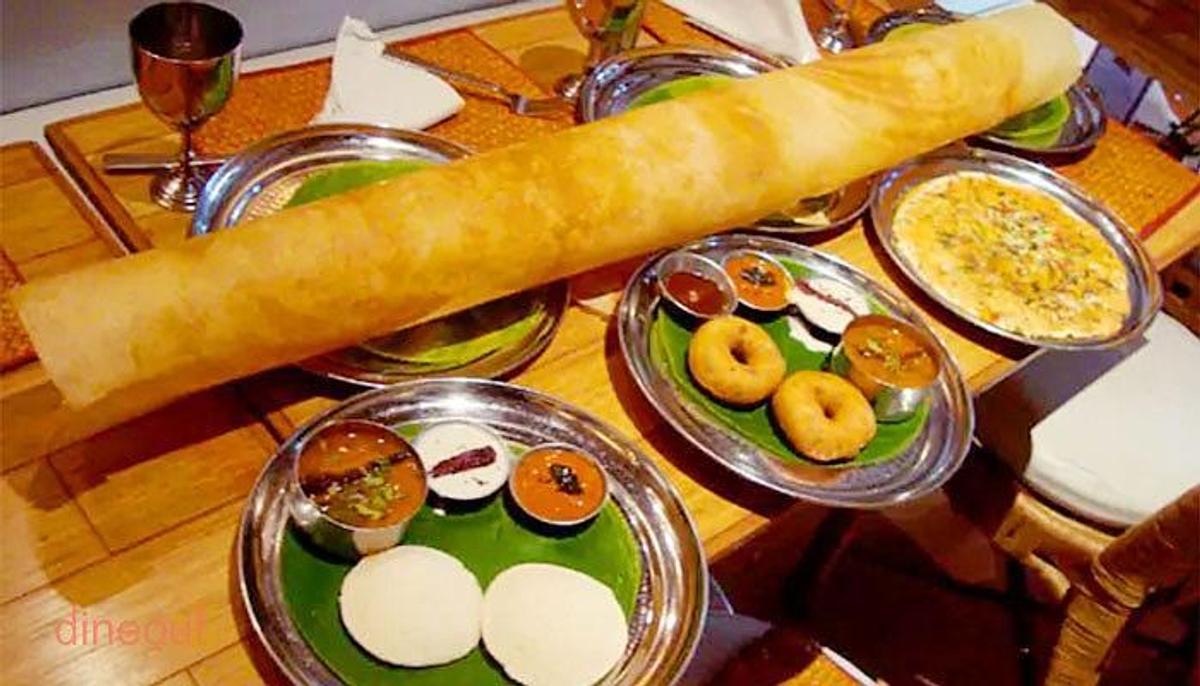 Like us, do you also have a thing for South Indian food, especially dosa? Then it would help if you gorged on this family dosa to satiate your cravings. Almost the size of a dining table, this huge kickass sized dosa is called Family Dosa as it suffices to feed four people of the family. It won't burn a hole in your pocket either, so go and hog on!
Where: 204, 2nd Floor, PVR City Centre Mall, MG Road, Gurgaon
9. Square Pizza @ The American Connection Diner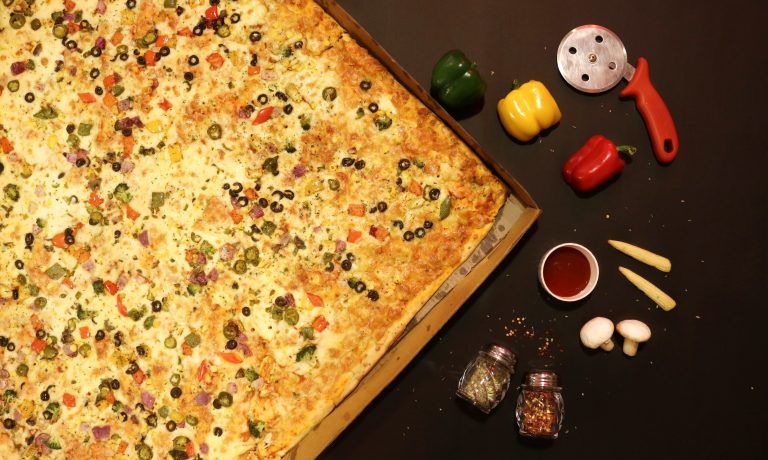 Who on this planet can say no to pizza? The American Connection Diner is known for its yummy and monster-sized pizza. It's 34 inches in size, and they have a price of Rs 34,000 bucks who finishes the whole pizza in 40 minutes! You need to pre-order the pizza as it takes around an hour to prepare it. Also, you can decide the toppings for your pizza according to your taste and preferences, and you won't be charged extra.
Where: F1, 2nd Floor, Kalkaji Main Market, Kalkaji, New Delhi
10. Monster Shake @ AnnaMaya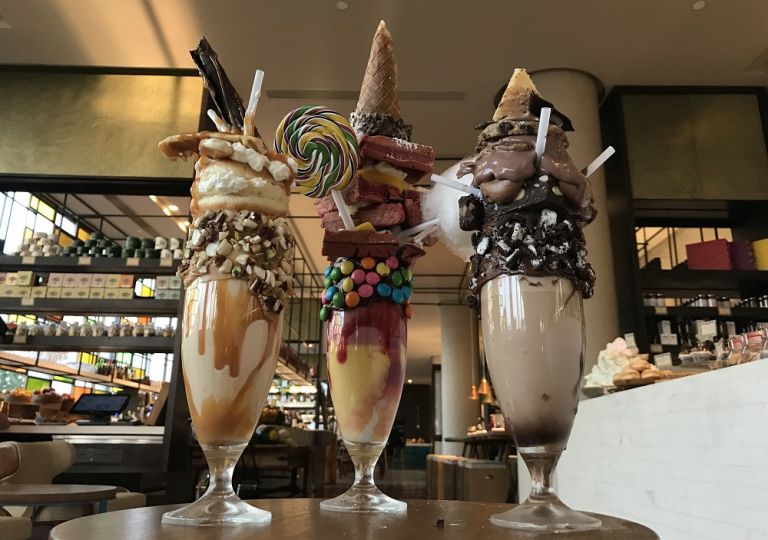 Freak and monster shakes are a thing now! But AnnaMaya's three monster shake has taken over completely. Their shakes have multiple layers- milkshakes, crushed biscuits, brownies, gems- yes all in one! AnnaMaya has three flavours- Salt Caramel Monster, Coffee Monster and Fruit Monster. What's your pick, guys?
Where: Andaz Delhi, Asset 1, Aerocity, New Delhi
(Featured Image Source: fussyfoodbloggers.com)