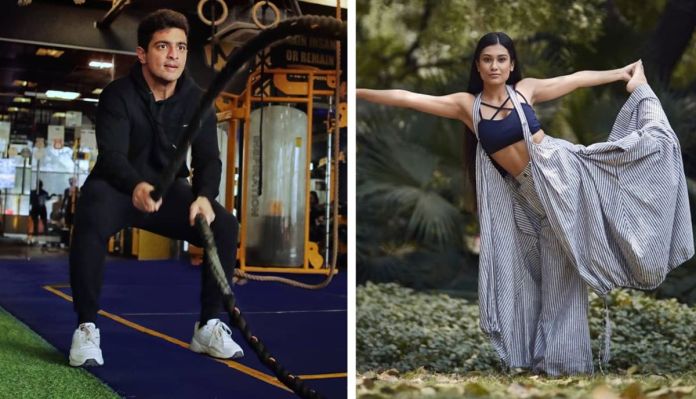 With the entire nation under lockdown due to the coronavirus pandemic, we all are trying to find innovative ways to workout while being in isolation. It is no doubt essential to work out to keep one's body and mind fit during these tough times. In today's era, exercising is no longer only about the gym and high-end equipment. Working out is just a click away! So check out these popular fitness YouTubers who you can easily follow to learn new exercises from their YouTube channels.
1. BeerBiceps
One can always count on BeerBiceps aka Ranveer Allahbadia to deliver YouTube videos related to health, fitness and fashion. BeerBiceps is one of India's first fitness YouTube channels that cater to the unique fitness needs of people. You'll find tons of workout videos on his Youtube channel that will encourage you to get up from your bed and exercise. 
2. Radhika Bose
Are you one of those who swear on Yoga the most? If yes, then you should follow Radhika Bose, a certified yoga practitioner who helps people to heal themselves through Yoga. With her workout videos, Radhika motivates people to embrace their journey and be fit and healthy. It's time to drive away those blues away with her energetic and body-positivity videos.
3. Raghav Pande's XCell Fitness
Through Raghav Pande's videos, you can quickly shed a few kilos to get in shape while staying at home. The videos show the fastest tips to lose weight, lose belly fat and get six-pack abs while exercising at home. All you need for workouts is just a pair of dumbbells, free weights and you are all set to transform your healthy body. Promoting fitness at home, Raghav Pande's YouTube channel is for those who are too lazy to step out of their comfort zone!
4. Gaurav Taneja
A certified nutritionist, an aviator and a professional bodybuilder, Gaurav Taneja is one of the best fitness instructors to follow. Through his channel, he provides you with all the necessary information on workouts, diet, supplementation and training gear. Each of the videos tells us about healthy eating habits, along with exercises that will make you stronger and healthier. So, go and follow him for your workout regime. 
5. Popsugar Fitness
We swear by Popsugar Fitness videos! It offers fitness workouts, tutorials and exercises that help you towards a healthy road, weight loss and stress relief. Not just that it even focuses on the most buzzworthy workouts such as Victoria's Secret model workout or some of the celebrity-approved methods of exercise. Their workouts can be performed anywhere, all you need is a good internet connection and gym shoes, and you are set to go!
6. Fitness Blender
Making fitness accessible to every household, Daniel and his wife Kelli started with Fitness Blender back in 2010. From 10 minutes to over hour-long sessions, the husband-wife duo has 25 years of experience, and you can easily create your fitness routine with their videos. So, to get a lean and fitter body, follow the instructions by Daniel and Kelli to burn all those extra calories!
7. FitnessRockers India
One of the most popular fitness channels in India, FitnessRockers India has tons of videos on workouts, bodybuilding, supplements, Yoga, weight gain, home remedies and nutrition. From meditation and to HIIT and Yoga, the channel has everything you can do at home to be fit and healthy. We swear by his fitness videos and diet plans!
(Featured Image Source: Instagram/beerbiceps; Instagram/yogasini)