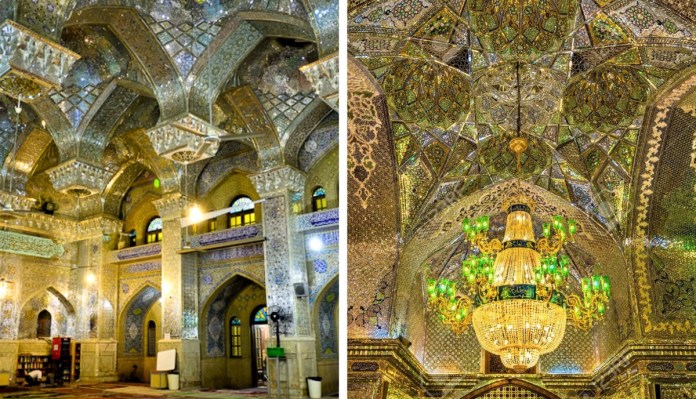 Yes, it's an actual mosque in Iran! If travelling across the globe to experience mindblowing wonders is your thing, then this mosque should be on your must-visit list. The Shah Cheragh mosque in Shiraz, Iran, is once in a lifetime experience and if you get the opportunity to visit it, we say you should grab it with both hands! It's a mosque and funerary monument which looks pretty ordinary from the outside. But you enter it, we bet its interiors, which are covered in the mirrored glass all over, would make your jaw drop! The millions of pieces of mirrors and stained glass reflect light from all directions and literally make the inside of this mosque the 'king of light'! Scroll down to know more about this stunning mosque in Iran.
History of Shah Cheragh
Image Source: Rambling Feet

Image Source: Creative Market
It is a mosque and funerary monument in the city of Shiraz, Iran. It houses the shrines of Ahmad bin Musa and Muhammad bin Musa. The legend goes back to the 900 A.D., when an ayatollah (a religious leader) was travelling near Shiraz and saw a green light coming from the ground. And it turned out to be the grave of a Muslim personality. So a shrine was built around the grave. Over the centuries, the site was expanded with some religious schools and other facilities. 
And then in the 14th century, a significant project on the mosque was commissioned by Queen Tash Khatun, the mother of Shah Abu Ishaq Inju, the last ruler of the Injuid Dynasty. She wanted the mosque to intensify light a thousand times over as the name of the King Shah Cheragh translate 'King of The Light' in Persian. 
Interiors That Will Blow Your Mind!
Image Source: yomadic


Image Source: yomadic
Despite looking like an ordinary mosque from the outside, Shah Cheragh is known for its spectacular interior with millions of mirror and glass pieces covering the ceiling and wall of the mosque. The interior of the dome is studded with finely-crafted tiles while the walls are inlaid with pieces of glass mixed with coloured tiles- red, blue, yellow and green.
The mirror tiles scattered the light of the chandeliers in all directions, and they created thousands of twinkling stars on pillars which made it look more surreal. Large windows made up of stained glass mosaics allowed the sunlight to flood into the interiors. The mirrored glass reflects light in all direction and it is rightfully also described as an 'exploded mirror ball'.
Image Source: Iran Zirat

Image Source: Trover
Over many centuries, the Shah Cheragh mosque has been incurred damaged by natural disasters and even humans. But it has been consistently renovated over the years. And today, it is one of the most visited pilgrim spots of Iran. If you love to explore all fancy things in the world, then this mosque should be added in your bucket list for sure! 
(Featured Image Source: Pinterest)