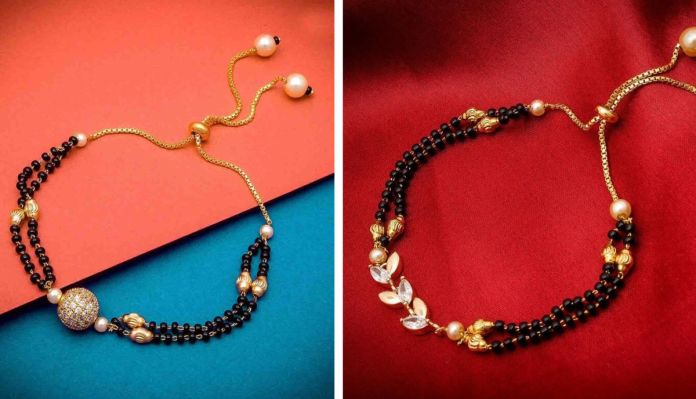 In Indian culture, Mangalsutra is much more than just an accessory. Mangalsutra is the reflection of a female's appreciation for the power of her married life. It is synonymous to an identity for a married woman. Gone are the days when it was supposed to be worn around the neck. Brides are now turning their suhaag ki nishani into a style quotient by styling it like a bracelet. Remember, Sonam Kapoor's bracelet mangalsutra with her and Anand Ahuja's zodiac signs? Well, we have curated a list of 7 brands from where you can get gorgeous bracelet mangalsutra.
1. RockRush
Image Source: Facebook/RockRushIndia


Image Source: Facebook/RockRushIndia
Are you one of those who want to combine trend and tradition? Then we're sure RockRush's bracelet collection will leave you in complete awe! Their mangalsutra bracelet is the right piece of jewellery that exhibits the beauty of Indian culture. This stunning beaded bracelet with diamonds will give a trendy and classy touch to all your looks.
2. PNG Jewellers
Image Source: pngadgil.com


Image Source: pngadgil.com
We get it, some brides want to go for some bold jewellery designs! And if you are one of those who loves to wear bright yet beautiful mangalsutra bracelet, then you should check out the collection of PNG Jewellers. Go for their double strands with a diamond-studded pendant in the centre.
3. Carat Lane
Image Source: Facebook/caratlane


Image Source: Facebook/caratlane
How about adding a pendant design to the bracelet? Carat Lane's collection will leave you spoilt for choice. You can choose a simple mangalsutra bracelet design with a simple strand of black beads and go bold with your pendant. You can pick whatever design you like be it with diamonds or infinity sign or one with an evil eye.
4. BlueStone
Image Source: bluestone.com


Image Source: bluestone.com
Much like everything in Indian weddings, minimalism has paved its way to mangalsutra bracelet designs as well. Here's a gorgeous simplistic yet so elegant mangalsutra design featuring two hearts solitaires surrounded with a simple strand of black beads. You can even go for the bracelet which has an 'OM' sign with a single strand of black beads. We totally love their collection!
5. Candere
Image Source: candere.com


Image Source: candere.com
One thing that is never out of fashion is hearts. Up the sparkle of a single-strand mangalsutra bracelet is by adding multiple hearts shaped in gold and diamond pendants at the centre. You can also check out another single heart-shaped mangalsutra bracelet with initials written inside the heart, isn't your type of jewellery?
6. Pipa Bella
Image Source: pipabella.com


Image Source: pipabella.com
Pipa Bella's collection is something which we want to buy in one go! From evil eye to personalized name mangalsultra bracelet, you will get it all here. Adorn your wrist with their marvellous beauty and watch the heads turn as you enter. The combination of black beads with an evil eye sheathed is unique and extremely elegant at the same time. Isn't this your pick?
7. Divamm
Image Source: divamm.com
How about going extra with your mangalsultra? Yes, Divamm's collection is for all those who want to go extra bold with their bracelet. Their mangalsutra design is actually a double bonanza featuring two strings and long pendants. While the upper half is made with quintessential black beads, the lower half consists of pendants the way you like. It's time show off your piece of jewellery!
(Featured Image Source: shaadidukaan; ninecolours)