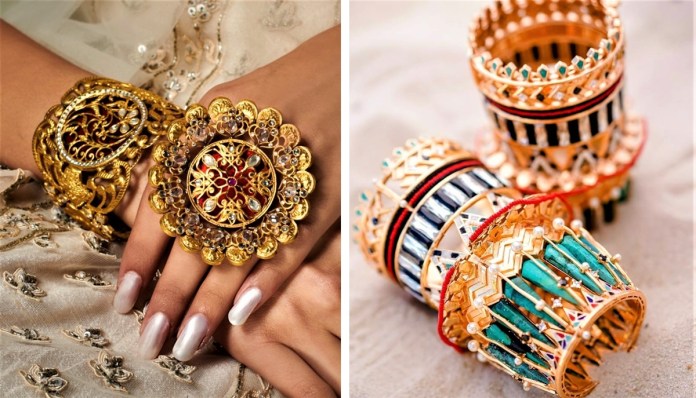 Wedding shopping can turn any bride-chiller into a bridezilla. But if you're reading this article, breathe easy because we're here to help! What's the most important thing on your wedding checklist next to the sarees and lehengas? Jewellery! From the family heirlooms to more contemporary pieces, jewellery features in the top three spots on top of a bride-to-be's shopping list! So, here's a list of brands to check out for some statement pieces to get those heads turning on your big day and even this festive season! And, for the best part- you can score these pieces for under 20K, what else do you need?
1. Isharya
Image Source: Facebook/Isharya


Image Source: Facebook/Isharya
Isharya features a great mix of modern jewellery with some traditional elements. This makes the brand great for buying head-turning statement pieces. So whether you're looking for something to go with your Mehendi or the reception outfit, or simply some pieces to add to your trousseau for the post-wedding family dinners etc. Isharya's got a lot in store for you!
Click here to shop.
2. Outhouse
Image Source: Facebook/Outhouse


Image Source: Facebook/Outhouse
With some of the most intricately designed jewellery pieces, their baubles will effortlessly amp up all your wedding looks! Also, they've got the most beautiful Bridal collection which includes necklaces, earrings, rings, bracelets and what not!
Click here to shop.
3. Tribe Amrapali
Image Source: Facebook/Tribe Amrapali


Image Source: Facebook/Tribe Amrapali
Their pieces shine from every angle and that's exactly what every bride needs! Tribe Amrapali boasts of an exquisite collection of cocktail jewellery, temple jewellery and some really, really gorgeous neckpieces. Their pieces are majorly silver and gold-plated contemporary jewellery. And we can't help but give a special shoutout to their collection of delicate anklets for the happiest feet!
Click here to shop.
4. Eurumme
Image Source: Facebook/Eurumme


Image Source: Facebook/Eurumme
Semi-precious stones and metals, together with plating and electroplating, combine to produce a piece of imperfectly perfect jewellery! They've got some great delicate fashion jewellery, which is minimalistic and feminine. With some quirky, out-of-the-box pieces, they're a great addition to your own wedding collection!
Click here to shop.
5. Joolry
Image Source: Facebook/Joolry

Image Source: Facebook/Joolry
The Joolry collection plays host to sterling silver jewellery that is studded with semi-precious stones, that add a pop of colour to any outfit! Whether you're looking for some more sophisticated statement pieces or something more traditional, Joolry is your one-stop-shop for it all!
Click here to shop.
6. Mrinalini Chandra
Mrinalini Chandra has a wide range of eccentric ancient handcrafted jewellery and fashion accessories which are part modern and part traditional. The brand has some unique ideas which translate to some pretty cool, edgy pieces! Ladies, they customised Kaliras for Priyanka Chopra and Sonam Kapoor and can do it for you too!
Click here to shop.
7. Atelier Mon
Opulent yet understated, classic yet contemporary. That's what Atelier Mon offers with their delicate, unassuming baubles and the statement pieces that stand out. Their bridal collection is sophisticated and stylish and will add just the right amount of oomph to your outfits!
Click here to shop.
8. Shazé
Image Source: Facebook/Shazé

Image Soyrce: Facebook/Shazé
With bold and distinctive pieces, Shazé is the brand you're looking for if you want to give your guests another reason to keep their eyes glued to you! Their red carpet collection comprises of the perfect pieces you need to add to your collection. After all, your wedding is your own personal red carpet, isn't it? If you agree with us on that, you absolutely have to check out Shazé.
Click here to shop.
Featured Image Source: Facebook/outhouse; Tribe Amrapali