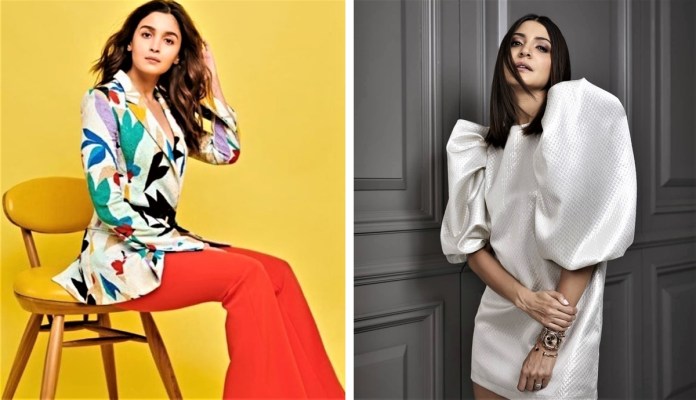 2019 is coming to an end which means its time to talk about all the fashion trends our celebrities pulled off this year which we'll be taking with us to 2020 because we loved them so much! Be it Indian wear or Western wear, our favourite B-town celebs gave us a ton of inspiration in 2019. So, here's taking a look back at all of the trends we saw the B-town ladies sporting that were love at first sight!
1. Denim on Denim
Image Source: Instagram/Katrina_Gorgeous

Image Source: Instagram/KritiSanon
Denim on Denim is one of those evergreen trends that's always a hit. Be it a celebrity, a fashion blogger or just that girl next door, this is a trend that works for everyone. While it has been around for a long time, this year our B-town divas took the trend a notch higher by dressing it up and dressing it down. And we, obviously, could not get enough of it!
2. Neon
Image Source: Instagram/Saraalikhan95

Image Source: Instagram/AnanyaPandey
We never thought we'd say this but Neon was one of the biggest trends this year. 2019 was all about All Neon, Everything. From Alia Bhatt to Deepika Padukone, we saw everyone sport this trend, out and about and even on the red carpet (read: Deepika at Cannes). Besides, it's definitely a trend that would get heads turning and who doesn't like that?
3. Monochrome
Image Source: Instagram/ParineetiChopra

Image Source: Instagram/KatrinaKaif
Monochrome is definitely a trend that we can get with, especially after seeing all our B-town divas carry it off so effortlessly. For the unaware, Monochrome basically implies wearing the same colour or shades of the same colour from head to toe. So tell us, what's not to like about this trend?
4. Sneakers with Indianwear
Image Source: Instagram/KritiSanon


Image Source: Instagram/KritiSanon
Remember when Anand Ahuja wore sneakers with his Indian attire at his own wedding last year? And Rhea Kapoor followed suit? Well, sneakers with Indian wear became quite a hit this year too with the likes of Kriti Sanon and Athiya Shetty hopping on the bandwagon and we're all for it too!
5. Quirky and Vibrant Pant Suits
Image Source: Instagram/Priyankachoprajonas

Image Source: Instagram/AliaBhatt
Pant Suits are definitely the attire that makes us feel confident and much like a boss lady. No wonder our B-town divas were experimenting with quirky and vibrant pantsuits all year long. Bright and bold colours and the busiest of prints, this trend definitely demanded attention this year and rightfully so!
6. Statement Sleeves
Image Source: Instagram/SonamkAhuja

Image Source: Anushkasharma
If there is one person in Bollywood who adores this trend, its Anushka Sharma. We saw her in a number of outfits where her sleeves were the talking point of the whole look. Fashionistas, mind you, this is a trend here to slay. So if you're looking to make a statement this new year's eve, we suggest you let your sleeves do all the talking!
7. Shimmer Dresses
Image Source: Instagram/JacquelineFernandez

Image Source: Instagram/AnanyaPandey
As much as we love ourselves a well fitted and basic LBD, this year was all about trying new styles and colours. The blazer dress made a big come bag and for those who love to go all out, it was shimmer and shine all the way. Yes, ladies, our B-town ladies taught us a thing or two about doing dresses right this year. So ditch that LBD and find yourself a blazer/shimmer dress for this New Year's Ever!
8. Layering Jewellery
Image Source: Instagram/JanhaviKapoor

Image Source: Instagram/DeepikaPadukone
Stacking bracelets and necklaces was the order of the day in Bollywood this year. From Deepika to Malaika to pretty much anyone and everyone were seen with tons of arms and neck candy. The trend is obviously pretty cool and we approve, of course! So, whether you're a gold, rose gold or silver person, go and stock up on your jewellery collection to ace this trend!
9. Boiler Suits
Image Source: Instagram/RakulPreet

Image Source: Instagram/ShaleenaNathani
Gone are the days of the regular jumpsuits. 2019 was the year of boiler suits! For those of you who don't know, Boiler suits are literally the most comfortable version of a jumpsuit you could find. You may also know them as coveralls or overalls and yes they have now become a celebrity-approved fashion statement that you absolutely need in your wardrobe!
10. Ruffled Sarees
Image Source: Instagram/theshilpashetty

Image Source: Instagram/aslisona
When it comes to the wedding/festive season, the trend that's really popular among our B-town divas is the ruffled saree. We all know a saree is the most elegant piece of Indian clothing that can be worn for pretty much any occasion, but this modern yet classic twist is everything we need in our lives! So, take inspiration from your favourite actresses and flaunt a ruffled saree this wedding season!
11. Choker Necklaces
Image Source: Instagram/JanhaviKapoor

Image Source: Instagram/DeepikaPadukone
Choker necklaces have been around for a long time but its only this year that they became such a big fashion statement among our Bollywood divas. From wearing it with your Indian wear to flaunting one with a pantsuit, the Chokers are everywhere and we are super thrilled because this is one trend that we have absolutely loved ever since it first came into being!