Beauty is not one-size-fits-all and we are absolutely digging how the fashion girls out there are embracing their bodies the way they are. Long gone are the days when only the skinnier girls could find fashion inspiration online. The curvy girls are the real girls who are making their mark in the fashion world and how! We got in touch with one such fashionista, Sakshi Sindwani, who most of you probably know as the bubbly and cheerful girl behind @stylemeupwithsakshi. She spoke to us about curvy & real girl fashion and offered some amazing styling tips!
Hi Sakshi. There's a lot of dialogue happening around 'curvy' girl fashion. What's your take on real and curvy girl fashion?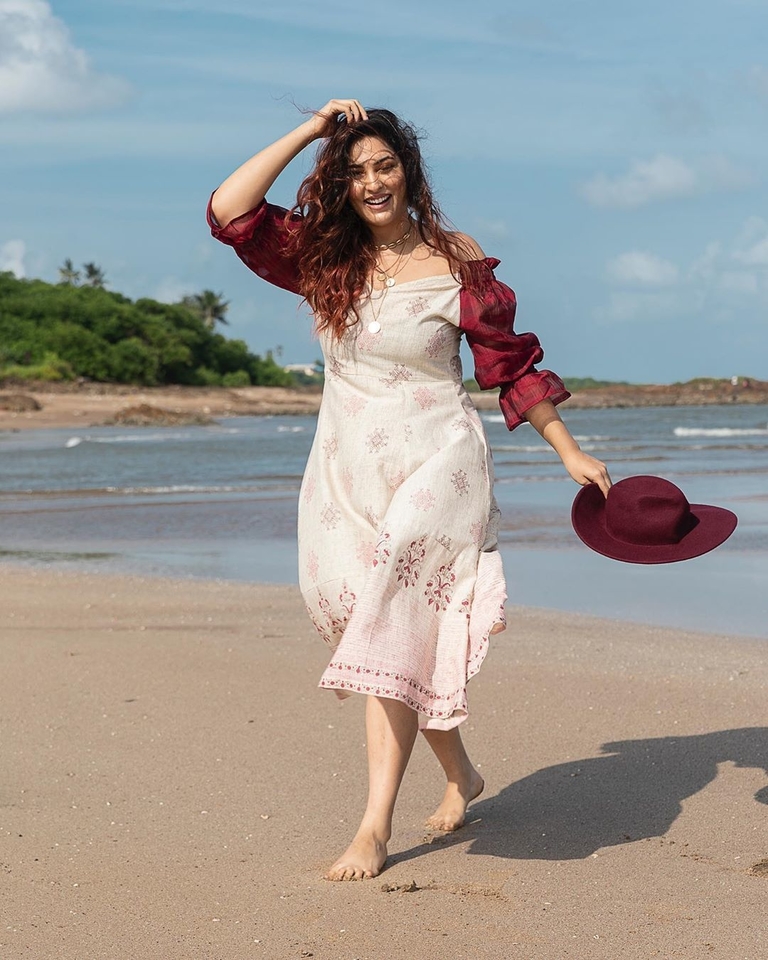 I personally strongly feel that the curvy fashion community is very very strong. I think we are definitely making a change and it is very positive. Thanks to the plus-size community, I think more and more brands are coming up with plus-size collections. The society's become more accepting and inclusive for sure. The downside to this is also that a lot of people are misinterpreting size inclusivity and just being positive about yourself as an excuse for obesity and health problems. Whereas, the goal is to be comfortable in your own skin and accept yourself the way you are. But taking care of yourself both physically and mentally is equally important.
We love your insta feed and the variations of styling you come up with for curvy girls. If you were to pick, what would you say are top 5 styling trends for curvy girls?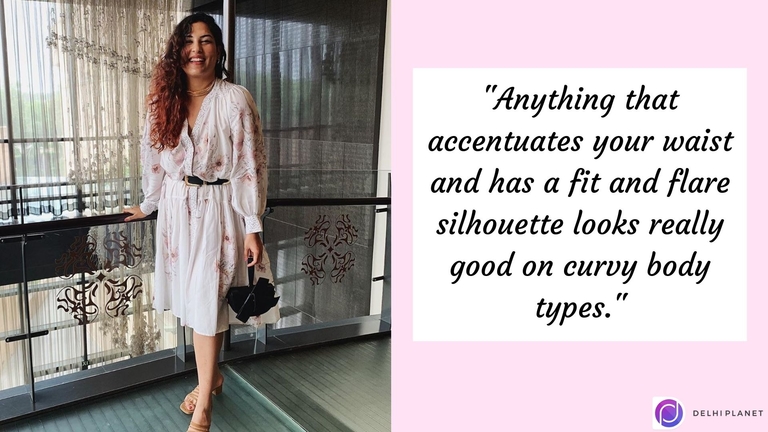 The cinched waist is my top tip for a curvy girl.
Other than that I suggest you wear a lot of V-necks. V-necks look great on a curvy body type.
Anything that accentuates your waist and has a fit and flare silhouette looks really good on curvy body types.
Also, layering with denim jackets should be your go-to to amp up any look and high waisted pants too. Basically anything high waisted will look good on a curvy girl.
Another thing that looks great on curvy girls is bum bags and fanny packs because, again, they cinch the waist and grab all the attention to the waist rather than other parts of your body which works well!
Some people hold the belief that only Indian traditional clothes look good on heavier girls. Of course, that's not the case! But how do you think curvy girls can jazz up their Indian attire and look like a fashionista at the same time?
I personally do not follow any rules or regulations when it comes to dressing up. A lot of people say that you shouldn't wear lighter colours or you shouldn't wear A-line clothes when you have a pear-shaped body. This is something I don't agree with at all.
I believe that if styled right you can wear anything and everything. If something is really oversized, make sure you wear a waist belt with it. Make sure the neckline is deep enough or it has a v-neck or an off-shoulder. And if worn with confidence, you can rock any outfit and that's the biggest motto for me when it comes to fashion.
Short dresses and straps are always tricky business for curvy girls. Can you give us a few examples of how curvy girls can wear them?
Image Source: Instagram/stylemeupwithsakshi


Image Source: Instagram/stylemeupwithsakshi
It totally depends on where in the spectrum you lie in terms of how curvy you are. I feel like a lot of girls can layer up like wearing a denim jacket or lighter overcoats. You can also wear your ethnic jackets with your short or scrappy dresses if you don't want to show your arms or your muffin tops or you're not very comfortable with your curves highlighting.
In the wintertime, you can obviously wear a nice leather jacket or an overcoat. The lengths of the jackets make a huge difference so make sure that if your dress is really short then the length of the coat is comparable to the dress. For me what works is that I usually go for an overcoat that is longer than my dress because that just looks more flattering. And with a tube or off-shoulder dresses, just take care of the length of the dress and you can jazz it up with a nice statement necklace or statement earrings.
A waist belt seems to be your go-to styling accessory! But what are some other styling accessories which are both in vogue and can be super useful?
A waist belt is my holy grail for sure but some other accessories that I swear by are hats and hair accessories in general. And pearl earrings and diamond-studded earrings are super in trend. Apart from that, there are the neon cloth belts which are super trendy right now. You can experiment with those too! And in wintertime, I love experimenting with gloves!
Tell us some types of outfits which every curvy girl must have in her wardrobe?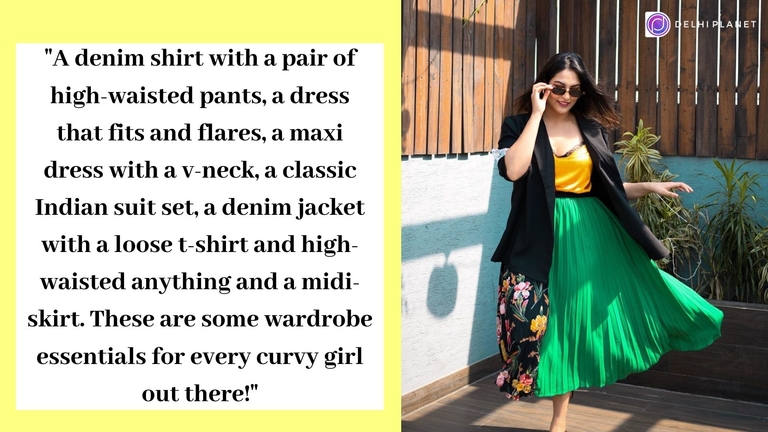 Oh, this is simple. Every curvy girl must have:
A denim shirt, a pair of high waisted pants. And I'm not just talking about the regular high waist but like super high waisted ones.
A dress that fits and flares i.e., fit on the waist and then flares below that.
A nice maxi dress with a v-neck, a really classic Indian suit set, which could be an Anarkali that fits on the bust and the waist area and then flares out.
A denim jacket, a loose t-shirt with high waisted pants or shorts or a skirt. I am a huge fan of midi skirts.
I think midi-skirts are also a wardrobe essential for curvy girls for sure!
We've heard about how cow prints are all the rage this season. What other latest trends, colours & prints do you think curvy girls can use to their advantage?

Image Source: Instagram/stylemeupwithsakshi

Image Source: Instagram/stylemeupwithsakshi
Yes, cow prints are super in trend. Other trends that we can definitely look into are snake print and a lot to do with Aztec prints. Basically prints which have a lot of geometrical colour. With curvy girls, prints can be super tricky. But if you have a pear-shaped body, then you can work with subtle prints. Even animal print which is small and minimal works the best. Also even with subtle prints, try to keep the print on the top rather than the bottom. For the bottom, you can keep it basic with black, white, blue or brown pants.
Lastly, now that autumn and winter are just a couple of months away, what new trends/outfits should girls stock up for that?

Image Source: Instagram/stylemeupwithsakshi


Image Source: Instagram/stylemeupwithsakshi


Image Source: Instagram/stylemeupwithsakshi
Winter is definitely one of my favourite seasons because you get to experiment with so much layering and it's the time when you can have fun with fashion and not drown in sweat unlike in summer. For me, I'm a huge pant-suit set person. For winters its a great option to wear. Even corduroy sets.
The trend which is coming up is plaid on plaid. You can really experiment with that this winter. Plaid skirts, plaid shirts are really in.
I love over the knee high top boots which is a winter classic anyway.
Also, a lot of people with now start experimenting with thicker fabrics like velvet, corduroy etc. So stock up on that.
Also, try to get a really good fitting leather jacket, I feel like that's a must-have for every girl. Rather than going for the one with a lot of zips or any other details, go for a basic, classic leather jacket. It's going to go a long way.
Featured Image Source: Instagram/stylemeupwithsakshi