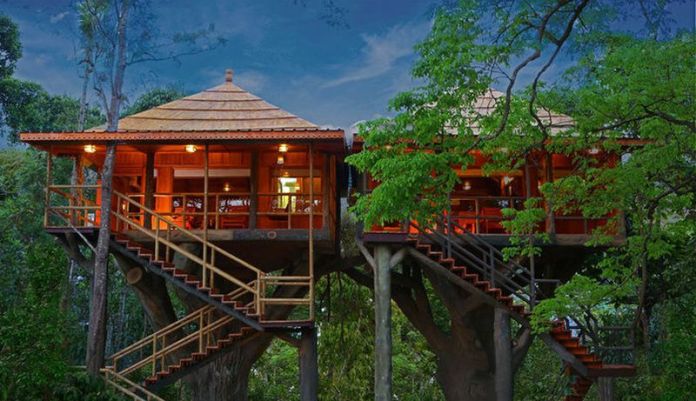 Dilli's summer season is back and we're already packing our bags to escape the sweltering heat of the city! Imagine yourself spending your day nestled amidst nature's lap as you lay your eyes on a scenic view of the lush green landscape. Sounds surreal right? But where can you get that view? Well,d definitely at a tree house! And luckily our country has some really gorgeous tree houses spread all across, which you should check out RN!
1. The Tree House Resort, Jaipur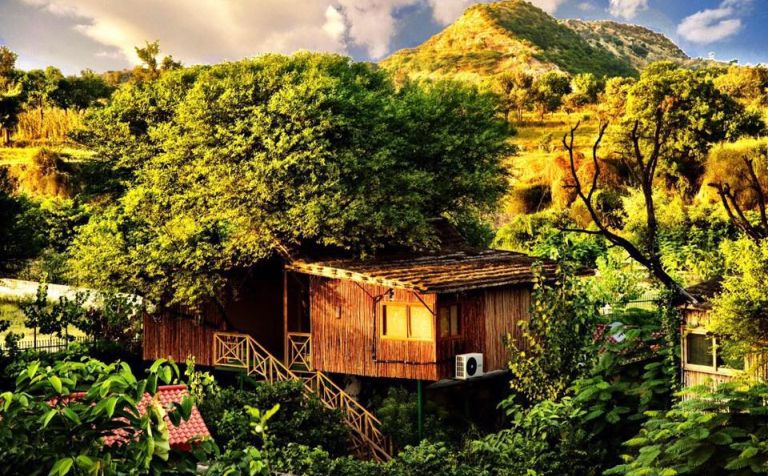 Searching where to go? Probably someplace green, enveloped in nature? That's where The Tree House Resort comes to your rescue. Set high up on trees, they've got Treehouse Nests to give you the perfect blend of nature with all the 5-star hotel amenities. You can choose your room from Deluxe and Luxury Nests and Private Suites. You can sit by the window, curled up with a book and a glass of wine! The resort gives you the pleasure of ACs, LCD TVs, tea-coffee maker, WiFi, outdoor showers, jacuzzis and even glass floors to view the marine life! Now isn't this the best way to spend a vacay?

Where: Nature farms, NH11c, Opp.Amity University, Jaipur
Contact: +91 9001 797 422

2. Vanya Tree House, Kerala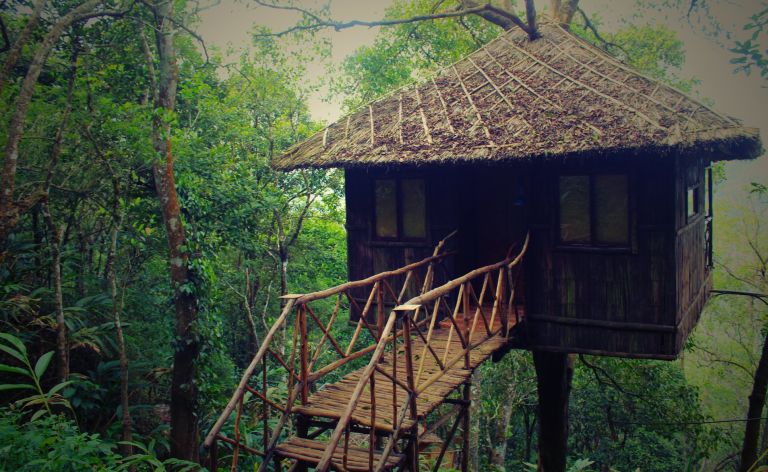 Built on a single tree on the face of a hill, Vanya Tree House is nestled in the green dense forest of western ghat and offers us a perfect escape from the city chaos. A stay here is more than just about spending time in a tree house, but it's a way of living! They offer activities like Forest Edge walking , Meditation in the lap of Mother Nature, Bird watching, Camp Fire, Sun Rise & Bison Sighting. Reminding visitors about nature's self-sufficiency they truly offer us a taste of nature which we have might have forgotten.

Where:66th Mile, Spring Valley, Kumily, Thekkady, Kerala
Contact: +91 94465 74383

3. Manali Tree House Cottage, Manali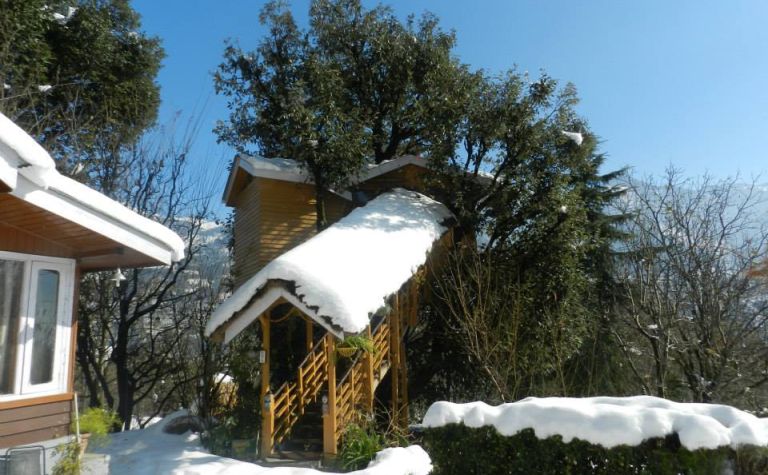 With a pine forest as the background and the spectacular Himalayas as foreground, Manali Tree House is cottage made with care and love that you can clearly make out. Wooden window panes with glass windows, guarding such precious views of the Himalayas that you will simply be mesmerized just seeing the breathtaking view. The cottage has a space for two people made in classic and mid-modern style. Couples, you listening? They've got all sorts of facilities amenities like 24-hrs electricity, hot water, Tv & free Wi-Fi ! So book your stay here and head on over whenever you're looking for a getaway from the hustle bustle of city life.

Where: Katrain, Manali, Himachal Pradesh
Contact: +91-98160-78765

4. The Machan, Maharashtra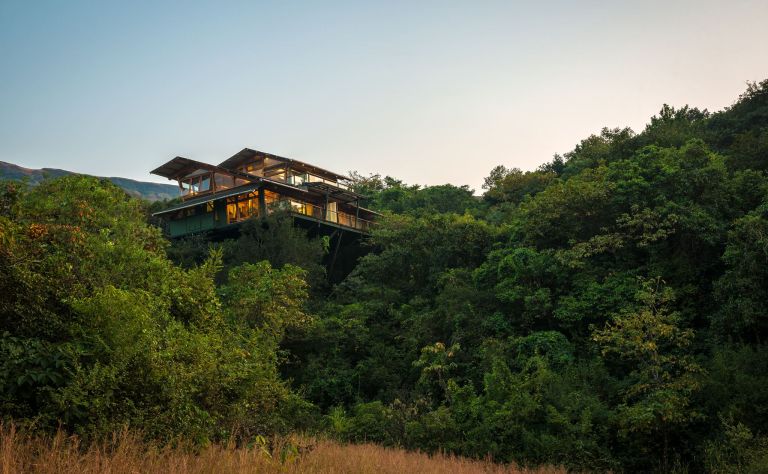 An eco-resort with unique tree houses rising 30 – 45 feet above the forest, these tree houses offer absolute serenity to those people who are looking to escape to nature. The Machan has various treehouse options, including the Starlight Machan, Forest Machan, Sunset machan, Heritage Machan and many more, according to your preferences. Their spa is located in an isolated cabin which will provide you pleasurable massages and beauty treatments to rejuvenate. You can't afford to miss out their heritage restaurant, which serves delicious preparations. So put up your feet and give yourself the break which you totally deserve!

Where: Private Road, Atvan, Maharashtra
Contact: 076666 22426

5. Safari Land Resorts, Tamil Nadu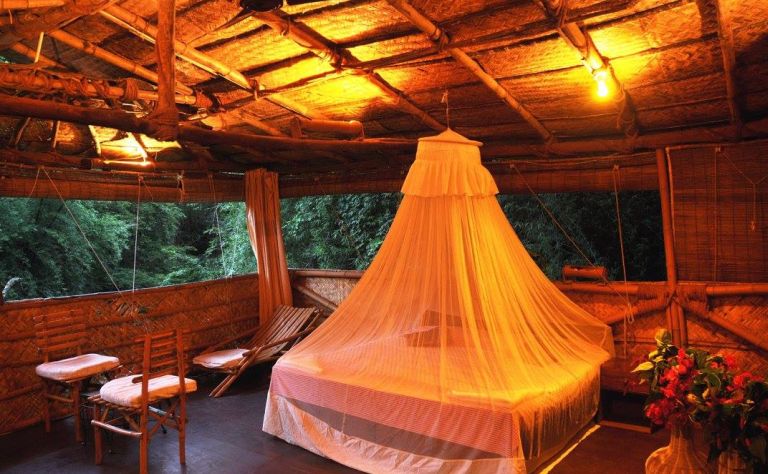 This resort in Tamil Nadu is simply gorgeous and perfect for a chilled out holiday away from home! Safari Land Resorts is going to give you travel goals to a whole new level as it offers you a number of tree house options based on height and accommodation requirements. Their eco-friendly and gorgeous tree houses facing the mountains of Nigiris, amidst sparkling streams and a lush green forest, is all the relaxation you need this summer! All the tree houses are equipped with all the basic facilities from electricity, hot water and as well as delicious local food.

Where: 4/78K, Safariland, Bokkapuram, Nilgiri District, Masinagudi, Tamil Nadu
Contact: +91 8870060192

6. Vythiri Resort, Kerala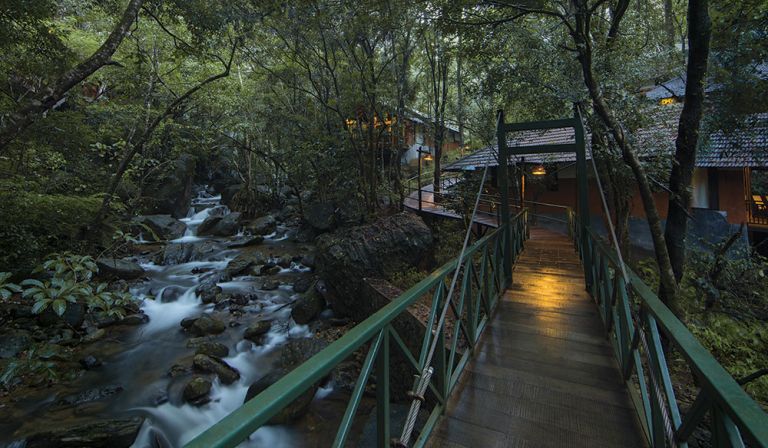 Wrapped in the lush embrace of a rainforest, Vythiri Resort is a beauty with some lovely tree houses where you can go to calm yourself down. They've got some great facilities too, like a spa, a rejuvenating ayurvedic centre, health club, a coffee shop, swimming pool and kids park. But one thing that stole the show is that they have a natural pool! It is a lake where you can go take a dip. Apart from Tree Houses, they have got a Honeymoon Pool Villa, Pool Villa, Honeymoon Villa and Vythiri Haven, so book whichever one you like.

Where: Lakkidi P.O, Wayanad, Kerala
Contact: 04936 256 800

7. Tree House Hideaway, MP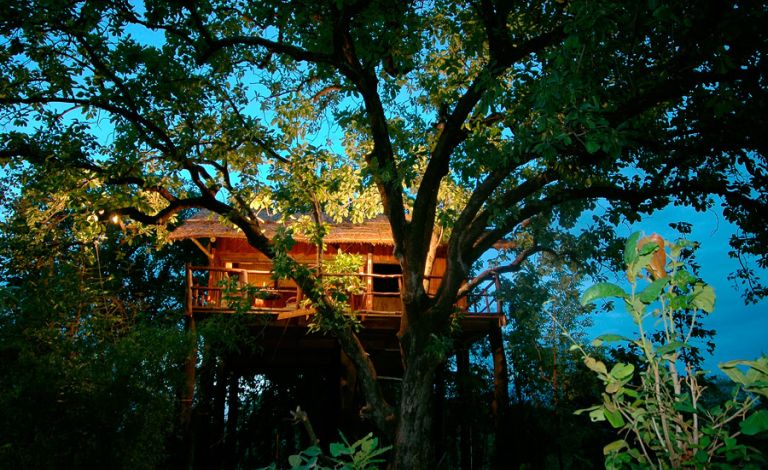 How would you enjoy a few days spent amidst thick forests and more? Sounds interesting, doesn't it? Then head over to Tree House Hideaway for a really unique staycation! They have five beautiful tree houses all surrounded by lush green forests. The tree houses are called Peepal, Mahua, Tendu, Banyan and Palash and are named after the tree upon which they are perched. Also, a tiny balcony is attached to each room that gives a fabulous view of the wilderness outside. Their dining hall is divided into two levels, it's built around a century-old Mahua tree. The ground floor offers a cosy dining area and the first floor has a gorgeous bar and lounge!

Where: Umaria-Badhavgarh Road, Umaria District, Madhya Pradesh
Contact: +91-011-40146400

(Featured Image Source: Travel Triangle)