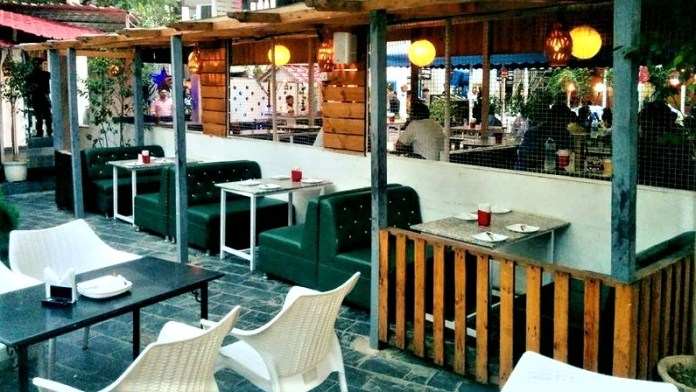 Now for Dilliwallas, this is a very new concept, but us Guruguram waasis are very familiar to this! You ask what? Well, imagine sitting in a bar with a super chill setting, good alcohol, food, and some ambient music with your gang. Sounds pretty amaze, right? Now, what if we tell you that you will not be charged for the alcohol? Confused? Well, the machaan or ahaata system lets you bring your own booze to the restaurant and chill there while they serve you some piping hot food!
This concept has become super popular because not only does it mean that the bill is literally cut into half, but also because you can have the poison of your choice without having to worry about its availability. There are some famous names when it comes to machaans, but here are the top 7 ones that you must visit with your squad today!
1. Machan
The most popular BYOB spot in Gurgaon, Machaan was one of the first pubs to come up with the concept. Located in the very popular market of Sector 29, they have a fully-stocked liquor store right outside it and serve some delicious lip-smacking multi-cuisine food- starting from North Indian to Chinese to Continental delicacies. And yes, it's a total paradise for Bollywood lovers because they play some groovy Bollywood tracks too!
Image source: Tripadvisor
Where: Sector 29, Gurgaon
Cost for two: Rs. 800
2. After Office
Tired of your monotonous day at work? Want to hang out with your buddies post work with a couple of drinks? Then After Office is your saviour. The place has a very colourful and quirky ambience that you will notice the moment you walk in. They also have delicious thaalis and platters that you can binge on while you sip on your drink. So, make plans and visit this place with your co-workers RN!
Where: 108, 107, Mehrauli-Gurgaon Road, Sikanderpur, Gurgaon
Cost for two: Rs. 750
3. Outback
With an expansive multi-storeyed pub, Outback is known for its beautiful outdoor seating and groovy music. It has a resident DJ who will ensure that after a couple of drinks, you are definitely on the dance floor. They also have a fusion menu with food that you cannot resist. Perfect for celebrating big occasions with a huge gang, this is one BYOB you cannot miss out on!
Where: Near Audi Showroom, Golf Course Road, Gurgaon
Cost for two: Rs. 1,000
4. Wangchuk's Ladakhi Kitchen
Any fans of Tibetan food here? Famous for their mouth-watering Tibetan food, Wangchuk's Ladakhi Kitchen is also a BYOB pub by night! Their serene vibes, the melodious music, and of course the smell of the aromatic food is enough for people to chill here in the evening post work and is also ideal if you just want to catch up with your friends for drinks and some yummy dinner. We know where we will be this evening!
Where: Jalsa Building , Main Golf Course, Gurgaon
Cost for two:Rs. 800
5. The Friends' Republic
Comparatively new to the BYOB scene, The Friends' Republic has gathered quite the buzz and attention of people in the city. With their huge LED set-up that screens all exciting matches as well, a super amaze Live DJ who plays the trendiest and hottest numbers, and a niché crowd, your next weekend to-do list should definitely include this place! The vibe is so bubbly and electrifying that you will definitely go back there again!
Where: Rajesh Pilot Chowk, Golf Course Road, Gurgaon
Cost for two: Rs. 1,500
6. Knight Rider Junction
Nestled away from the hustle bustle of the city, this Ahata on Gurgaon-Faridabad Road has opened quite recently and will definitely transport you to a new world. Surrounded by the Aravalli Hills, they provide not just a stunning backdrop but a great dining experience as well. Now doesn't that sound great? The place has both indoor and outdoor seating, a romantic rooftop, and a private area for parties. This place definitely is on our wishlist. Is it on yours?
Where: Near Ansal Valley View Towers, Gurgaon-Faridabad Road
Cost for two: Rs. 1,000
7. The Village Shack
Perefect for a romantic night out, The Village Shack has cosy nooks and corners where you can spend some quality some with your SO. The place also has beautiful decor and serves some kickass North-Indian cuisine. So the next time you are a little low on cash for an exoensive date night, you know where you should be! Beer and chicken tikka this evening, anyone?
Image source: The Village Shack Facebook
Where: Moulsari Road, Near Moulsari Arcade, DLF Phase III, Gurgaon
Cost for two: Rs. 800
Featured image source: Machan/ Facebook