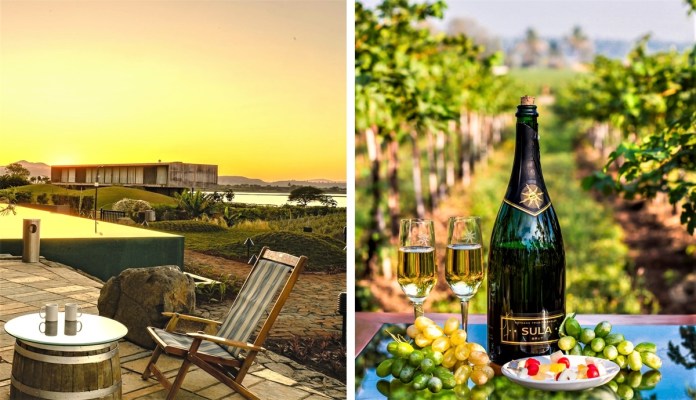 If there's one drink which is evergreen and timeless, it's got to be wine! India's winemakers have quickly established a number of reputable wine brands through there vineyards in the past few years. Most of the wineries have also encouraged wine tourism in India and have been setting aesthetic wine tasting tours accompanied by some fun activities. So, for every wine lover out there, we have handpicked 7 of the best vineyard resorts in India that you have to check out for the perfect weekend getaway! Scroll on, peeps!
1. Sula Vineyards

Image Source: Instagram/sula_vineyards


Image Source: Instagram/sula_vineyards
Sula Vineyards in Nashik has wines from countries like Argentina, Chile, Tuscany in Italy and Champagne in France. Located on the outskirts of the city, it is nestled between the hills and grapevines. You can walk around the vineyard and see the whole process of winemaking. Yes, yes you can even gorge on the yummy delicacies they serve.
Apart from their amazing stunning views and wine cellars, Sula offers a stay at their beautiful resorts – 'The Source' and 'Beyond'. You can enjoy the serenity of the Gangapur Lake and spam your feeds!

Where: at 36/2, Govardhan Village, Off, Gangapur-Savargaon Rd, Nashik, Maharashtra
Contact: 099700 90010
2. Soma Vine Village
Image Source: somavinevillage.com


Image Source: somavinevillage.com
Tucked near the pastoral surroundings of the Western Ghats, Soma Vine Village is the beautiful estate that organises amazing wine tasting sessions. Also, they take you for a tour of the winery and the vineyard. Apart from a vineyard, they have a pool and special experts for massages. You can even go for bicycle rides to soak in the fresh air and the aroma of grapes. Can't get more luxurious and relaxing than this!
The resort has about 32 rooms where you can spend your weekend mornings in your private balcony, gaze at the lake and the hills beyond.

Where: Survey No. 1, Village Ganghavare, Gangapur-Ganghavare Road, Nashik, Maharashtra
Contact: 070280 66016
3. Vallonne Vineyards

Image Source: Instagram/vallonne_vineyards


Image Source: Instagram/vallonne_vineyards
If you are a true wine lover then this place is perfect for you! Vallonne Vineyards is famous for bringing the French Chateau experience to India. From Malbec to Viognier, name it and you will get it here. Being vintage and unique in its own ways, this winery gives you the opportunity to make an entire barrel of the wine of your choice.
What more can you ask for! Their stunning Bankside at Vallonné resort offers beautiful views of the Mukhne Dam and the acres of lush vineyards. Go for a hike and enjoy the scenic views fo the hills.
Where: Gate no. 04, Kavni Shivar Near Sanjegaon, Igatpuri, Maharashtra
Contact: 092722 27773
4. Four Seasons Winery

Image Source: indianluxurytrains.com

Image Source: Make My Trip
Set against the backdrop of the majestic Western Ghats, Four Season Winery looks straight out of a postcard. You can taste the freshness of spring, the seductiveness of summer, the crispness of fall, and the zest of winter in their international award-winning wines. Shaped on a French château and surrounded by sprawling vineyards, enjoy the wine tasting session and vineyard tour here.
Spread across 50 acres of land, the spectacular French chateau will awe you with their old-world charm. From high vaulted roofs to white stucco and arched corridors, this mansion is dreamy as a fairy tale.

Where: Gate No. 263, Daund Taluka, Pune District, Roti, Maharashtra
5. Fratelli Vineyards

Image Source: bruisedpassports.com


Image Source: bruisedpassports.com
Started back in 2007 by three pairs of brothers from Italy, Delhi, and Maharashtra, Fratelli Vineyards is known for producing some reserve labels from its 240-acre estate. Once you are here you can go for exclusive, interactive tours and tastings. Yes, you can even choose where to stay at the luxurious resort nearby. They have a stunning collection of white and red wines. The wine tour is led by an in-house expert who shows you everything from the vineyards to the whole winemaking process. Are you in for this?

Where: Shipaiwadi, Motewadi, Maharashtra
Contact: 099588 80577
6. Blackbuck Wine Resort

Image Source: CN Traveller

Image Source: Outlook
This stunning 510-acre property produces red and white wines using the expertise of David City, a France established oenologist. While you are here, you can go for vineyards tours, grape stomping and go for a drive to a nearby forest to spot some blackbucks.
It's a 4-hours drive from Bengaluru, and the vineyard gives you the option of buying some excellent delicious grapes too. Their resort is super gorgeous and would make sure you have a luxurious stay there.

Where: Maidenahalli, Madhugiri Taluk, Tumkur, Karnataka
Contact: 9900075438
7. Chateau Indage Winery

Image Source: Hunt For Spot


Image Source: Hunt For Spot
Located on the Pune-Nashik highway, Chateau Indage Winery is one of the famous vineyards in Maharashtra. Also, this particular vineyard is said to be the second-largest vineyard in India. It has a well-maintained stock of wine and has tasting facilities in its bar where you taste all the 6 varieties of wine they produce. This resort cum vineyard is just perfect for a peaceful and calming weekend getaway!
Where: Pune Nashik Highway, Mahtre Wadi, Narayangaon, Maharashtra
Contact: 098905 96028
(Featured Image Source: sulavineyard.com)