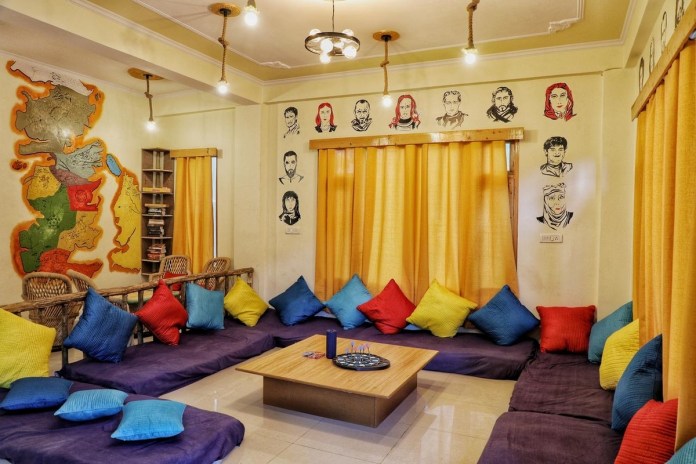 With summers back in swing, we have already started making our plans to head for vacay to the hills. So how about starting your 2020 vacay trip with heading to Kasol? After all, it's the most sought after hilly destination for the youngsters. So, we have enlisted the most economical yet comfy hostels in Kasol where you can stay with your buddies and have a gala time.
1. Whoopers Hostel
Image Source: Booking.com


Image Source: Booking.com
Tucked in Katagala Village, Whooper Hostel caught our attention because of their Game Of Thrones inspired interiors. Oh Yes! Their open terrace common area has murals of the entire cast and banners displayed all around. Plus, you can even play carrom in the standard room or play volleyball right outside the hostel or chill with some booze while gazing at the surroundings! So, what are you waiting for? Call up your squad and plan your weekend!
Where: Village Katagla, Near Shani Mandir, Kasol, Himachal Pradesh
2. Nomads Hostel

Image Source: Booking.com

Image Source: Priceline
It's a bright yellow building that you can spot on your way to Manikaran. Nomads Hostel is a pet-friendly place that has quirky interiors with walls decorated in funky abstract artwork. You can play board games here or sit in their spacious balcony with your squad, sipping down those beer pints overlooking the stunning views.
Where: Village Chojh, Chojh Bridge Kasol, Manikaran Road, Kullu, Kasol, Himachal Pradesh
3. The Hosteller
Image Source: thehosteller


Image Source: thehosteller
Catering to every backpacker's need, The Hosteller provides free wifi, low priced accommodation, picturesque rooms with beautiful views. In short, this hostel is very traveller's paradise! This hostel captures the real vibe of Old Kasol, it is on a secluded peak and looks like a boho dream. If you are low on cash, sit in the dorm and chill in their standard room all day with your buddies.
Where: The Hosteller, Near Kasol Temple, Old Kasol, Kasol, Himachal Pradesh
4. Memoir Kasol
Image Source: booking.com


Image Source: booking.com
If you are looking for some homely space in Kasaol, then Memoir Kasol is where you need to head. It has a homely ambience at pocket-friendly prices. Their rooms are basic yet comfortable and offer amazing views. They even have an in-house cafe where you can enjoy a barbecue session in their gardens and chill with your squad with some bonfire. Sounds like a plan, right?
Where: Memoir homestay and cafe, old pujari house, OPP Pushpa house, old Kasol, Kasol, Himachal Pradesh
5. Destination of Peace
Image Source: Hostel world


Image Source: Hostel world
It's a fun hostel situated right by the lush banks of Parvati river and warmly embraced by the mountains on all sides. The property has a total of 12 rooms, a plush terrace, kitchen, shared bathrooms and an open forest-river backyard. Isn't it great? The standard room makes for a warm and cosy place where you can wine and dine. The main market of Kasol is quite near to the Destination of Peace hostel so you can even indulge in some souvenir shopping!
Where: Kullu, Himachal Pradesh
6. Highland- Choj Kasol
Image Source: Trip Advisor

Image Source: goibibo
Just 6 mins away from Manikaran, Highland- Choj Kasol is a haven for all those who are irrevocably in love with nature. Surrounded by trees and camp tents, you can roam here with your squad while having that beer! It has one 6-Bed mixed dorm which is just perfect if you want to spend less on the stay! Also, their open Cafe has board games like cards, carrom board, cricket or you can even chill with your squad while sipping beer and with bonfire and barbecue.
Where: Solan, Himachal Pradesh
7. Hostel Cozy Beds
Image Source: hostel cosy bed

Image Source: agoda
Tucked in Old Kasol, Hostel Cozy Beds provides you with all the necessary amenities, common area and a riverside restaurant. This property is situated on the banks of Parvati river, so you will get all the stunning views while you have food at their riverside restaurant. The entire property is located amidst natural beauty, so they also provide camp stays in tents to give you proper offbeat experience next to the Parvati River. We are rooting for this one, what about you?
Where: 1976 Old Kasol, Kasol, Himachal Pradesh
(Featured Image Source: booking.com)