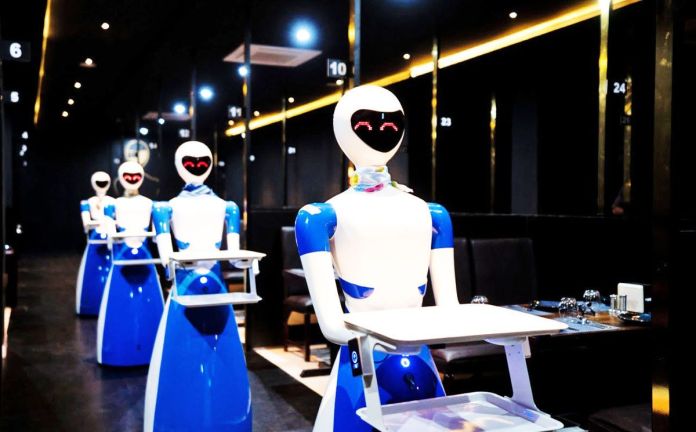 Okay, Bangalore people. Are you bored of trooping over to those same old cafes you go to every single weekend? So, no worries, as we have got you this super cool sci-fi themed restaurant that has been recently opened up in your city. Are you up for a fancy dose of the futuristic setting for your next meal? Just head to Robot Restaurant in Indiranagar, first of its kind in the town, with robots taking over food service! Scroll down to know more about this unique restaurant.
About Robot Restaurant
Image Source: CN Traveller

Image Source: New Indian Express
Tucked in Indiranagar, Robot Restaurant is the first restaurant where robots do food service. The first Robot Restaurant was opened in Chennai and then in Coimbatore. It is the brainchild of Venkatesh Rajendran and is a part of the more massive franchise started by the mad-cap genius and restauranteur.
With artificial intelligence, robots have become a common theme in sci-fi movies, and now it is trending all over. All the robots are interactive and programmed and even sing birthday songs and wishes for special occasions.
How Does it Work?
Image Source: Your Story

Image Source: Sisat
Donned in white and blue with a scarf, there are six robots in the restaurant that acts as an usher. Once you in and seated, you can use the tablet on your table to summon the robots or place the order. And when the robots arrive at your table with the food on a tray, it will greet you and helps you to pick your dish. Trust us; it is as filmy as if you are watching a sci-fi film!
What To Eat Here?
Image Source: Facebook/robotbengaluru


Image Source: Facebook/robotbengaluru
So, talking about the central and essential part- what's in store to hog on? The Robot Restaurant serves Indo-Asian cuisine with a mix of Thai, Chinese and along with some cocktails and shakes. You should order their Pan-Fried Chicken Momos, Hakka Noodles, Kung Pao Chicken along with their Watermelon Mojito. End your meal on a sweet and delicious note by ordering their Dry Fruit Tart With Ice Cream.
Where: 2008, 100 Feet Rd, HAL 2nd Stage, Kodihalli, Bengaluru, Karnataka
(Featured Image Source: dineout)