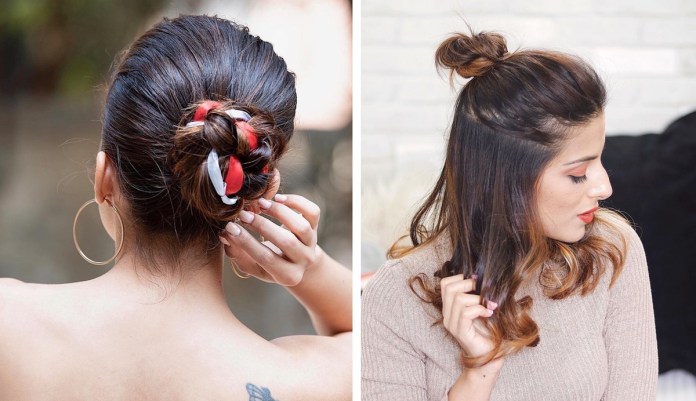 Be it short, long or mid-length, styling hair can be a bit of a pain at times. Especially when you are bored of the same old straight hair look or a simple ponytail. And honestly, who even has the time to blow-dry or head to a parlour on a daily basis, right?
So, to solve all your hairstyling woes, we got in touch with popular blogger Shalini Samuel who shared some easy and quick hairstyles for you girls! The best part? You can easily DIY and that too under only 10 mins!
1. Voluminous Twist Hairstyle

Even though this hairstyle looks a bit complicated, you'd actually only a few minutes to make it! It can be done easily on mid-length or long hair.
STEP 1: Take a 3-4 inch section of hair and split that into half. 
STEP 2: Now twist it once and then keep adding sections from the front into the top section and take the lower section on the top (just twist it). 
STEP 3: Do this all the way till the other side of the neck.
STEP 4: Secure and leave the rest of the hair on one side open.
2. Voluminous Ponytail
This hairstyle takes about one minute to make and adds volume to your hair. So if you particularly have thin hair then this one's for you.
STEP 1: Backcomb two sections on the top and add the pouf maker in the centre.
STEP 2: Take all your hair over it and you'll instantly get volume on the top of your head.
STEP 3: Take the rest of the hair into a high ponytail and wrap a section of hair around the base so the rubber band is hidden.
3. Twist In Braid Hairstyle
This is a twist on the classic braid. Instead of doing a regular braid, try doing this one.
STEP 1: Start with a side parting and do a french braid.
STEP 2: Take the rest into a ponytail and then make an opening and flip the hair inwards.
STEP 3: Do this on sections 2 inches apart.
STEP 4: Pull on the sides to open up the flipped in hair.
4. Voluminous Bun Trick
Now, this is a hairstyle that everyone can make! It works for all lengths and is perfect for bad hair days.
STEP 1: Take a puff on the top so the bun doesn't look very flat on the top.
STEP 2: Take your hair into a ponytail and then pass it through the bun maker.
STEP 3: Start twisting it inwards and secure the ends.
STEP 4: Bring both the ends together and secure it with a pin so the bun maker isn't seen at all.
5. Single Braid Ponytail
This is a really simple updo which you can master in seconds. It looks super pretty and is perfect for days when your hair just won't behave.
STEP 1: Take a section of the hair on one side and do a regular 3 strand braid.
STEP 2: Secure and take all the hair towards the back including the braid and make a low ponytail. If you want you can add funky accessories.
6. Quick Wrap Ponytail For Work
This particular simple style just brings an extraordinary twist to an ordinary ponytail.
STEP 1: Start with a middle parting and take two sections until the top of the ear.
STEP 2: Take the hair at the back into a ponytail.
STEP 3: Start wrapping the sections around the base of the ponytail.
STEP 4: Secure both sides under the ponytail using rubber bands.
7. Quick Wrap in Ponytail For College
Want to steal the limelight at college? It's super easy and you can easily achieve this for when you are ruling late for the lecture!
STEP 1: Divide the hair on the top, take that into a ponytail and flip inward.
STEP 2: Now take all your hair together and repeat the same thing.
STEP 3: Clip both the twist together so it looks like a big wrap in twist ponytail.
8. Easy French Headband Braid
It is a quick and easy hairstyle for medium hair that pins your hair back into a cute twist. Perfect for all of those days your hair feels oily!
STEP 1: Starting with a side parting, do a regular french braid till the back of the ear and then continue with a regular braid till the end.
STEP 2: Repeat the same on the other side.
STEP 3: Split some hair on the top and secure both the braids under that.
STEP 4: Release the hair and enjoy your easy french headband braid.
9. Easy Boho-ish Braid Hairstyle
It is super cute and you can practically wear this with anything. It's perfect for when you are on a vacation!
STEP 1: Take a side parting and do two braids one next to each other.
STEP 2: Create only one braid on the other side. Split the hair at the back, secure the braids at the back with pins.
STEP 3: Release the hair and do another braid on it and that's it you're done! Just by braiding it slightly differently you can easily achieve a very different hairstyle!
It's time to flaunt your best at college or workplace by trying out different hairstyles each day! Do tell us which hairstyle you loved the most.
(Featured Image Source: Instagram/knot_me_pretty)