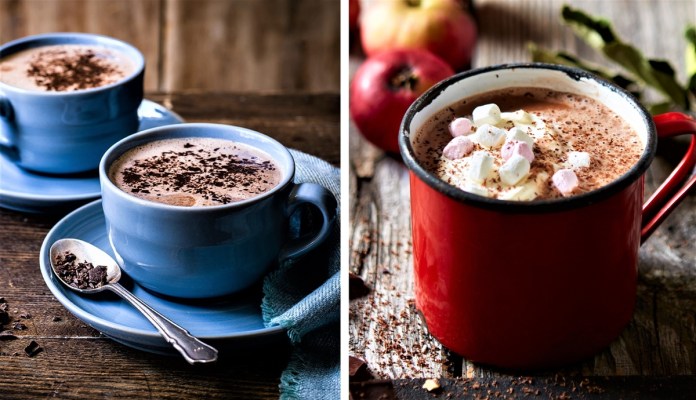 Jackets, sweaters, mufflers- these are just a few essentials for Dilli ki Sardi. But the most important of them all has to be the hug in a mug, topped with chocolate powder and marshmallows. Yes, you guessed it right. We are talking about our beloved beverage-hot chocolate! This drink (at least for us) has the magical power to brighten the gloomiest of days! Nothing can beat the joy of sipping a comforting hot chocolate, but how about experimenting with it? Check out these unique flavours of hot chocolate we found in the city which you must try this winter!
1. Messy Hot Chocolate @ Cafe Wanderlust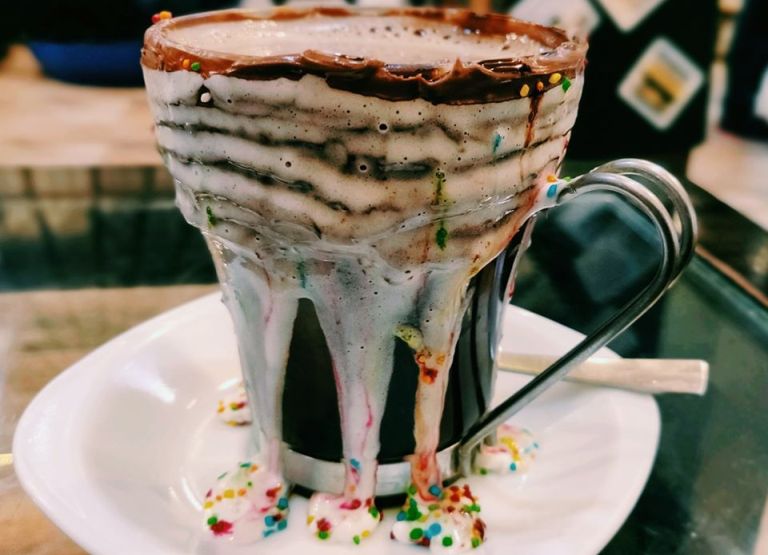 We are sure you might have heard a lot about their overloaded freak shakes, but we bet, a sip of their Messy Hot Chocolate will transport you to chocolate wonderland. The delicious beverage comes with oodles of whipped cream that's poured to the brim of the mug with a few sprinkles to add a pop of colour. Trust us, you'll love this!
Where: SF-53-54, 1st Floor, DLF Galleria, DLF Phase 4, Gurgaon
2. Go Sin! Hot Chocolate @ Slay Coffee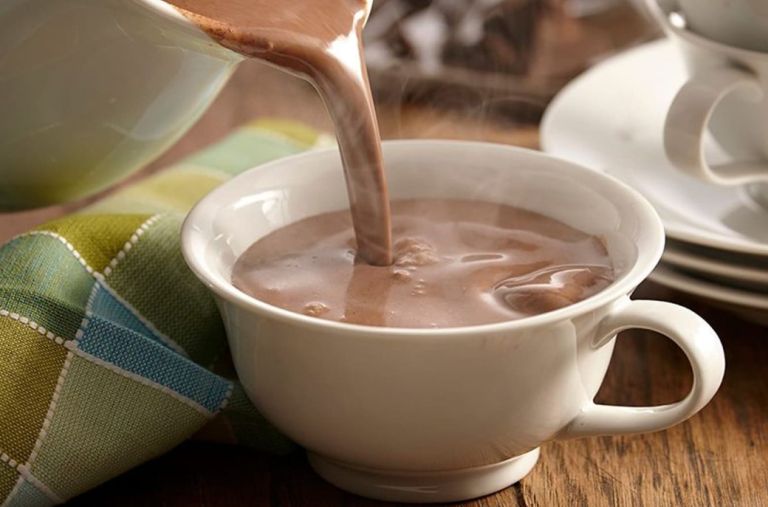 If you like your hot chocolate with a twist, then you have to try the Go Sin! Hot Chocolate at Slay Coffee. It's one of their specialities and is a heavenly combination of chocolate and lavender flavour. We urge you to try this one out because chocolate + added flavours = heaven in a cup! You can couple it with their delectable hazelnut brownie; we are already drooling!
Where: AB 9, 2nd Floor, Safdurjung Enclave, Green Park; FC 2 TA-4, Tugalkabad Extension, Near Jyoti Glass House, Kalkaji & more outlets
3. 55% Belgian Hot Chocolate @ Di Ghent Café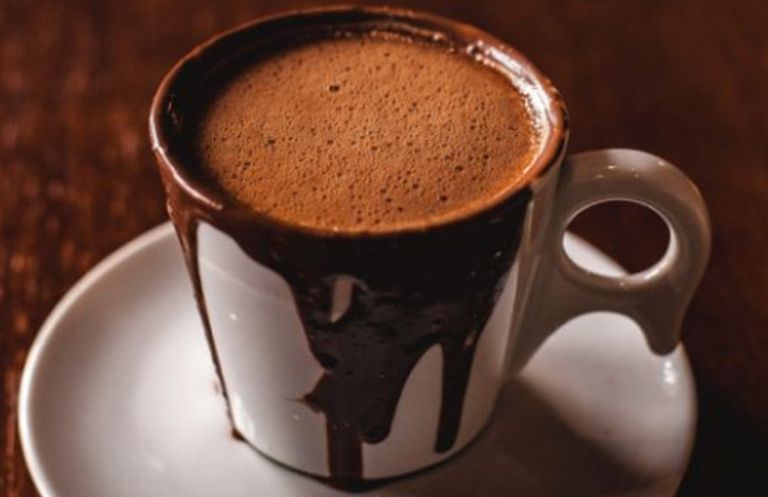 These guys need no introduction, and neither does their Hot Chocolate. Di Ghent Cafe has a vast range of Belgian dishes and their sinful 55% Belgian Hot Chocolate is a must-try. Made with real Belgian chocolate, the hot chocolate served here is thick and yum! Pair your favourite beverage with a croissant, and there you have your perfect evening snack.
Where: 207, Level 2, Cross Point Mall, DLF Phase 4, Gurgaon
4. Cinnamon Hot Chocolate @ Choko La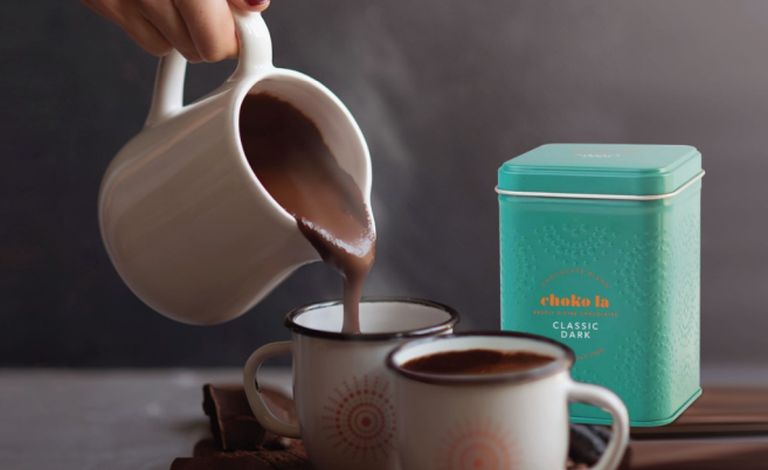 Every sip of Choko La's signature Hot Chocolate will make you feel like a sweet, warm hug on your palates! They have a range of blends in hazelnut, cinnamon, classic milk and white vanilla flavours. But our favourite is their Cinnamon Hot Chocolate which is rich and scrummy made with premium cocoa!
Where: 67-A, Khan Market; K-2, Cyber Hub, DLF Cyber City, Gurgaon & more outlets
5. Unicorn Hot Chocolate @ Zufruta – Cafe & Lounge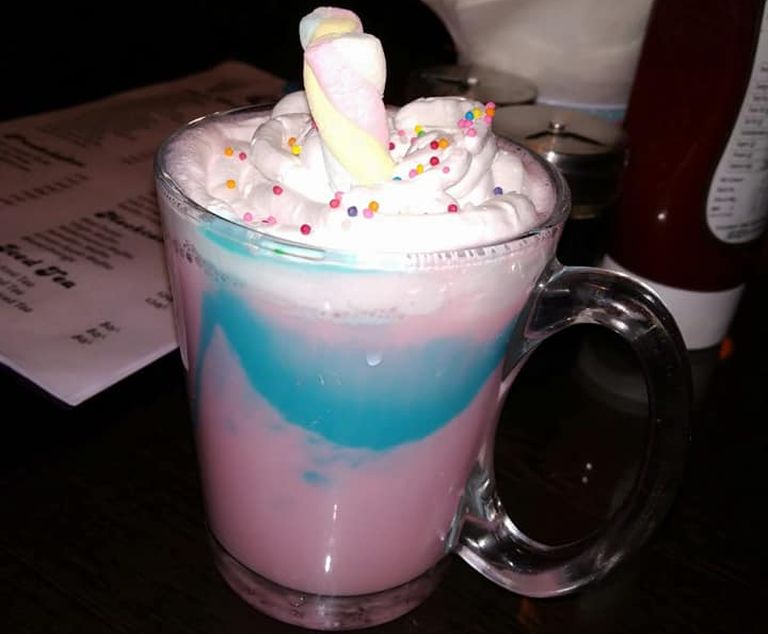 We can't stop drooling over the sinfully decadent unicorn hot chocolate! This piping-hot delight is topped with purple and dark pink coloured whipped cream, choco chips and pink roasted marshmallows, making not only super yum but also a delight to look at! Apart from this unique flavour, they also have primary, and mocha flavoured hot chocolate. Which one is your pick?
Where: 4/287, Sector 4, Vaishali, Ghaziabad
6. Nutella Hot Chocolate @ Roots-Cafe in The Park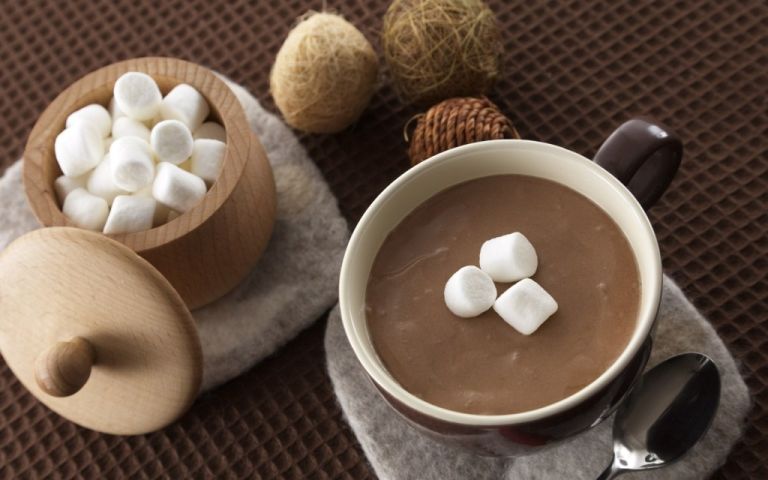 We love Nutella! So, a big cup of Nutella Hot Chocolate on a breezy, chilly winter morning sounds like the best thing on this planet for us! Made with the best quality of chocolate and dunked with Nutella, this warm cup is a must-have in winters.
Where: Rajiv Gandhi Renewable Energy Park, Leisure Valley, Sector 29, Gurgaon
7. Mexican Hot Chocolate @ The Haven International Coffee House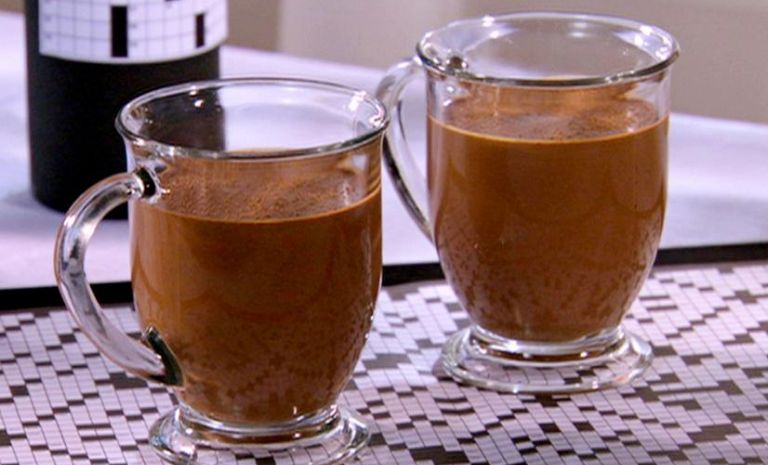 This cutesy little cafe in Noida is truly a haven for all the hot chocolate lovers! It is made of almonds, sugar, cinnamon, and often other ingredients like vanilla or additional spices of your choice. Served with loads of cream and chocolate, this hot chocolate cannot be missed. Find a corner here and order a cuppa for the most blissful time!
Where: Shop 3, Gardenia Gateway, Sector 75, Near Sector 72, Noida
8. Cupid's Red Velvet Hot Chocolate @ Big Yellow Door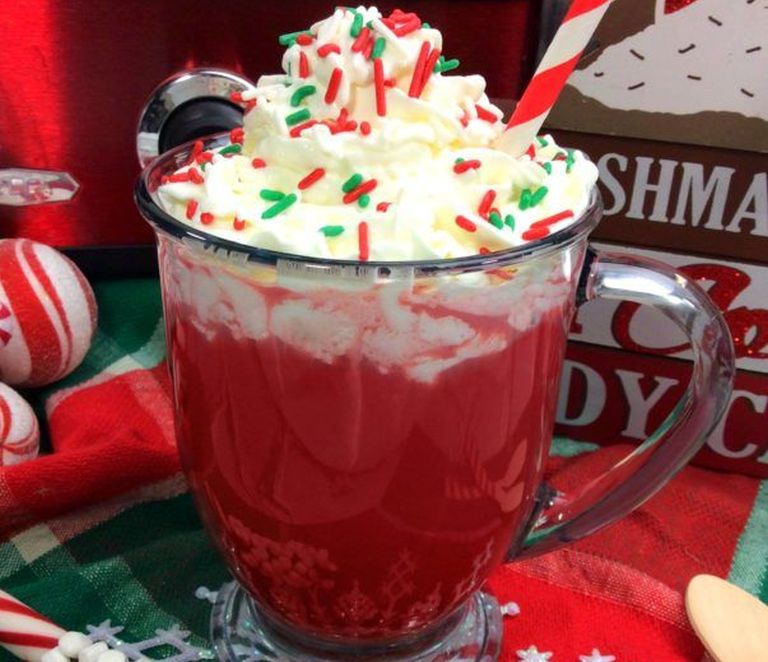 Big Yellow Door is amongst the best cafes around the town and is known for its range of pasta, pizza, smoothies and shakes. But what you might not know of is their tempting Signature Cupid's Red velvet Hot Chocolate made with red velvet cake and whipped cream. Or you could go in for their Peanut Butter Hot Chocolate or Mint Hot Chocolate-you decide! Sounds heavenly, right?
Where: H-8, Opposite Venkateswara College, Satya Niketan; 2521, 2nd Floor, Kingsway Camp, Hudson Lane, Delhi University-GTB Nagar & more outlets
9. Indian Spiced Hot Chocolate @ Jugmug Thela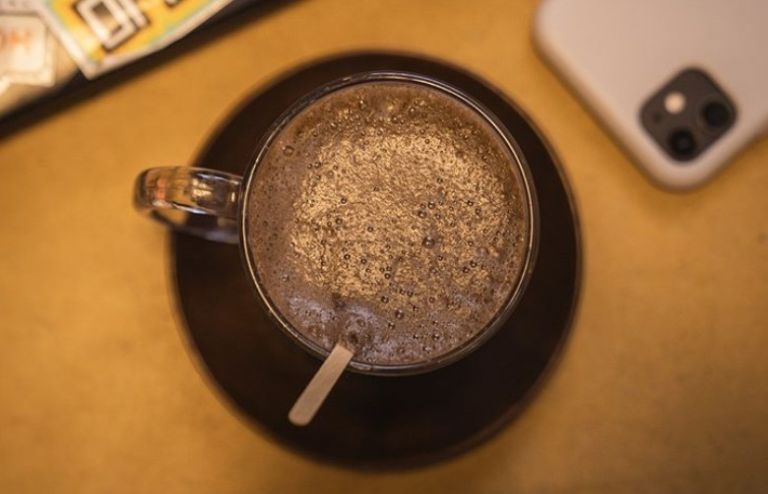 Now you know you can never go wrong with Jugmug Thela! And if you've ever sipped their divine Indian Spiced Hot Chocolate, then you'd know what we mean! The beverage is made with cinnamon, cardamom, pepper and more Indian spices. This elevates into a whole new level of hot chocolate flavours. You have got to drop by for a sip of this yummy delight.
Where: Shed 4, Khasra 258, Behind Kuldeep House, Lane 3, Westend Marg, Saidulajab, Near Saket, New Delhi
10. Classic Spanish Hot Chocolate @ Chocolateria San Churro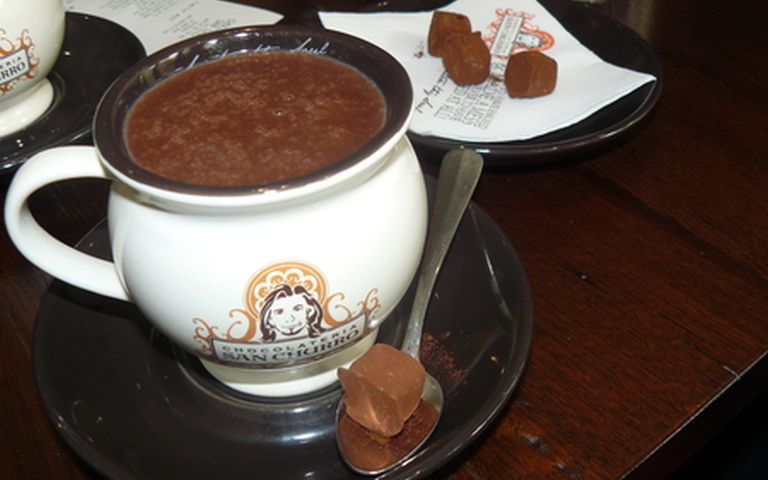 Chocolateria San Churro serves super thick and incredibly creamy hot chocolate. Their classic Spanish Hot Chocolate looks like melted chocolate and is a dream come true for every chocolate lover! And if you want to experiment more with your hot chocolate, you can try flavours like Mint Magnifico (hot chocolate with mint) or Avellana (classic with hazelnut).
Where: 1, M Block Market, Greater Kailash 2, New Delhi
11. Salted Caramel @ Hamoni: Cafe By The Greens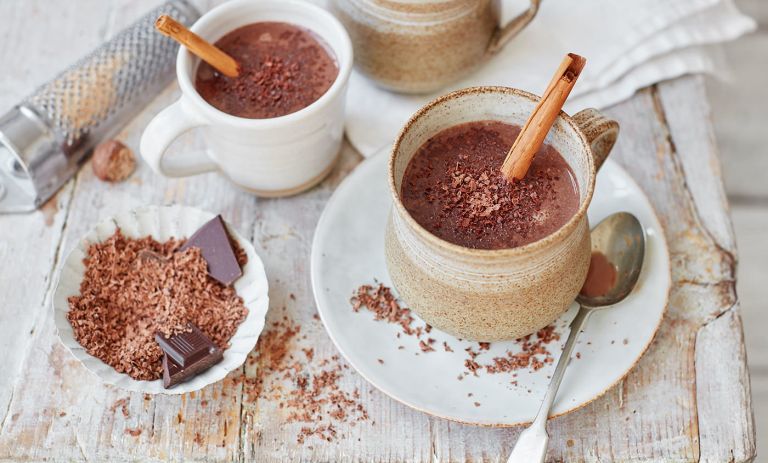 Having a hot chocolate while sitting in the lush green setting is super relaxing. Sip their rich and yummy Hot Chocolate that is made with Callebaut Belgian dark chocolate and is topped with marshmallows. It comes in four flavours – Original, Vanilla, Cinnamon and Salted Caramel.
Where: CK Farm, Carterpuri Village, Sector 23A, Near Sector 23, Gurgaon
(Featured Image Source: tescorealfood; goodtoknow)