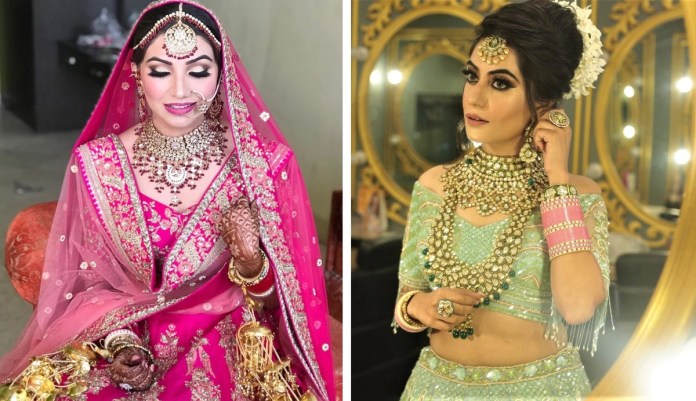 Brides-to-be and their besties, take no chance when it comes to makeup! We know all the girls already have a set image in their minds when it comes to their wedding attire and makeup, right? After all, you get to be the bride only once! A makeup artist knows how to enhance your best features, minimize those flaws and make you glow. So here is bringing you a list of the best makeup artists in the city which you should definitely check out for your big day or recommend to dulhan ki bestie!

1. Leena Bhushan



In Picture: MUA Leena Bhushan


Image Source: Instagram/facestoriesbyleenabhushan
For a natural glow and makeup that is subtle yet stunning, Leena Bhushan is the name to go with. She is one of the famous MUA in Delhi-NCR who customizes bridal makeup, pre-wedding shoots, and special occasions makeup to make you look stand out on your big day. She knows how to make them look perfect with a stunning shade of nude lipstick and glittering eyeshadow. Go check her Insta feed out and follow her!

2. Guneet Virdi

In Picture: MUA Guneet Virdi


Image Source: Instagram/guneetvirdimua
Another famous and talented MUA is Guneet Virdi! Every bride stands out, and how! Be it bold lip colours or glamorous eye makeup, there's nothing that Guneet can't do with her magic hands. And probably that is the only reason that all her brides manage to cause quite a stir. She even knows how to do the dual eyeshadow with perfection. Don't believe us, see it yourself!

Instagram

3. Meenakshi Dutta

In Picture: Meenakashi Dutta

Image Source: Instagram/meenakshiduttmdm
If you are looking for some bold yet classy makeup for your D-Day, then Meenakshi Dutta is your BAE! Colours that mesmerize, and strokes that flatter you, that's what Meenakshi does for you. Each of her brides looks different and oh-so-gorgeous that it only emphasizes the fact that she surely knows how to bring out the best.
4. Kriti Dhir

In Picture: Kriti Dhir

Image Source: Instagram/kritids
Big eyes and bold lips, Kriti Dhir knows how to give you that perfect bridal look that will make everyone look at you and only you. Defined eyes and perfectly lined lips, her work will leave you awestruck. But if you are a love nude makeup, then she knows how to make up standout! The nude lip colour, the dewy finish foundation, and eye makeup will make you look fabulous. Check out her feed and find it ourselves!

5. Rehat Brar

In Picture: Rehat Brar

Image Source: Instagram/rehatbrar
Rehat Brar is a celebrity and bridal makeup artist who has worked with various celebrities including Sonam Kapoor, Nargis Fakri, Amrit Kaur, Kajol and more. Rehat's work surely speaks for itself! Ooh did we mention her makeup? Her eye makeup is just too fab! Her brides look straight out of a movie set, with just nude lips, flawless base and grey and purple smokey eyes. It goes perfectly with the gorgeous Sabyasachi lehenga.

6. Chandni Singh

In Picture: Chandni Singh

Image Source: Instagram/chandnisinghstudio
Delhi-based makeup and hair expert Chandni Singh is one of the most reputed artists in the country! She knows how to make you rock the glamorous cocktail look, a simple mehendi look, or a classic wedding look. So if you're the girl who is looking for some dramatic eye makeup, your search ends here for sure.

7. Shruti Sharma

Image Source: Instagram/shrutisharmamakeup


Image Source: Instagram/shrutisharmamakeup
She knows how to bring out the best and make every bride look even more pretty. Want to look like you have just stepped out of a movie set or a fashion magazine shoot? Well, Shruti Sharma is where you should head to. If you are a girl who loves smokey eyes, then your search ends here! With smudged kohl, she knows how to make those eyes stand out!

8. Namrata Soni

In Picture (Left): Namrata Soni

Image Source: Instagram/namratasoni
You've heard this name before, haven't you? From working on celebrities to real brides, Namrata Soni will leave you mesmerized with her work. Sara Ali Khan, Diana Penty, Shilpa Shetty are few of the celebs to name, she even received Dada Saheb Phalke Award, isn't it great? For the bride who likes to keep it minimal and fresh, she knows how to make you nail each of the looks!

9. Prerna Khullar

Image Source: Instagram/makeupbyprernakhullar


Image Source: Instagram/makeupbyprernakhullar
For a fresh, flawless and minimalistic look on your wedding day, Prerna Khullar is who you should be going to. One look at her Insta feed and you'll know exactly why we love her work so much! Go, check yourself and follow her!

(Featured Image Source: Instagram/makeupbyprernakhullar; Instagram/guneetvirdimua)