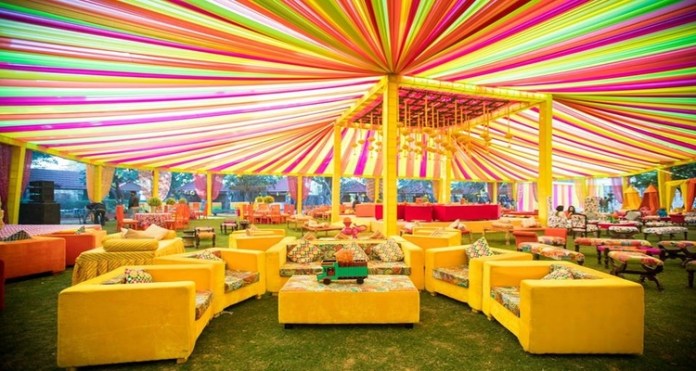 Din Shagna Da, Nach de ne saare, Bole Chudiya – What do these songs remind you of? If you answered with weddings, you are totally bang ON! And if you have had a wedding in your family, you'd know what madness it is to plan for one and how much hard work goes behind the scenes!
So, we got in touch with one of India's finest wedding decorators and planners, Theme Weavers Designs and caught up with Annushree Agarwal, one of the founders. She and her sister, Prerana Agarwal Saxena are the leading ladies behind the royal stunning decors of most of the celebrated weddings. Get excited because she is going to give us intel on the hottest trends and decor ideas for this wedding season.
Theme Weavers Designs has had a strong and prosperous growth since their ineception. How did you conceive the idea to start this?
Well, My sister Prerana and I were never really fully satisfied with the decor we saw around us because people would usually mistake it for colour. We decided that we needed to re-introduce the concept of themes and decor once again in a new light. We received our first huge clientele from Samir Modi when we did an event for him for Revlon and Colorbar. Post that we got our first wedding assignment was in Jodhpur which was very close to our heart because that's where we are from. Now we can proudly say that we have designed luxurious and heritage weddings for over 25 destinations.
Every wedding is memorable and cherished. So what was your most memorable experience?
Well, for us every wedding we do is special and memorable. We get to see a new witness a new love story at each wedding. But if I had to pick a few really memorable ones that I would say that the decor we planned for the Maharaja of Jodhpur's son was very special. It took place at the Bal Samand Lake Palace. The theme was inspired by the 5 colours that represent and symbolizes Marwar. Another memorable wedding we executed was because of a client's request who wanted the magical theme of Aladdin. It was covered by a few media houses as well. The sets were huge and grand. It has been now turned into a film set.
I also planned my own wedding decor. Since I am from Jodhpur, I wanted a very traditional and local vibe at my sangeet. It was inspired by the motifs of the chinkara, which is a deer found only in this region and the deserts. The sangeet was held in the dunes with hot air balloons and dune art.
Winter weddings in Delhi are legit the most glamorous and happening weddings in the country. So what were the few raging winters trends that are IN this season?
Well, there is a lot of vintage glam we experienced this season, and trust me people are gaga over it. A few colours that were really trending were pastel themes that were quite the rage- violet, champagne, peony pink, and lots of white! But when it comes to the main wedding day, people still prefer the floral traditional decor most of the times, which quite honestly also goes with the whole wedding vibe.

What are a few summer trends that would look LIT for the season and that you would recommend?
Well, I personally really like fluorescent and bright themes, so that's something that I would definitely want to experiment with this summer. The Holi themed parties are also very popular with bright colours. And of course there's going to be a lot of poolside mehendi functions, rain dance parties, etc since summer is mostly about keeping it cool and casual. I think the colour Yellow is going to be quite the hit.
What are you favourite recommendations when it comes to wedding decoration?
I believe that most people should begin to think of fun and creative ideas that are out of the box. Mostly, they try to follow a trend that has been going around for quite some time and a fresh look would definitely give any function a twist. My Mehendi function was held on my sister's terrace in Jodhpur with the backdrop of Umaid Bhawan. It was a simple yet traditional function with only women singing traditional songs and Rajasthani food. So guys, do not be afraid to mix it up a little to create a memorable and stunning decor.
On a lighter note, have you ever got any bizarre decor requests from a client?
There was this Youngsters' party my client wanted me to plan in 12 hours where he wanted a really quirky decor. We dressed up several mannequins in different types of outfits and at the party, people had to wear masks and only their hands and red bands were visible!
As a wedding decoration company, you have to come up with unique themes and ideas every season. What are a few designs you would love to play around with this wedding season?
See, many-a-times it depends on the venue. If the venue already has a dark palate then we need to stick to purples, blacks, and reds. But if a venue can be played with then I would love to try something vibrant for each function. Generally, when we do weddings in royal palaces there are a lot of elements to play with.

Although weddings in India have always been grand, the level at which they are being executed now has seen a big change. So what do you think has changed over these years?

A lot has actually changed. I personally think that the feeling of celebration has somehow diminished and its mostly about pomp and grandeur. Earlier sangeets used to be held on a stage with painted sets and backdrops. These days it's all about LED lighting and screens. The entertainment scene has also seen a big change. Artists used to be locally sourced earlier. Now people want big celebrities, stars, and well-known faces to perform at their weddings. Even if they want to go the traditional way, they want popular folk artists to perform.
Now, don't we all want to know what is one of India's top wedding decorator's personal favourite and what she recommends?
I will always recommend a rich traditional Rajasthani decor. I have noticed that many of our international client's chose to go on a traditional path than most of the Indians, who choose a more contemporary vibe! And if you are someone looking for a classy destination wedding, then Tuscany is an evergreen favourite. Mostly it all depends on my vibe as well. I plan what I see will suit the venue and the entire ambience the most.
Besides wedding decoration, Annushree and Prerana have also tied up with Umaid Bhawan for an event named Royal Rendezvous that aims to restore the glory and heritage of Rajasthan and popularise it for destination weddings.

Check out their website here and get ready to be stunned with their body of work.