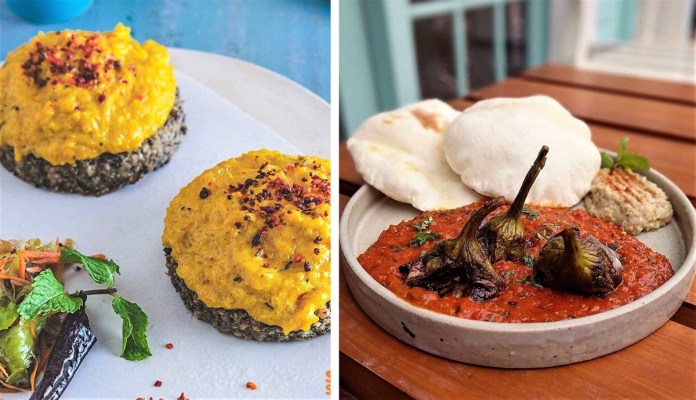 Every time we head out, the foodie within us is always on a lookout for something quirky and fancy to eat. Do you feel the same, like us? We found this fantastic restaurant in Bangalore, Street Storyss that is known to serve street food with a twist, that too all vegetarian! Scroll down to know more about this incredible place in Bangalore.
A New Level To Artisty!
Image Source: Auto Times

Image Source: Dineout
Tucked in the hub of Indiranagar Bangalore, Street Storyss is a quaint and little gem. The restaurant has an appealing setup designed with a combination of light fixtures and art on the walls. Contemporary looks and soothing interiors make the perfect combination for any place to look LIT.
We spoke to Chef Nishant Chaubey who explained the concept behind this place and said, "Every street has a story to share and it's somehow linked to our childhood. The concept is to revive the nostalgia and making one remember those days. Street Storyss, embark on a culinary journey of diverse cuisine and unique flavours that brings traditional recipes with a modern twist".
Street Food Lovers You Can't-Miss This Out!
Street Food is something which everyone loves to hog on! The Chef Nishant Choubey heads the restaurant and Chef Tarun Sibal are behind the culinary magic of this fantastic place. Also, the restaurant focuses on implying sustainability measures in all the areas of operations along with zero-wastage of food. The uber-talented chefs make every, in house using healthier substitutes.
Image Source: Facebook/StreetStoryss


Image Source: Facebook/StreetStoryss
Talking about the quirky menu, the chef added, "The menu has papad and Khakra which is served with Guacamole, Tomatillos and Corn Salsa. The Burmese Cucumber Salad adds a spark in the salad section while the Compressed Watermelon will thrive the thrust".
To gorge on delicious dishes, the menu features exquisiteness like Jamun Chat, Bangkok Stir Fry, Avacado Mousse, Nasi Goreng and signature drinks such as Kokum Masala Mango Chilli Coconut, Avacado Shake. From Desi Chukunder Murabba Croquettes to Burmese Khowsuey, the food at Street Storyss presents the gourmet versions of street food in a never imagined before style. We love it.
Desserts To Die For!
Image Source: Facebook/StreetStoryss


Image Source: Facebook/StreetStoryss
How can we forget the desserts? If you are someone who has a sweet tooth, then their dessert menu is something which will make you go for another round of desserts. Nishant Chaubey said, "We believe in 5CS- Chocolate, Citrus, Coffee, Custard and Caramel. We suggest you try Coffee Malai, Besan Halwa Mousse With Berry Foam, Tiramisu With Citrus Essence, Gulkand Kheer, they are tasty yet quirky".
'Motichoor Laddoo Spring Roll' is one of our favourites made of custard. Another prefered from the dessert menu is their 'Frozen Coffee Malai' which is made of biscotti crumb and coffee blaze.
We are super excited to head here for a round of dinner with our family. When are you planning to go?
Where: 3155, Srinivasan Towers, Indiranagar Double Rd, opp. Thomsun music, Bengaluru, Karnataka
(Featured Image Source: Facebook/StreetStoryss)