With an insane variety of parathas, gol gappe, samosas and more in the city, we Delhiites are spoilt for choice. And when it comes to South Indian cuisine, dosas are our comfort food. Isn't it? Thinking of dosas, we can't think beyond Plain, Masala or Rava Dosa. But did you know our city has places which offer unique varieties of dosas? Yes, you guessed it right! A fusion of dosas would surely strike the right notes of every food lover's mind. So, we have curated a list of 9 fantastic fusion dosas and where to find them in the city.
1. Nutella Brownie Dosa At The Great Indian Dosa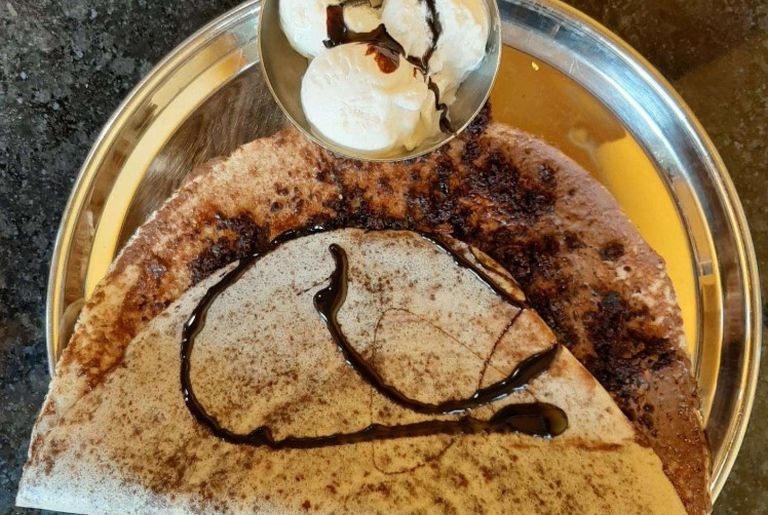 Are you drooling already? Well, Nutella and dosa together may sound kind of bizarre, but it is the perfect sweet twist to our beloved dosa. Loaded with bits of brownie, layers of Nutella and nuts, Nutella Brownie Dosa is a heaven for people with a sweet tooth. Also, it is served with scoops of vanilla ice cream for adding perfection to the dish.
Where: 2521, Hudson Lane, Third Floor, Delhi University-GTB Nagar, New Delhi
2. Anar Dosa At Juggernaut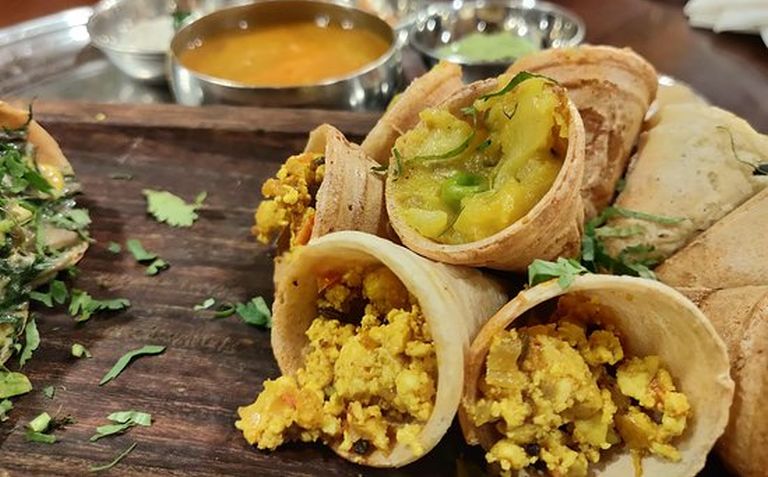 If you think that who eats anar in dosa, then you are wrong. This dish has nothing to do with pomegranate. Juggernaut serves anar (firecracker) shaped dosas which are 16 cones of dosas. They come in four different kinds of fillings like paneer, mushroom, spinach corn and anar aloo masala. Served with chutney and tangy sambar, the next time you're looking to try something unusual try this out.
Where: HS-16, Main Market, Kailash Colony, New Delhi
3. Mutton Dosa At The United Coffee House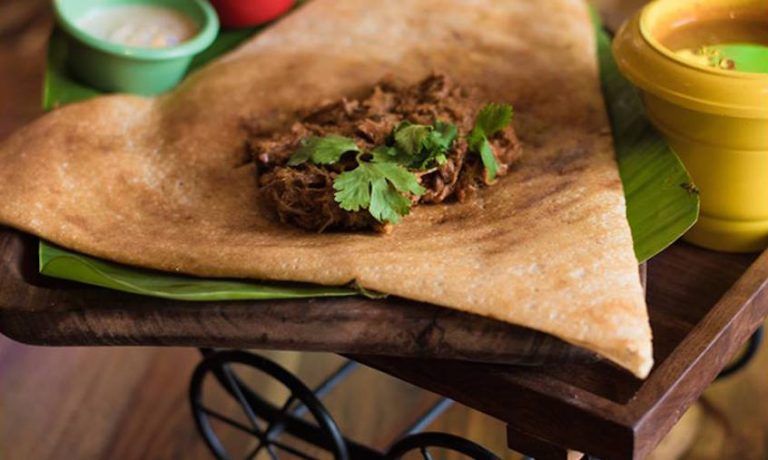 Hot and spicy, Mutton dosa comes garnished with finely chopped slices of onion and is something you should not miss out! The dosa is stuffed with the mutton fillings and tastes all things fabulous. Trust us, The United Coffee House won't leave you disappointed at all.
Where: E-15, Connaught Place, New Delhi
4. Mexican Rajma Dosa At Insta Dozza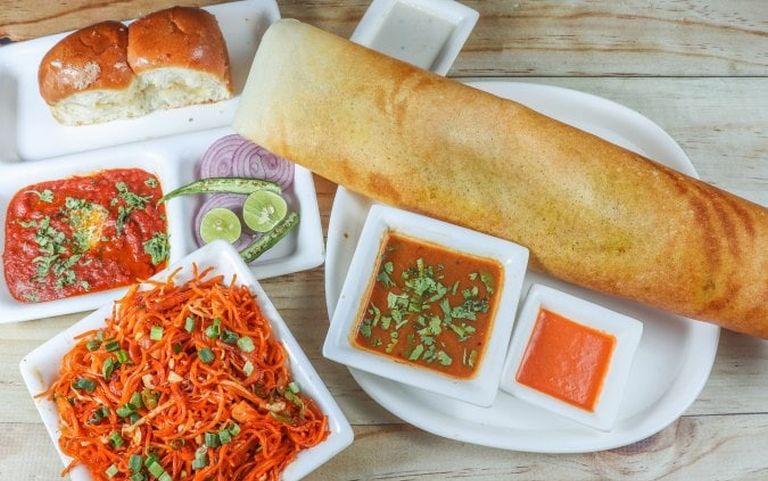 You have to gorge on this filling dosa blending the taste of both North and South into one dish! Mexican Rajma Dosa comes filled with salsa sauce and rajma with a layer of dosa covering it. Be a sassy desi and have this unique dosa at Insta Dozza!
Where: Inside Rapid Metro Station, DLF Phase 3, Gurgaon
5. Pav Bhaji Masala At Dosa Plaza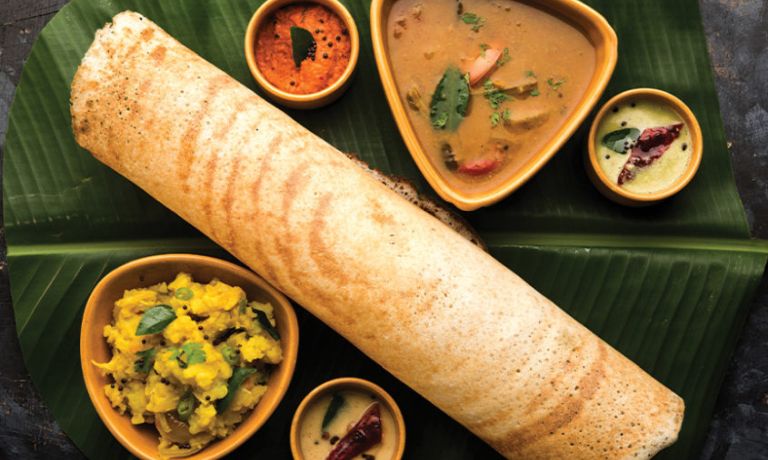 If you haven't heard of Pav Bhaji Masala dosa, then you should head to Dosa Plaza to devour on this yummy dish. Tangy bhaji fried in overload butter is smeared in paper-thin dosa and served with coconut chutney- heaven! Are you drooling much? Trust us, you won't be disappointed here at Dosa Plaza!
Where: Shop-F114, F132, Sapphire-83, Vatika India, Sector 83, Gurgaon
6. Mac & Cheese Dosa At Navarasam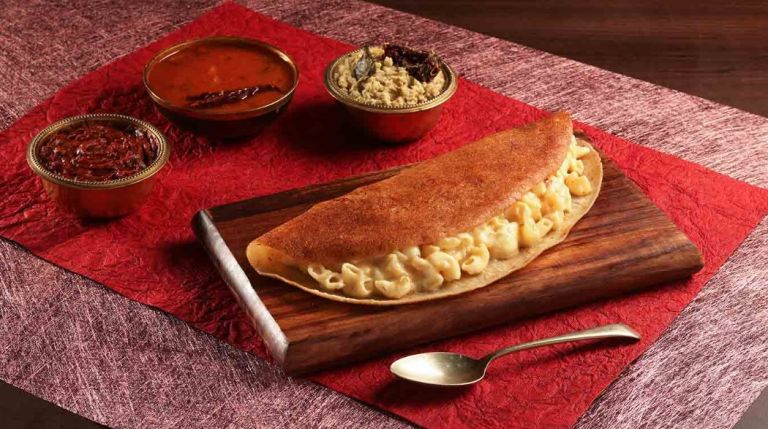 The joy of gorging on cheese-loaded stuffed inside a dosa is above all. Navarasam serves a quirky variety of dosa that is too hard to resist. Filling and delicious at the same time, Mac & Cheese dosa is light on the pocket as well. You can pair your dosa with a piping hot cup of filter coffee.
Where: Shop 8, 2nd Floor, Malviya Nagar Main Market, Behind Kaka Tailor, Malviya Nagar, New Delhi
7. Pizza Dosa At Imly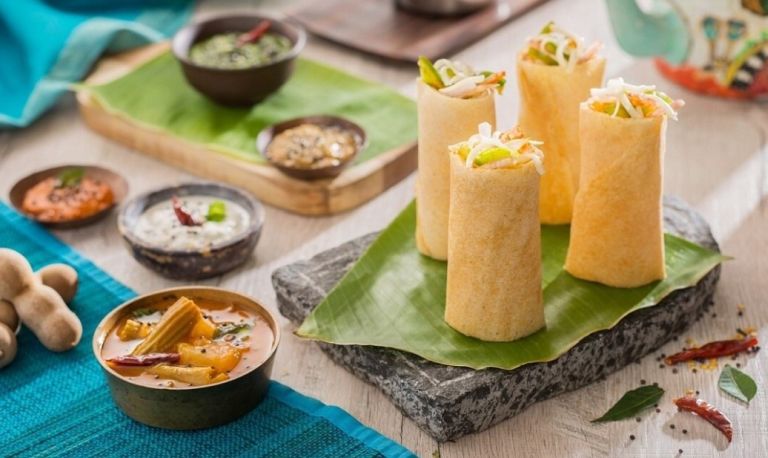 A combination of pizza and dosa is worth a try! With sprinkled cheese and the stuffing of tomatoes and capsicum, with a dash of sambhar and chutney is terrific. This rad dosa at Imly simply needs to be sampled, so come on by!
Where: BF-1, Near Santoshi Mata Mandir, Jail Road; F-20, Hog Market, Rajendra Place; T1-108, One Horizon Centre, DLF City Phase – 5, Golf Course Road, Gurgaon & More
8. Noodle Dosa at Ds Dosa Factory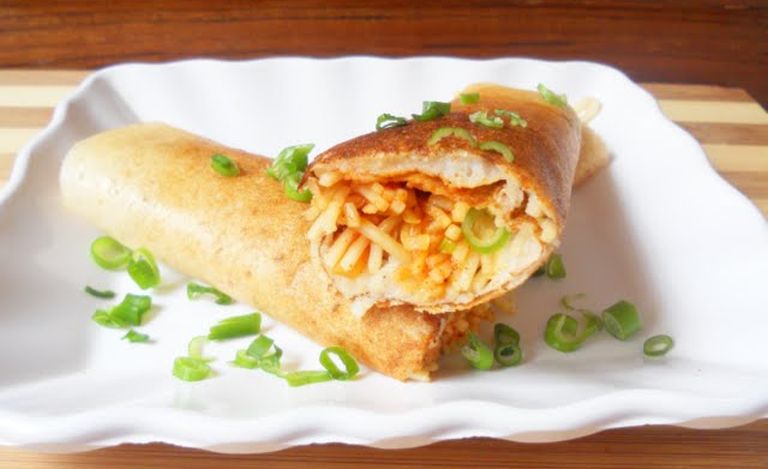 If the crispiness of the plain dosa isn't enough to impress you then visit Ds Dosa Factory to try their Noodle Dosa. It's an unusual combination of South Indian and Chinese cuisine. This is for the one who loves experimenting with food. The dosa is served with the sambhar, so come drop by to give a spin to your taste buds.
Where: Welldone Tech Park, Sohna Road, Gurgaon & Plot 1, Ground Floor, Near Mahagun Mall, Vaishali, Ghaziabad
9. American Chopsuey Dosa at The Dosa King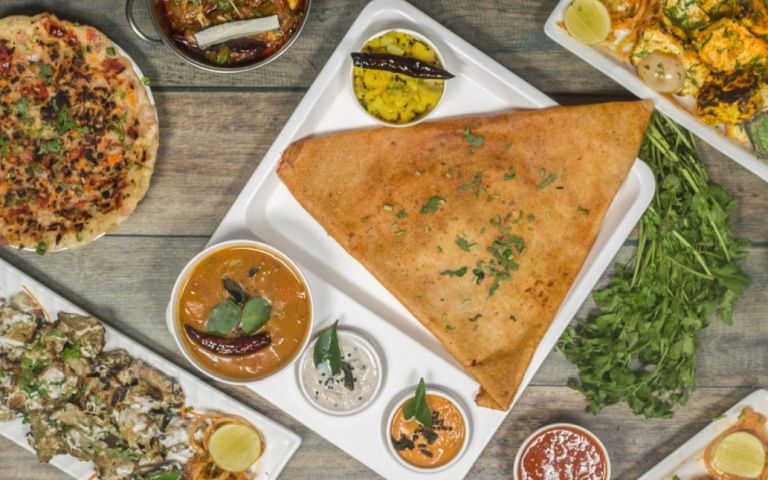 Is the name of this dish making you leap in excitement? American Chopsuey Dosa is a dosa filled with American Chopsuey that is sweet & savoury in taste. The dosa is served with sambar and coconut chutney. If you are in a mood to experiment, then you should go for it.
Where: E3, Surya Nagar Main Road, Chander Nagar, Ghaziabad
(Featured Image Source: Zomato)