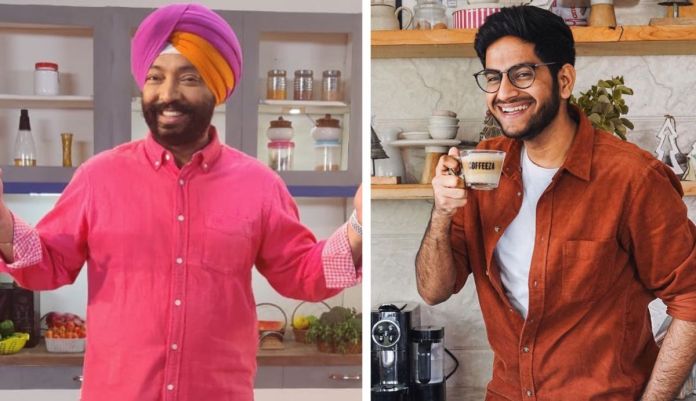 We are sure each day you wake up thinking about what unique we should try our hands. Right? Done with Netflix, gardening and painting, but how about trying hands-on cooking? If you thought cooking is all about standing in the kitchen for hours and prepping for a dish all day long, you're mistaken! Trust us, cooking can be fun and easy at the same time. So, if you are quarantining alone, then you should follow these food YouTubers and learn to cook these easy dishes while self-isolating.
1. Bake With Shivesh
We know how much you love your desserts. With a channel and book named 'Bake With Shivesg', Shivesh Bhatia is an autodidact baker and passionate about food (just like us). You can look him up for mouth-watering and easy baking experiments recipes of cakes, pies, cupcakes, healthy desserts like oats and more. Subscribe to him for all-around dessert deliciousness!
2. Kabita's Kitchen
Focusing on India cuisine, Kabita's Kitchen will take you through all sort of dishes that you can recreate easily. You will find recipes of dishes like Palak Paneer, Shahi Paneer, Momos, Chole Masala, Biryani, Samosa and more. We are sure while reading this out you already have pictured yourself making one of these.
3. VahChef
Sanjay Thumma fondly known as Van Chef, is an Indian chef and is knowns for his amazing cooking skills in North America, Europe and Australia. From crispy samosas to yummy pizza with cheese pull, this chef you make your mouth water while watching. Vegetarian or non-vegetarian food dishes, take your pick and hit play.
4. Sanjeev Kapoor Khazana
How can we miss out on everyone's all-time favourite chef- Sanjeev Kapoor. We are all of us grew up watching to his cooking show as we all ever fascinated about the dishes he used to cook. His YouTube channel is a one-stop destination for all the dishes be it North India, South India, Chinese or Italian. Go follow him, guys, his videos will surely make your mouth water!
5. Rajshri Food
From coconut cakes to oil-free pani-puri, Rajshri Food has every dish recipes you have been craving for. For all the quick and easy snacks, recipes like Bread Dhokla, Potato Lollipop, Bread Pizza Pocket, Paneer Grilled Sandwich and more follow this channel. It is one of those best cooking YouTube channels that you ease your cooking skills.
6. Nisha Madhulika
For all the vegetarians out there, Nisha Madhulika is one you should be following. She is said to be one of the renowned chefs in India, is a restaurant consultant and even writes food columns for Indian websites. With unique preparing vegetarian dishes like Methi Thepla, Mawa Ladoo, Rava Pizza, Dahi Ka Paratha and more, her videos will surely remind you of your maa ke haath ka khaana. Enough reasons are given to subscribe to her, isn't it?
7. Harpal Singh Sokhi
We know you must be aware of this celebrity chef and have been following for quite a long. For us Punjabis, food is everything so to learn about all the Punjabi cuisine dishes, you should follow Harpal Singh Sokhi. From Butter Chicken to Butter Paneer Masala to Biryani to Hydetabi Chicken Korma, you will find all things yummy. Happy Cooking!
(Featured Image Source: Instagram/chefharpalsokhi; Instagram/shivesh17)