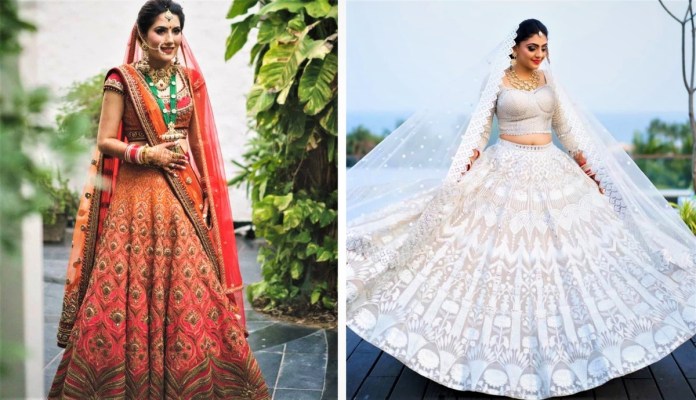 Gone are the days when brides would opt for traditional red bridal lehengas for their big day. Its almost 2020 and the sassy brides of today are not afraid to experiment with anything, let alone the colour of their lehenga. Recently, we've seen a ton of beautiful lehengas in every colour imaginable and it has definitely been a treat to our eyes! Popular stylist Ruby Bhatia tells us how to ditch the red colour lehenga and opt for trendy colours this wedding season. So, if you're a bride-to-be and are looking for some inspiration before you finalise your wedding lehenga, we've got it right here for you!
1. Pastel Hues
Image Source: Delhi

Image Source: Pinterest
If you're on social media, you'd know pastel hues are the new red when it comes to bridal lehengas. From celebrities to blogger, everyone's ditching the red and going for a soft and beautiful pastel lehenga. Explaining how to carry the pastel hue lehenga she said, "With such outfits, you always play around with your lip colour. To further accessorize, go for the red or pink Chura as it will make your pastel outfit stand out"!
2. Ivory/White
Image Source: FashionDeal

Image Source: Pinterest
Nothing spells elegance and sophistication like a gorgeous white or ivory lehenga. While it may be a little hard to convince your mom to let you wear white on your wedding day, but trust us, you've at least got to try because it'll definitely be worth the effort! Telling us about the jewellery to add, she said, "It's time to look like a greek goddess by adding gold tiara style tikka and gold accessories to your ivory lehenga".
3. Lilac/Lavender
Image Source: Shaadisaga

Image Source: Shaadisaga
Lilac may have been Pantone's colour of the year in 2018, but it's still pretty popular among the brides especially for day weddings. Even lavender is dominating the India bridal fashion like never before! These delicate shades are perfect for the modern brides and should definitely be on your radar too! And to accessorise, "To shine out in the crowd, you can opt for gold and pearls", the stylist said.
4. Navy Blue
Image Source: IndiaMart

Image Source: Indianvelvet
A while ago Sabyasachi's collection featured some gorgeous blue bridal lehengas, and it was love at first sight for a lot of other brides and us. So, if you're planning to ditch the red, we suggest you do it in style with a navy blue lehenga and we're sure you're going to have people talk about it for a long time to come! Explaining to us about this colour, Ruby said, "Navy blue looks very similar to the black colour and you can never go wrong with it! Opt for a light lip colour and you are ready to walk down the aisel"!
5. Shades of Pink
Image Source: Atmee

Image Source: Indianselection
Ever since we saw Anushka Sharma don that gorgeous pink Sabyasachi lehenga, we've only been gushing about how pretty it looked. So if you want to steer clear of red and yet play it safe in the same family of colours, pink should be your pick. Whether you go dark or light, you can never go wrong in pink! "If it's a day wedding you should opt for a pink coloured lehenga. And pink looks amazing with gold kaleeras and red Chura – just perfect bride colour! One can experiment with any kind of jewellery styles from gold style- Polki style or Kundan", said the stylist.
6. Mint Green
Image Source: The Wedding Brigade

Image Source: Shaadisaga
Now that's a colour you wouldn't image to feature on this list and yet here it is! One look at a mint green bridal lehenga and you'd be sold, just like us and a ton of other brides. It is certainly a colour that needs to be carried with confidence and if you think you're up for it, you have our go ahead! Stylist Ruby Bhatia tells us how to accessorise the mint coloured lehenga, "I would say, Mint Green is a part of the pastel hues and looks amazing when you wear complementing jewellery like in the colour maroon! One can add a kamar band that stands out on it"!
7. Metallic Grey
Image Source: Wedmegood

Image Source: Wedmegood
Now here's a colour that's completely out of the ordinary, very unique and unusual. Who would've thought metallic grey bridal lehengas would be a thing? But they are and they look absolutely gorgeous and would go perfectly well with your red chooda bangles! "Accessorise you look with diamonds as it looks amazing with the colour grey or Polki as usually, a grey colour will have a silver work on it! With this look, one can go dark on the makeup – lip colour and eyes", said Ruby.
8. Yellow
Image Source: Shebazaar

Image Source: Shaadisaga
Who said yellow can only be worn for the haldi/mehendi function? You can totally rock yellow at your nuptials and it's not just us who are saying this but a lot of brides who are actually going for it! Not that you won't already, but this bright and cheery colour is going to make sure you stand out. Besides, it's the ideal colour for a summer wedding! Explaining about the colours and how to style it she added, "Yellow stands out so I would say minimalistic jewellery – choker or rani har and one can go for emerald stone jewellery as it will complement the outfit colour".
9. Burnt Orange
Image Source: Weddingsonly

Image Source: Shaadisaga
If you want to stick to the traditional colour palette and yet experiment little, a burnt orange lehenga would be ideal for you. Its almost like going for a shade of red and yet it's like trying something new and that is exactly what a millennial bride would do! "You can never go wrong orange! It's fresh, different yet traditional. Just add gold-based jewellery and it would stand out. Just play around with your hairstyle and tuck your hair in a nice bun or just pulled back so the focus is on the face", added Ruby.
10. Floral
Image Source: Weddingz

Image Source: Frugaltofab
As if there aren't enough flowers at a wedding, having them on your wedding lehenga is another trend you need to keep us with. Besides, bridal lehengas look absolutely stunning so you definitely should consider it. Whether you go for big, bold, hand-painted flowers or small embroidered ones, that's entirely your choice! Describing how to style the floral coloured lehenga, Ruby added, "With floral lehenga set, one should go for a sheer net dupatta – so the focus is the lehenga! You can use real flowers as a hair accessory or a flower halo".
11. Gold
Image Source: Shaadiwish

Image Source: Pinterest
All that glitter should definitely be gold because this is a colour that you must absolutely consider for your wedding lehenga! Remember the one Anushka Sharma wore in ADHM? That lehenga's had our heart ever since. Not only was it gorgeous but also so regal and grand and if that's the look you're going for, gold is the colour for you! "It is the most popular lehenga colour and works best for the Indian skin tone", said Ruby.
(Featured Image Source: Pinterest/ weddingsonly)