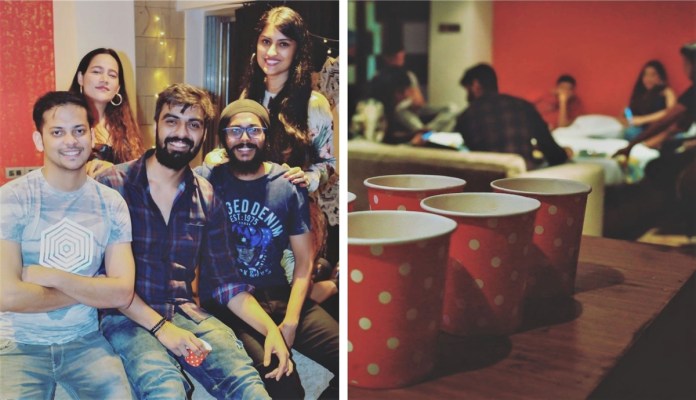 So, what are your plans for the weekend? Are you going out to the same old club or sleeping in and Netflixing? How about ditching that same old club & loud music parties? And spend the Saturday night meeting like-minded new people and making new friends over some good food and some booze? Well, it's possible now, with Aragma. The new age platform which lets you meet new and exciting folks at comfy house parties. In fact, at some events, you even get to stay back for the night. Sounds like your thing? Scroll down to know more about it.
Aragma Community

Image Source: Instagram/aragma_in


Image Source: Instagram/aragma_in
It is a one-of-a-kind community that lets you meet new people at low-key house parties. But how did this unique and innovative idea came into being? Well, a bunch of friends started Aragma after attending a party at a bar in Hauz Khas Village one night. These young guns decided they need to figure out a way to chill in a more peaceful setup. And that's how the birth of 'Aragma' happened! BTW, Aragma literally means 'chill' in Greek!

We spoke to Niti Chauhan, Co-founder of this platform. She explained the concept behind this platform, "We four friends (Aashish Thakur, Niti Chauhan and Pulkit Jain, Shariq Riaz Khan), come from different backgrounds but had a similar idea about partying. We believe in hanging out in a laid-back setup, catch up with our old buddies and make some new ones. With this being our main intention, we worked on enhancing the experience of the attendees which organically developed Aragma Stays".
Beer Pong, Barbeque Night, Terrace Party & More Events

Image Source: Instagram/aragma_in


Image Source: Instagram/aragma_in
Aragma community hosts fun evenings with fantastic activities like board games, Beer Pong, Piccolo, darts, Jenga and many more. Niti added, "There is a varied type of theme-based events like Sundowner, Singers Weekenders, Barbeque Night, Terrace Party, Cards Night, Diwali Party, Christmas Party and much more".
The idea behind this community is to bring people together from different backgrounds and let them have conversations with each other. Here you are attending an event, instead of hanging out at a regular bar, which has nothing other than loud music.
Yes, You Can Stay The Night!
Image Source: Instagram/aragma_in


Image Source: Instagram/aragma_in
At Aragma, there's an added benefit! Once you are here you end up saving a lot of money on partying and they offer a night stay too. And if you are staying the night, you may as well enjoy their morning coffee or tea farewell sessions. Niti said, "Night stay is available on a first-come-first-serve basis. We can accommodate 12-15 people at a time". If you are sceptical that what kind of people you meet there, then don't worry as the background of every person attending the parties is verified by the organisers themselves.
If this idea of a house party and meeting new people with vibrant setup excites you, then it's time to get yourself registered at Aragma community. Gather the gang hop in your cars and come on by!
Contact: +91 8860 585671
(Featured Image Source: Instagram/aragma_in)