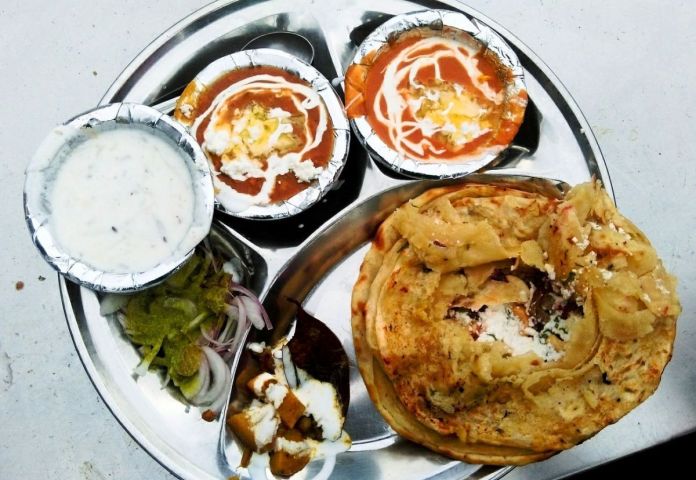 Delhi is THE land for foodies! And when it comes to Punjabi food, there is no dearth of options. Of course, we all have different Punjabi dishes to adore, but we are sure nobody can resist a buttery and crispy Chur Chur Naan. Chur Chur Naans has taken Delhi by storm, and we love them! In today's time, there are numerous variations available to choose from. Don't think about the calories and savour mouth-watering Chur Chur Naan at these spots in the town.
1. Sanjay Chur Chur Naan
Image Source: Zomato


Image Source: Zomato
Tucked in Lajpat Nagar, Sanjay Chur Chur Naan serves about 18 astonishing variants of these delicious crispy chur chur naan. Piping hot naan is made in the rustic tandoor, doused with butter and served with dal, chole, raita and pyaaz ki chutney. Trust us; this plate is a paradise for foodies! From Paneer Chur Chur Naan to the Gobi to Aloo Pyaaz, name it, and they have it all. We are heading here, so see you there?
Where: 6 & 7, Moolchand Metro Station, Near Defence Colony, Lajpat Nagar 4, New Delhi
2. Chawla De Mashoor Chur Chur Naan

Image Source: Zomato


Image Source: Zomato
One of the oldest eateries in Paharganj, and have been dishing out crispy and crunchy naans for more than 30 years. You will find variants of Chur Chur Naan like Aloo Pyaz Chur Chur Naan, Sada Butter Naan Thali, Paneer Chur Chur Naan Thali, Chole Rice and more. But do you know the best bit? They are relatively affordable and is served along with Paneer, Chole, Ratia, Dal and Chutney.
Where: 8955, Chowk Multani Dhanda, Paharganj, New Delhi
3. Civil Lines Wala

Image Source: Zomato


Image Source: Zomato
Fluffy, pipping hot Chur Chur Naan served with raita, chutney and pickle, we are already drooling as we are writing this. Nestled in Gurgaon, this plate of yumminess is affordable. We recommend you their Chur Chur Aloo Thaali, Paneer Chur Chur Naan Thali for sure. This eatery is super light on the pockets, so it's time to drop by with your gang and fill your tummies!
Where: K 125, Old Judiciary Complex, Opposite Bank Of Baroda, Sector 15, Gurgaon
4. Dhaniya Da Dhaba

Image Source: Zomato


Image Source: Zomato
Many of you wouldn't have heard about this small shop tucked in South Delhi, but we recommend this place. Dhaniya Da Dhaba does all things Punjabi, from Chole Puri to Dal Makhani to a very yummy Chur Chur Naan Thaali! The naans are perfectly roasted in the tandoor and are filled with vegetable stuffing. It is served with Dal Makhani, Shahi Paneer, Chutney and Raita. We are already drooling!
Where: 6/41, Old Double Storey, Nirmal Colony, Block 6, Lajpat Nagar 4, New Delhi
5. Badnaam Chur Chur Naan

Image Source: Zomato


Image Source: Zomato
Tucked in Kalkaji, Badnaam Chur Chur Naan is the most famous place for your daily dose of buttery, crunchy and stuffed naans. They serve the yummy thalis with thick Dal Makhani, Chole, Chutney and the staple Raita. Serving the basic naan including Paneer, Aloo, Aloo Methi, Aloo Gobhi, Aloo Pyaaz, the choices of Chur Chur Naan will spoil you served here. We are drooling already, what about you?
Where: Shop 3, A 71, Kalkaji, New Delhi
6. Murthal Wala
Image Source: Amar Ujala

Image Source: Curly Tales
Trying to add the true essence of Murthal, these guys are serving the yummiest Chur Chur Naan in the city. The Chur Chur Naan here is exceedingly crisp from the outside and soft on the inside. Topped with lots of butter, paneer and coriander, do try their Paneer Chur Chur Naan Thali. Served with Dal Makhani, Shahi Paneer, Ratia and Chutney, trust us, your lunch scenes are sorted!
Where: Gurgaon, Dwarka, Laxmi Nagar & more delivery outlets
7. Prem Di Hatti

Image Source: Zomato


Image Source: Zomato
Rajouri Garden is considered a hub for quintessential Punjabi food and which is where Prem Di Hatti swoops right into view. A signature Punjabi dish – Amritsari Chur Chur Naan is worth all the calories! Dipped in butter, their naan acquires delicious crisp texture and the stuffing of potatoes and onions into a new level. Served with onions and pickles, you can also choose the side gravy from either Chole or Dal. Isn't worth trying!
Where: J-1/162, Opposite City Square Mall, Rajouri Garden, New Delhi
8. Pal Ji Corner

Image Source: Zomato


Image Source: Zomato
This takeaway joint in Naraina serves street style Chur Chur Naan and guess what it is affordable! Once you are here order their plate of Gobi Chur Chur Naan or their signature Aloo Chur Chur Naan. Do you know the speciality about their Chur Chur Naan? In all their naans they have a taste of cashew. Isn't it something unique?
Where: WZ 274/A1, Main Market, Inderpuri, Naraina, New Delhi
(Featured Image Source: Facebook/iamdatingfood)