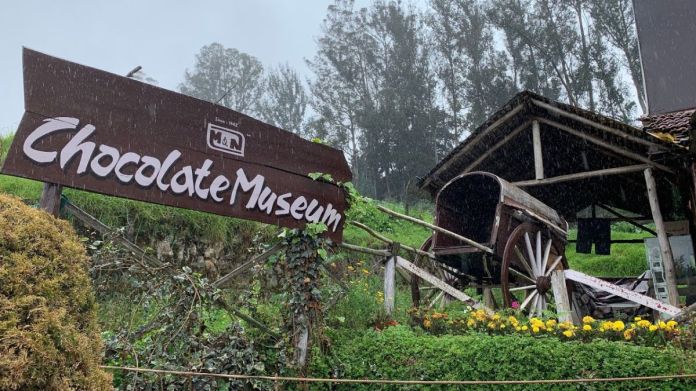 We all love chocolates in all forms and sizes. Whether it's a festival or special occasion, whether we are feeling happy or sad, chocolates are evergreen and for every occasion! And we have a piece of news that is going to make chocolate-lovers very, very excited! Did you know that the quaint, little hill-station, Ooty, houses India's first-ever chocolate museum? Called the M&N Chocolate Museum, you can even get to see how a chocolatier makes beans into chocolate bars here. Scroll down to know more about it.

All About M&N Chocolate Museum

Image Source: inspirock.com


Image Source: inspirock.com
Tucked in Ooty, M&N Chocolate Museum is the Nation's first-ever chocolate museum that promotes the health benefits of dark chocolates. Opened back in 2013, the museum is run by a local family in the area. The place will sharpen your knowledge of how chocolates are made and a step-by-step procedure will be shown.

The museum contains the models describing the preparation of chocolates and it describes the journey of a bean to bar. In fact, you can also get hold of a DIY chocolate making kit from here to try to your own hands at it! All kinds of tools and techniques used to make chocolates throughout history are being displayed here. Explaining the history of chocolate-making which dates back to 1500 BC when the Mayans used to make Cocoa drinks from Cocoa beans. So, if you have some little ones in your gang, trust us, they'll love the experience here.
Talking about the achievements of the museum, Arun Kumar, Sales Operation Head said, "We are also in the LIMCA Book of Records for creating India's longest chocolate bar. Mayari Castellanos, CEO of Kakaw Museum, Mexico, has honoured M&N Chocolate Museum for being India's first-ever chocolate museum."
Molten Chocolate & Chocolate Making

Image Source: mngoodies.com

Image Source: Trip Advisor
More than 100 handmade chocolates are there on the display. You will witness several sculptures made with chocolate that are particularly made for children visiting there.
The entire M&N Chocolate museum is displayed with posters and charts along with instruments and process vessels to give you a better understanding of chocolates. Not just how chocolate is made, it even enhances your knowledge with the origin of cocoa and how the plant used to make chocolates is harvested, grounded, brewed, roasted, and blended.

Image Source: Trip Advisor


Image Source: Trip Advisor
One-Of-a-Kind of Chocolate Shop

Wait up, if you thought that it's just a museum then you are mistaken! There are tons of chocolates being exhibited and sold here. From premium to vintage to classic collection of chocolates, you'll just love it. Last but not least is a pretty mannequin who has been draped with chocolate clothes! Dark almond, dark cashew nuts, dark chocolate with crispy, dark raisins, dark plain, name it and you will get it here.

Image Source: Trip Advisor


Image Source: Trip Advisor
Where: Ooty-Mysore Road, Near HPF, Ooty, Tamil Nadu
(Featured Image Source: YouTube)