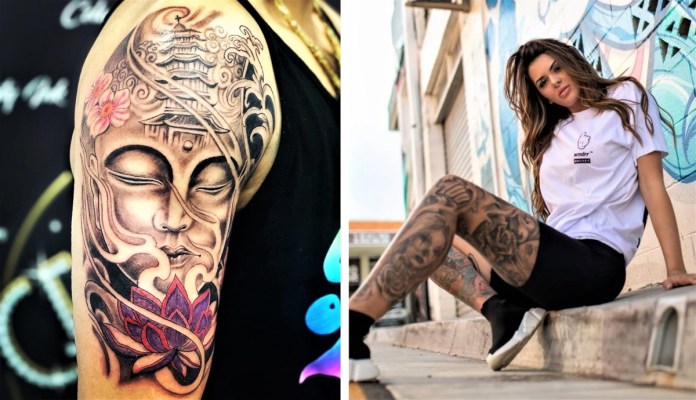 There's no doubt that tattoos are an extension of one's emotions and feelings. Tattoos are not everybody's game. But those who have them or want to have them, they know how tattoos really let a person be expressive. A lot of people get tattoos done for vanity's sake as well. And that's absolutely cool. But whatever your reason, getting a tattoo done from a safe and trusted place is a must. And for all the tattoo-loving Delhiites out there, we've got news for you. The internationally acclaimed, Thailand's Celebrity Ink Tattoo is now in Delhi! Scroll down to know all about it.
All About Celebrity Ink Tattoo

Image Source: celebrityink.com


Image Source: celebrityink.com
What started as a small tattoo parlour in Thailand is now an international tattoo chain. Tucked in SDA, Delhi's Celebrity Ink Tattoo branch is the brainchild of Dr.Nimish. It is India's first International Tattoo studio which has 20+ branches in 8+ countries.

Celebrity Ink Tattoo started their journey 11 years back in a small studio on the streets of Phuket, Thailand. The Delhi studio opened its doors in 2018 and is one of the most trusted tattoo studios in the town. Their skilled artists are highly experienced and trust us the body art will be as accurate as you want. 

Image Source: Facebook/CelebrityInk


Image Source: Facebook/CelebrityInk
We spoke to Dr.Nimish about how got the international franchise to India, "I was on a holiday in Phuket and decided to get a tattoo done. After visiting 3-4 studios I stepped into Celebrity Ink. The look and the concept of the studio was something which made my decision of getting a tattoo done there. Post that I was following them on social media when they announced they are coming up with Franchise opportunities, I started talking to them and eventually opened up the branch in Delhi in June 2018".

Cosmetic Tattooing, Piercing & More

They offer a unique array of services which include 'cosmetic tattooing'. For those who don't know, cosmetic tattooing is also known as semi-permanent makeup which includes lip liners, eyeliners and more. So, girls, if getting a semi-permanent liner has been on your mind, then you can try this out!


Image Source: celebrityink.com


Image Source: celebrityink.com


Image Source: celebrityink.com
Apart from permanent tattoos in black and white ink, cosmetic tattooing, the Celebrity Ink Tattoo offers barber services and piercings.
Talking about maintaining hygiene at the place, Dr.Nimish said, "The most unique feature is the emphasis on the hygiene we maintain including the exceptional quality of work being done. We take all the precautions while doing a tattoo and maintain 100% sterile environment."

Image Source: Facebook/CelebrityInk


Image Source: celebrityink.com
Have you been to Celebrity Ink Tattoo? Let us know about your experience below in the comments.
Where: First Floor, SDA Commercial Complex, Block C 6, Safdarjung Development Area, Hauz Khas, New Delhi
Check Out Their Website Here
(Featured Image Source: Facebook/CelebrityInk; Kim's Total Beauty)