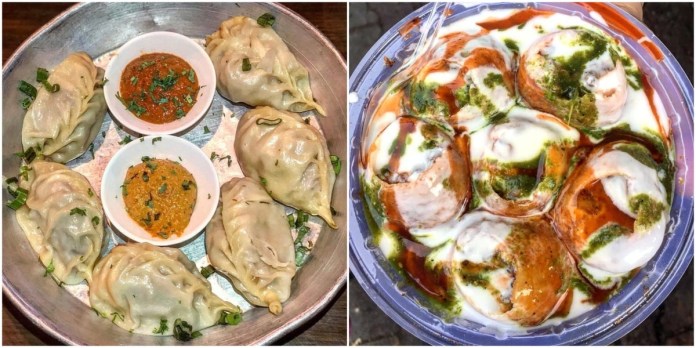 If there's one thing the capital city is famous for its street food! From the tangy and tasty chaats to the delicious roadside Chowmein, Samosas and the evergreen Chhole Bhature. You name (read crave) it and you can find it at the uber-famous street joints in Delhi. People all over the country know us Dilliwallas absolutely love our street food, so we got in touch with Delhi based food blogger Sidhant Ahuja to tell us about some of the unmissable Delhi street food and where to devour it!
1. Chhole Bhature – Giani's Di Hatti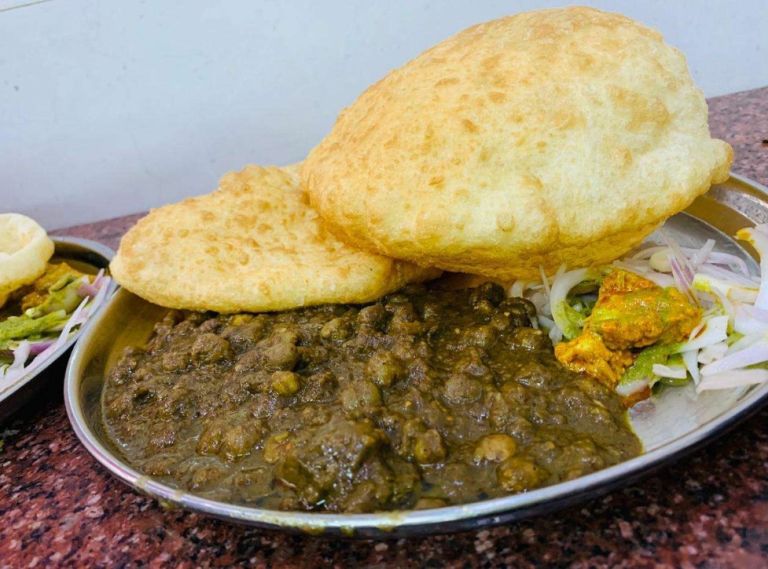 Delhi is nothing without its greasy and super satisfying Chhole Bhature. Just the thought of the fluffy Bhaturas and the spicy yet flavourful food makes our mouth water! And if you're sailing in the same boat then you've definitely got to give Giani's Di Hatti's Chole Bhature a try. Easily the best damn Chhole Bhature in all of Delhi!
Where: Church Mission Rd, Bagh Deewar, Katra Ghel, Khari Baoli, Chandni Chowk, New Delhi, Delhi 110006
2. Mango Kulfi – Kuremal Mohanlal Kulfi Wale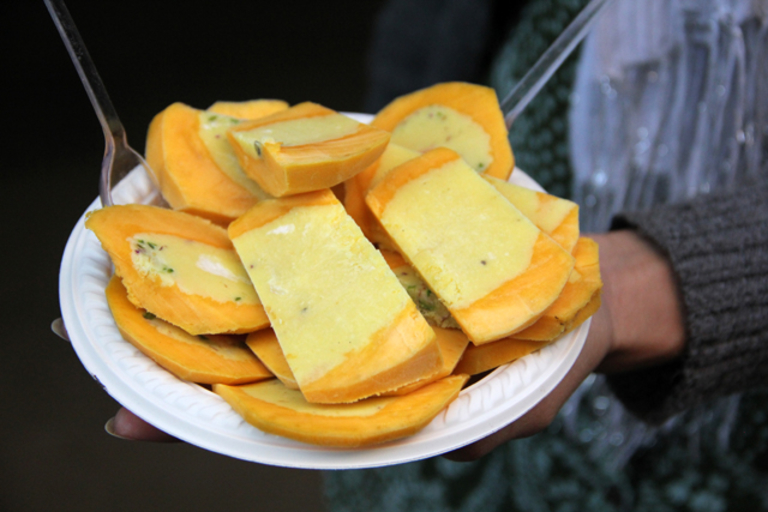 If you've got a sweet tooth and Mangoes are your guilty please then Kuremal Mohanlal's Mango Kulfi should be right on top of your list of foods to try in Delhi! It is literally the kind of dessert that dreams are made of! Don't believe us? Try it for yourself!
Where: Metro Station, Near, Shop No. 526, Kucha Pati Ram, Sitaram Bazar Rd, Chawri Bazar, Delhi 110006
3. Gol Gappas – Prince Paan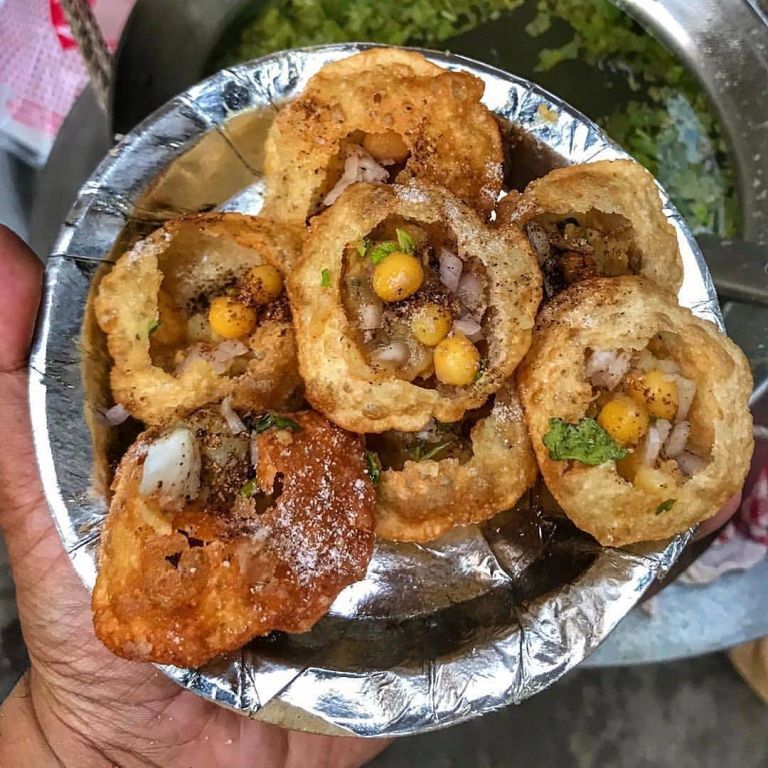 If you haven't had Dilli's world-famous Gol Gappas then what are you even doing in the capital city? Remember that Gol Gappa eating competition in Rab Ne Bana Di Jodi? Yeah, us Dilliwalas are always ready for that, especially when GK's Prince Paan's Gol Gappas are in question!
Where: M 29/5, Greater Kailash-1, M Block, Part 1, Greater Kailash, New Delhi, Delhi 110048
4. Bharwa Gol Goppas – Amit Chaat Point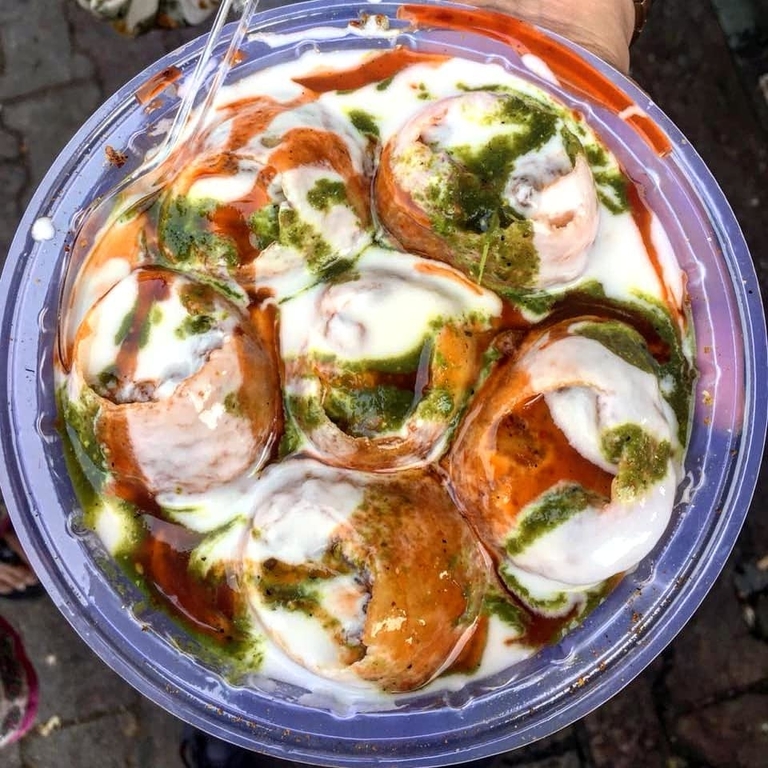 Golgappas is one thing but Bharwa Gol Gappas which are basically Dahi Gol Gappas is entirely another thing and you'd sure as hell be missing out if you don't try the ones at Amit Chaat Point! Legit the best Bharwa Gol Gappas you'll ever try, trust us your taste buds would thank you for it!
Where: Market Opposite Police Station, Faridabad 121007
5. Bhelpuri and Sevpuri – Bombay Bhelpuri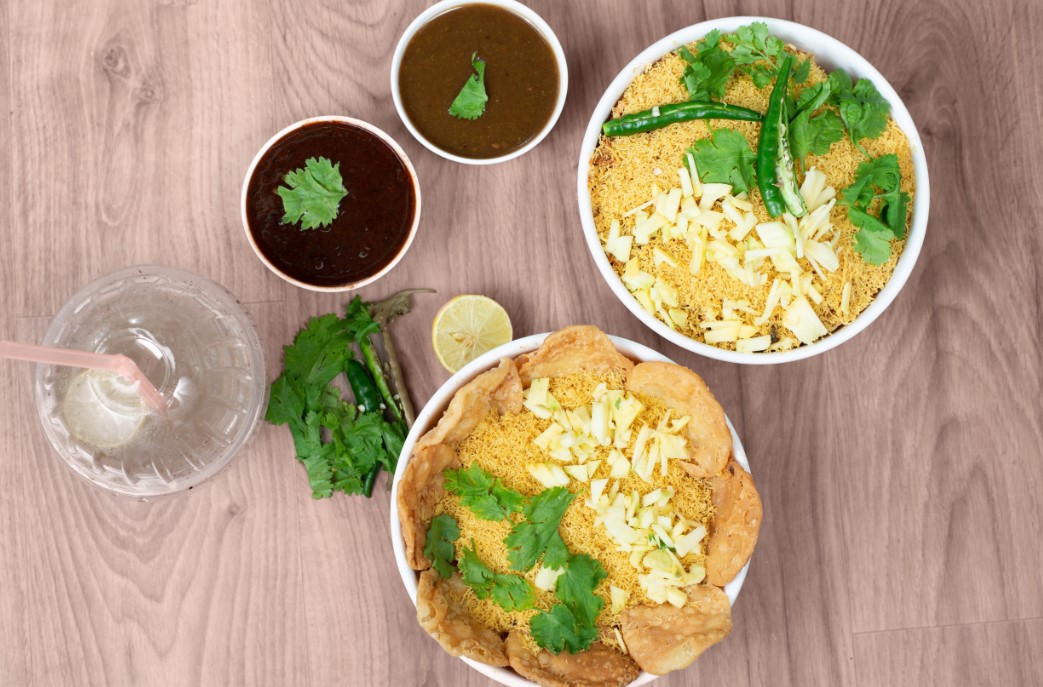 This list is definitely incomplete without Bhelpuri and Sevpuri. We'd be lying if we say it's not one of our favourite street delicacy from the streets of Dilli! Especially the one at Bombay Bhelpuri in Faridabad. Trust us, these tangy street food delicacies are worth the travel time no matter where you're coming from!
Where: SCF-45, Sector-15, Main HUDA Market, Sector 15, Faridabad, Haryana 121002
6. Chhole Roll – Outside Dyal Singh College, Delhi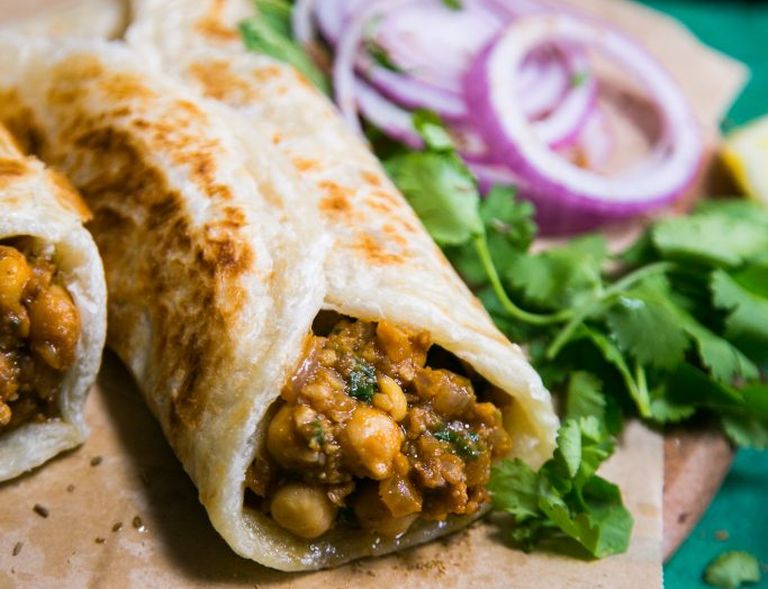 If you're a Delhiites, you probably love Chhole with anything and everything and if you're not from here, a Chhole roll is definitely a must-try for you! Dyal Singh College at Lodhi Road is a haven for food lovers and this Chhole Roll is one of the best among the dozen delicious delicacies you can try in this areas.
Where: Lodhi Rd, Gokalpuri, Institutional Area, Lodi Colony, New Delhi, Delhi 110003
7. Masala Vada Pav – Bombay Vada Pav Corner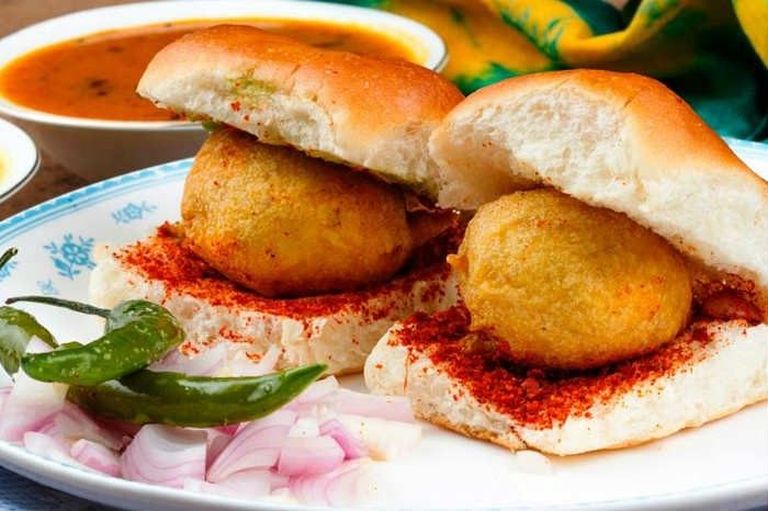 While Vada Pav is essentially a delicacy from the street of Mumbai but there is nothing Mumbai can do that Delhi can't do better! The Masala Vada Pav at Bombay Vada Pav corner is just the right amount of tangy and spicy to bring our taste buds to life which is why it's definitely a must-have when in Satya Niketan!
Where: Shop No.93, Moti Bagh II, Satya Niketan, South Moti Bagh, New Delhi, Delhi 110021
8. Momos – Dolma Aunty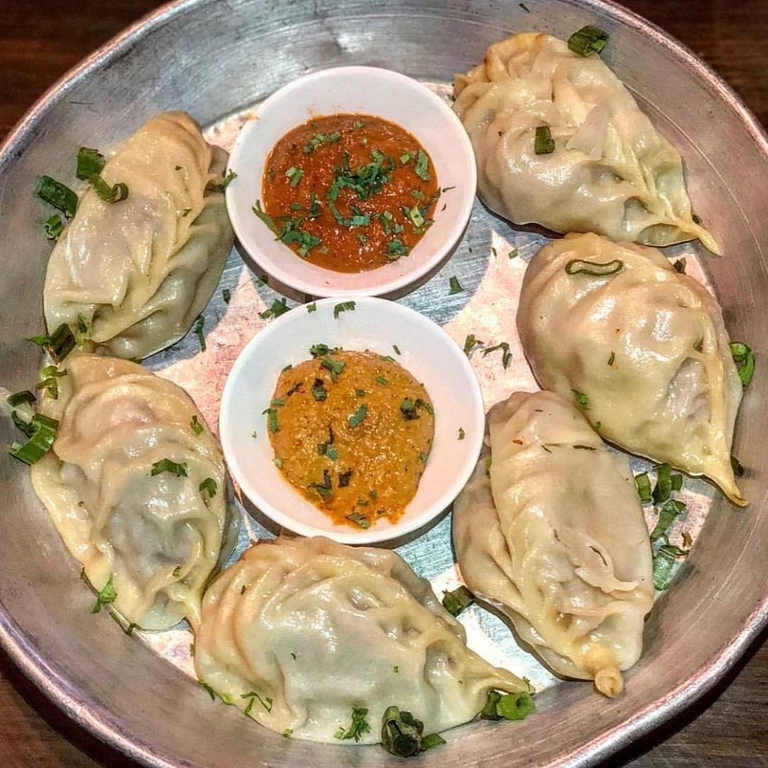 There is no way you've been to Delhi and not had momos. Especially the ones from Dolma Aunty. Famous among college kids and working professionals alike, people come from all over the city to have Dolma Aunty's delicious momos!
Where: Dolma Aunty Momos D – 44, Central Market, Lajpat Nagar 2
9. Bhalla Papdi – Ashok Chaat Bhandar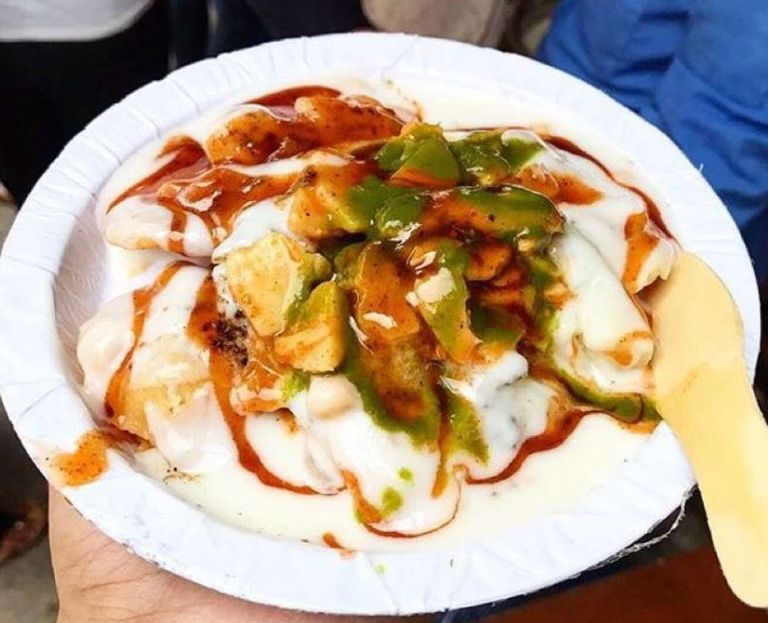 Aside from Gol Gappas, Bhalla Papdi is every Delhiites street food staple. Imagine the delicious crispy Dahi soaked Papdi breaking in your mouth with the flavours of the sweet and spicy chutneys. Heavenly, isn't it! That's precisely why Ashok Chaat Bhandar's Bhalla Papdi is a must-have!
Where: No. 3611, Chowk Chawri Bazar Metro Station, Hauz Qazi, Chandni Chowk, New Delhi, Delhi 110006
Featured Image Source: Instagram/Delhifoodblogger