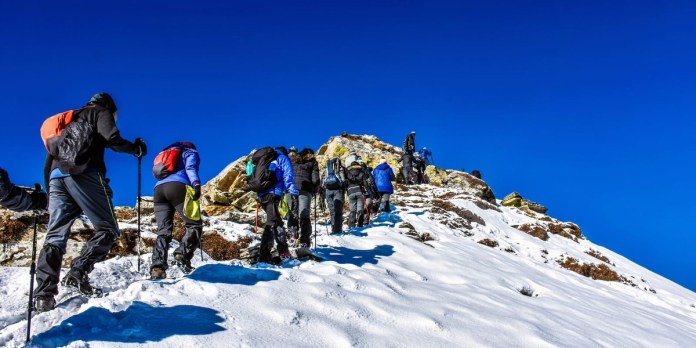 Uttarkhand is a constant favourite for all those who are always on a lookout for some tranquillity and peace away from all the chaos of daily routine. This place is also a haven for all the avid trekkers offering stunning, breathtaking views. And if you thought that your life is better in hiking boots, walking in the wilderness, stargazing and camping out with bonfire, then Uttarkhand is the place for you all. So, we have mapped out the best treks to take on when you are in Uttarkhand! 
1. Kedarkantha Trek
Image Source: treksandtrails.org

Image Source: Tim Tim Holidays
If you love breathtaking, scenic views then you must check out one of North India's unexplored trek routes, Kedarkantha Trek. Beginners can enjoy this kind of experience as it is easy-moderate. You start from the village Sankri in Uttarkhand, and by the time you reach the Kedarkantha peak, you will feel as if you have touched the sky already! The highlight of the trek is the mighty snow-clad ranges of Uttarakhand at your eye level. You'll see Swargarohini (mountain), Black Peak, Bandarpoonch (mountain) among the Gangotri and Yamunotri ranges. Known for its beautiful forest trails and pretty campsites, this trek surely needs to be on your bucket list!
Altitude: 12,500 ft
Distance covered: 20 Km
Duration: 6 Days
Best Season: December to April
2. Kedartal Trek
Image Source: India Hikes

Image Source: Tim Tim Holidays
Calling out all the adventure lovers! The snow-capped Himalayan ranges are what you get to witness all this and more on this trek. You will see the spectacular view of the Greater Himalayan ranges like peaks of the Mt Gangotri, Bhirgupanth (6772 m) and Thalayasagar (6904 m). Among the snow-shielded peaks, explorers will get a sight of several mountain wildlife species such as Himalayan Black Bear, Blue Sheep and more. Though the trek route is going to be tough, the view at the end is worth all the efforts for sure.
Altitude: 15,485 ft
Distance covered: 17 Km
Duration: 7 Days
Best Season: May to June, September to October
3. Valley Of Flowers Trek
Image Source: Leh Ladakh Tour Packages

Image Source: Hill stations of India
One of the most popular treks in Uttarkhand, The Valley of Flower is a delight with its spectacular sights. The trek is a UNESCO Heritage Site and is perhaps the most comfortable trek in all of Uttarakhand. You will be in awe with the display of wildflowers! One can even trek up to Hemkund Sahib, a pilgrimage site perched at an altitude of 14,200 ft. Experience the magic of nature with flowers, butterflies and birds everywhere. Not just that, this trek is considered to be one of the best places to visit during monsoons in India. All the nature lovers and photographers, The Valley of Flowers trek is a paradise!
Altitude: 14,400 ft
Distance covered: 17 Km
Duration: 6 Days
Best Season: July To September
4. Chopta Chandrashila Trek
Image Source: The Great Next

Image Source: YouTube
Even though Chopta Chandrashila Trek is for the first-timers, it's a slightly longer trek. It rises to a height of 12,083 ft and passes through picturesque ways. The trek offers fantastic views of Deorital lake and jaw-dropping views of the sunset from the Chaukhamba Peak. The major highlight is the visit to the Tungnath Temple, one of the famous shiv temple located on the climb from Chopta to Chandrashila. On this trek, you will also encounter stunning views of nearby peaks like Nanda Devi, Kedar, Chaukhamba and Trishul.
Altitude: 12,083 ft
Distance covered: 17 Km
Duration: 6 Days
Best Season: March to May, September to December
5. Kuari Pass Trek
Image Source: India Hikes

Image Source: Trekmukk
It is one of the perfect treks in Uttarakhand for beginners! The Kuari Pass trek begins from the Dhak village and will take you through the narrow tracks and stunning views of Nanda Devi, Neelkanth, Kedarnath and more. The entire trail will guide you through the dense forests of Bamboo, Oak and Rhododendron. On the way, you can also relish quality camping time with the backdrop of Mt Dronagiri. Trust us; the Kuari Pass is a fantastic trek in Uttarakhand!
Altitude: 12,516 ft
Duration: 6 Days
Best Season: March to May, September to December
6. Bali Pass Trek

Image Source: Trekmukk

Image Source: Discovery hike
Though Balo Pass is a challenging trek, it offers excellent views, ancient villages, Ruinsara Lake and of course the high altitude pass. The trek passes through the Govind Wildlife Sanctuary, an abode to the rich flora and fauna. The trek trail passes through the Valley of Supin where you can witness the River Supin flowing. The major highlight of the Bali Pass Trek apart from the adventure crossing is the confluence of Ruinsara rivers and Har ki Dun (valley). You will be mesmerized with the stunning views the valley and the trek have to offer!
Altitude: 16,207 ft
Duration: 8 Days
Best Season: June and September
7. Kalindi Khal Trek
Image Source: Tad Too New

Image Source: muttarakhand
This is by far, one of the most challenging treks in Uttarkhand. The trekkers will have to cover a distance of almost 100 km so all the adventure junkies, think twice before planning to take this trek. Kalindi Khal trek is a rough trail that connects with the pilgrimage sites of Badrinath and Gangotri. You will be treated with the beauty of rugged glaciers, rocky moraines, crevassed snowfields while unleashing the views of most prominent Himalayan peaks like Meru, Kedar Dome, Kamet and more. The trek is indeed tough, but it is worth attempting once in life!
Altitude: 19,520 feet
Duration: 15 Days
Best Season: June and September
8. Roopkund Trek
Image Source: memorableindia.com

Image Source: mochilayouthhostel
It's time to test your strength and see the exquisite beauty of Uttarakhand through Roopkund trek. Popularly known as Skeleton Lake, this trek is one such rare place in Uttarakhand that is popular not for its magnificence, but the mystery of the dead. The trail starts in the dense rhododendrons and oak and forests before emerging above treeline. From there you will be treated with magnificent views of the giant peaks of Badrinath, Trishul and Nanda Ghunti. This is a trek worth taking, what say?
Altitude: 15,750 ft
Duration: 9 Days
Best Season: May to June and September to October
(Featured Image Source: thrillophilia)