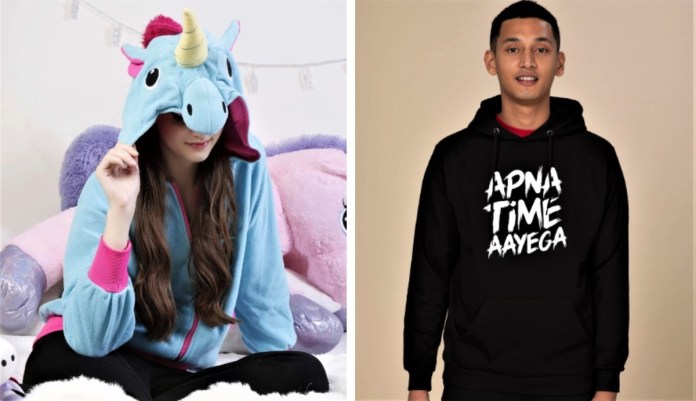 Winter is coming! Yes, we all know the battle of keeping ourselves cosy and warm. And what better way than to throw on a cutesy hoodie or sweatshirt, right? They are comfy AF, they keep you warm and they look cute as hell! So, before the temperatures drop this year, you must stock up on them. And we have handpicked 10 online stores where you can buy your fill of cute and cosy sweatshirts and hoodies.
1. Bewakoof

Image Source: bewakoof.com


Image Source: bewakoof.com
Are you a stickler for classic and printed hoodies? Well then, you will not be able to stop once you log onto Bewakoof. From solid colors to printed designs, their tons of options to choose from. You could team them up with jeans, jeggings, ankle boots and oh, just about everything!

2. Kook n Keech

Image Source: myntra.com


Image Source: myntra.com
Have you been looking for a cool Game of Thrones sweatshirt for ages? And your search ends here today. They're perfect for layering in winters! This grey printed sweatshirt has a hood and is long sleeves. Don't forget to pick up some pairs in basic solid colors or even the funky one – they look divine!

3. Dressberry

Image Source: myntra.com


Image Source: myntra.com
When it comes to winters, our all-time mantra is-loads and loads of hoodies and sweatshirts. This timeless winter staple is an absolutely essential and Dressberry's collection is so chic and awesome. The vibrant colors in solids and those one-word sweatshirts, their collection will make you buy everything. What's your pick?

4. Be Young

Image Source: beyoung.in


Image Source: beyoung.in
Be Young's collection is all funky and quirky which will attract your eyes in one go. These cool hoodies and sweatshirts are cozy, breathable, stylish and quite versatile. Also, there is a wide range of solid color options available. Their quirky but comfy approach to style the sweatshirts with the printed sweatshirt reflects your own thoughts. Isn't your type?

5. Printland

Image Source: printland.in


Image Source: printland.in
Yes yes, we know like us you also want to have a sweatshirt with your name written on it. Printland lets you design your hoodie and sweatshirt the way you ant. Apart from that, they have a huge collection with funky liners written on it like 'Beta tumse nah ho payega, Baap Baap Hota Hai' and more. So pick out your favorite hoodie and you're all set to strut out in style!

6. RedWolf

Image Source: redwolf.in


Image Source: redwolf.in
Cool merchandise with your favourite TV shows characters and superheroes is what Redwolf's collection is all about. You'll find plenty of those sweatshirts here. Be it Game of Thrones or Marvel, just name it and they've got it. Go take a look at their website and order a sweatshirt to look stylish this winters!

7. Mango People

Image Source: mangopeopleshop.com


Image Source: mangopeopleshop.com
Girls out there, Mango People's collection will make you stock up your wardrobe with all these cute looking sweatshirts. From Panda to Unicorn, Mango People are surely winning our hearts. You could couple it jeans or jeggings and long boots and trust us you are all ready to slay! Don't think twice, just add to your cart and get going!

8. Saison

Image Source: saisonclothing.com


Image Source: saisonclothing.com
Are you sucker for witty one-liners, phrases? Saison's collection is something that you have to go and check out. Slogans like 'Because Netlfix', 'I'm allergic to basic bitches', 'Live Simply, Love More' and more are super comfy to boot. Pair them up with high heeled shoes and distressed jeans and you are all set to go.

9. Souled Store

Image Source: thesouledstore


Image Source: thesouledstore
This is our personal favorite web store when it comes to buying quirky and funky stuff! You will get every kind of print you would have ever imagined- favourite movie character or your favourite show. You can also accessorize them further by pairing scarves to add that extra stylish factor!

10. Olive Planet
Image Source: oliveplanet.in


Image Source: oliveplanet.in
Guys, if you have a thing for army prints then Olive Planet's collection is something which you will totally love. Sweatshirts are your best friends in winters – they cover your neck and also look amazing when paired with the right lower. Take out your stylish soul out and dress up!
(Featured Image Source: mangopeopleshop.com)