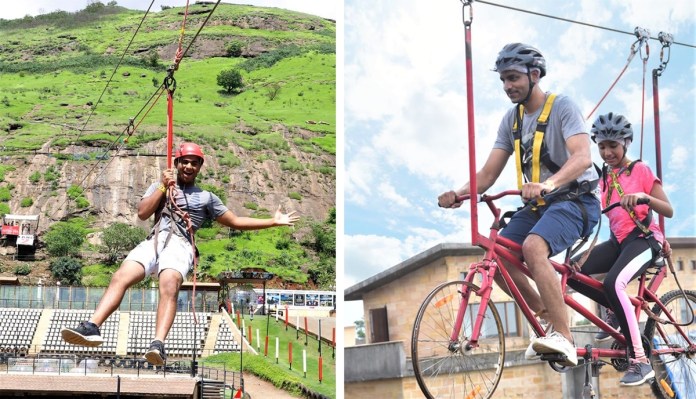 All the adventure-hungry souls out there, it's time to cheer up! We've found a kickass extreme adventure park which will definitely get your adrenaline pumping. Located in Lonavla, the Della Adventure Park is touted to be India's largest extreme adventure park and it's got 50+ cool AF adventure activities or you to explore. Scroll down to know more about this park.
All About This Extreme Adventure Park
Della Adventure is considered as India's largest adventure park, sprawling across an area of 5 acres. With up to 50+ activities, it's a place to release all your inner fear of trying exciting activities. Apart from being an adventure park, they also offer 5-star luxury amenities like fine dining restaurants, spa-salon, amphitheatre, banquets, nightclub and resorts.
Image Source: Facebook/dellaadventure


Image Source: Facebook/dellaadventure
Swoop Swing, Flying Fox, Paintball & More

Image Source: Facebook/dellaadventure


Image Source: Facebook/dellaadventure
You can go for basic adventure activities that comprise Paintball, Bubble Soccer, Bull Ride, Hard Ball Net Cricket, Ball Fighting and more. Advance adventure activities are Motorcross Dirt Biking, Buggy Ride and Sky Cycling. And finally, the one that you all the adventure freaks will surely have your eyes on – extreme adventure, wherein you can try out activities like Swoop Swing and Flying Fox.
Image Source: dellaadventure.com


Image Source: dellaadventure.com
So, adventure junkies, one of their popular adventure activities is Swoop Swing wherein you you pull the cord and dive from a 100 feet up on India's only Swoop Swing! How cool is that! You can even experience a free fall of 100 feet before swooping towards the ground and swinging back up the other side. If that wasn't enough for you, there's Flying Fox that is touted to India's Longest Flying Fox. It's time to gather all your fearless friends and get a reality check about how brave you guys are!
Where To Rush For All Those Hunger Pangs?
Yes yes, after all those adventure activities, all we need is a relaxed place with delicious food. Della Adventure Park has tons of options to choose from. There are six eateries inside this adventure park that includes Villa Bistro, Cafe 24, PNF Restaurant & Bar, Parsi Dhaba, Creme Della and Sports Bar. Not just that if feel like partying with your buddies, they have a nightclub- P18 Nightclub & Lounge with sophisticated interiors.
So guys if you are anytime planning to head to Lonavala, you should head to Della Adventure Park and make the most of it!
Where: Lonavla, Kunegaon, Maharashtra
(Featured Image Source: dellaadventure.com)