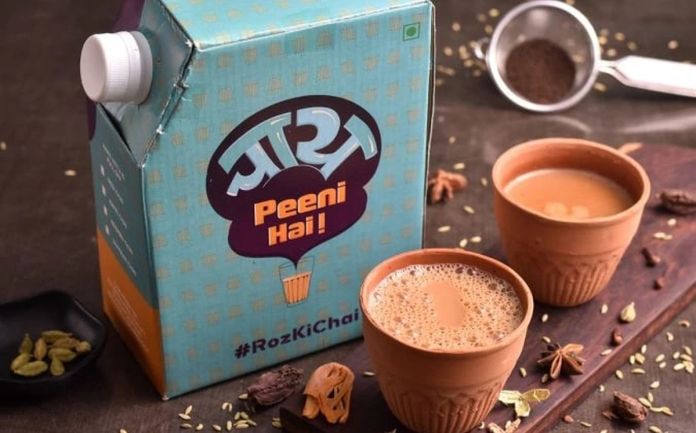 We get it, winters are kind of playing hide and seek with us! One day it's sunny and the next it feels like as if it'll snow any day now! But no matter the weather outside, one staple in winters is our beloved chai! Tea is not just a relaxing drink, but an emotion for a lot of people. And when it's teamed with hot, crunchy pakoras on a chilly winter day, life becomes beautiful again! So, all chai lovers, check out these 9 spots in Gurgaon that deliver piping hot tea right at your doorstep.
1. Coffee & Chai Co.
Image Source: Cup & Leaf

Image Source: Zomato
With 16 varieties of tea, from Ghar Ki Chai to Lavender Tea to Kashmiri Kahwa Tea, Coffee & Chai Co. is the place for all the tea lovers. Combine your favourite beverage with some delicious pakoras, Chicken and Fries or Cheese Toast and brace yourself for a perfect winter evening!
Where: 8, Upper Ground, DLF South Point Mall, Golf Course Road, Gurgaon
2. Tea Halt

Image Source: Zomato


Image Source: Zomato
Tea Halt has tons of tea options to choose from desi kulhad chai to tea leaves to local flavours and fruit infusions. If you like all things quirky, then you should try their vanilla and mango flavours. And for all those stressful days at work, their regular adrak tulsi chai is the best!
Where: 3rd Floor, Tower A2, DLF IT SEZ, Silokhera, Sector 31, Gurgaon
3. Chai Peeni Hai

Image Source: Zomato


Image Source: Zomato
Serving tea in a kulhads, they have Gur Wali Chai, Herbal Tea, Neembu Chai and more. This is the ideal place for a chai rendezvous! They also have options in iced tea like masala and peach, to name a few. Pair your beverage with their snacks like Vada Pav, Desi Samosa and more.
Where: 1104, JMD Regent Square, Mehrauli-Gurgaon Road, Heritage City Sector, DLF Phase 2, Gurgaon
4. The Chai Story

Image Source: Zomato


Image Source: Zomato
If you are a sucker for chai and Maggi, then The Chai Story is where you should order next time. Their chai menu includes classic tea, chai with milk and tea blends. Our favourite combo from their menu is masala chai and mixed sauce Maggi. Also, don't miss out on their delicious tea blends like Moroccan Mint, Rose and Cardamom.
Where: Food Court, Take Eat Easy, Central Plaza, Golf Course Road, Gurgaon
5. Chai Garam
Image Source: Zomato

Image Source: Swiggy
Chai Garam has got a wide variety of teas available like Sauf Elaichi Chai, Tulsi Chai, Jasmine Tea and more. Along with the yummy chai, they have also got the staple munchies that go perfectly with this hot beverage like Paneer Patty and Paneer Tikka Sandwich. A warm cup of tea will cost you around 40 bucks, that is pretty reasonable.
Where: Outside Building 10, Wooden Plank Kiosk, DLF Cyber Hub, Gurgaon
6. Roots-Cafe In The Park

Image Source: Zomato


Image Source: Zomato
How about having bun omelette and masala chai on a chilly winter morning? Roots-Cafe In The Park serves a variety of tea. Basically, it's a paradise for all tea lovers, and whether you like your green tea or herbal tea they have it all. Also, they have some snack options to pair with your drink.
Where: Rajiv Gandhi Renewable Energy Park, Leisure Valley, Sector 29, Gurgaon
7. Koolchas
Image Source: Zomato

Image Source: snehism.wordpress
Are you also dreaming of sipping a steaming cup of tea and gorging on Amritsari kulchas? Koolchas is the place to order from as they have amazing combos. You can pair your favourite cutting chai with mix veg kulcha that is served with butter and chutney. Seems like our lunch meal is sorted!
Where: Shop 99, Ground Floor, Main Market, Sector 14, Gurgaon
8. Tpot

Image Source: Zomato


Image Source: Zomato
Their tea menu includes options like Ginger, Laung, Masala, Kadak and Meri Wali Chai. Apart from this, Tpot has special chai also like Hot Lemon Tea, Tulsi, Chinese Green and Lemon Masala. You can also pair your favourite beverage with Vada Pav, Pav Bhaji and more.
Where: Building 8, Ground Floor, Tower C, DLF Phase 2, Sector 24, Near DLF Cyber City, Gurgaon
9. Fresco Chai
Image Source: From Bowl to Soul

Image Source: Zomato
Serving 14 varieties of chai, Fresco is the perfect place to chill with your buddies. Besides their teas, Fresco Chai also whips up delicious bun omlette, veg cutlet and paneer Maggi. Also, if you have a thing for momos, they serve delicious veg gravy momos too!
Where: F 183, First Floor, Sapphire Mall, Sector 83, Gurgaon
(Featured Image Source: Zomato)