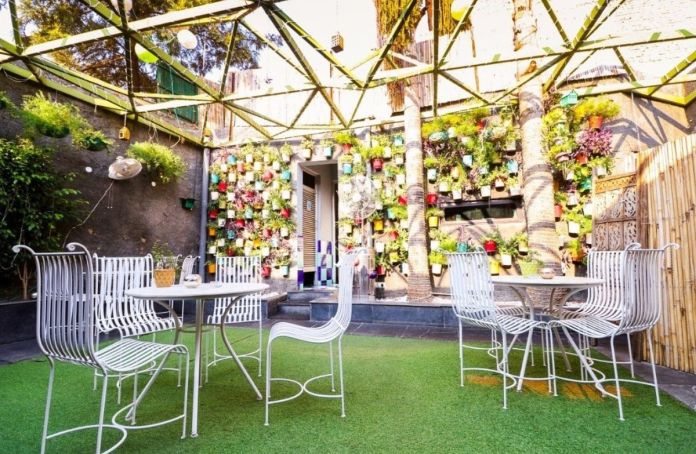 With the startup culture on the rise and freelance & part-timers finally getting their due, the traditional office space is no longer the norm. Work Good coffee, a peaceful environment, and free wifi is all that you need to turn any cafe into your office! So, here's a list of quaint and amazing cafes that come equipped with WiFi, natural lighting and great coffee where you can have your official meetings. Bookmark these cafes RN!
1. Blue Tokai Coffee Roasters

Image Source: Zomato


Image Source: Zomato
It is one of the most popular hotspots for all the work meetings! With gorgeous interiors and their stellar coffee makes it one of the best cafes to drop down for a meeting. Blue Tokai Coffee Roasters offers free WiFi and also it can be a great networking spot. Just come over and bring your laptops!

Where: Saidulajab, Vasant Vihar & Other outlets

2. Rodeo Cantina and Kitchen


Image Source: Zomato


Image Source: Zomato
Situated in the heart of Delhi-Connaught Place, this cafe has an exclusive co-working area with vibrant interiors which makes it unique. Do you know the best part of the place? Not only the convenience of the location but the privacy factor where you can have discussion freely while sipping coffee. With office stationery, plug points, high-speed Wifi, this is a perfect place to drop by for a meeting.

Where: 12-A, Rajiv Chowk, Block A, Connaught Place, New Delhi

3. Urban Sip


Image Source: Zomato


Image Source: Zomato
This cafe is located in the bustling area of South Delhi and can be termed as one of the best official meeting spots in the city. It is a beautiful cafe with huge windows that provide ample sunlight. An added bonus is that being in the centre of the city makes it very practical to hold meetings here. Sip their Cocoa Frappe while you crack your next big business idea!

Where: F-83, Okhla Phase III, Okhla Industrial Area, New Delhi

4. Quick Brown Fox Coffee Roasters


Image Source: Zomato


Image Source: Zomato
Quick Brown Fox Coffee Roasters welcomes all to its cosy, happy little space. Apart from their usual coffees including cappuccino, latte, and mocha they serve usual divine like flat white and piccolo latte. So come drop by here, choose your brew and get to work peacefully here!

Where: 23A, Dhan Mill Compound, 100 Feet Rd, Chhatarpur, New Delhi

5. Qahwa


Image Source: Zomato


Image Source: Zomato
Another ideal meeting space in South Delhi is Qahwa in SDA Market which is perfect for freelancers and young entrepreneurs who would like to make a lasting impression on their clients. There's free wi-fi here and you get delicious Italian food. The comfortable setting will make you want to sit throughout the day, leading to possibly more work getting done.

Where: C-21, First Floor, Safdarjung Development Area Market opposite Indian institute of technology (IIT), New Delhi

6. Coffee Bond


Image Source: Zomato


Image Source: Zomato
Located in GK I, Coffee Bond is a cute little coffee space inspired by Melbourne's hipster culture. There's good wi-fI, comfortable seating, picturesque interiors which makes Coffee Bond a perfect place for an evening meeting. Sip on their coffee while working on your laptops! The best part about working from this café is that after your working hours, you can sit back and relax!

Where: M 29, M Block Market, Greater Kailash 1 (GK 1), New Delhi

7. Soho Bistro & Cafe

Image Source: Zomato


Image Source: Zomato
With its vibrant and colourful interiors, Soho Bistro and Cafe makes it a perfect place for a lazy afternoon meeting. The cosy setting, peaceful environment, outdoor seating, good wifi speed and the yummy food makes this an ideal place for a work meeting. Grab your cup and find your spot for the ideal meeting!
Where: 1, Westend Marg, Saiyad ul Ajaib, Sainik Farm, New Delhi
8. Threads Cafe
Image Source: Zomato


Image Source: Zomato
Tucked in Shahpur Jat, Threads Cafe is such a beautiful place that any meeting that you would host here would definitely end in your favour. With charming and calm vibes, good wifi side and yummy food, it's an ideal space to hold an official meeting. The seating and ambience is pretty relaxing and quiet. So you can discuss your work in peace here.
Where: 253, Shahpur Jat, Siri Fort, New Delhi
9. Cafe Lota

Image Source: Zomato


Image Source: Zomato
Located inside the National Crafts Museum, Cafe Lota is a café that is ideal for those who work independently. The cafe has a laid-back vibe and the quiet ambience that is ideal for a working space. They have free wi-fi and delicious food to hog on while you are working.
Where: Gate No. 2, National Crafts Museum, Bhairon Marg, Pragati Maidan, New Delhi
10. Coast Café

Image Source: Zomato


Image Source: Zomato
Coast Cafe is an ideal place for a meeting or to get your work done as they have free Wi-Fi facility. The quaint ambience is ideal for working and they have delicious food to hog on. If you are tired from working, you can sit in café's balcony an soak in stunning views of Hauz Khas village.
Where: H-2, 2nd & 3rd Floor, Hauz Khas Village, New Delhi
(Featured Image Source: Zomato)