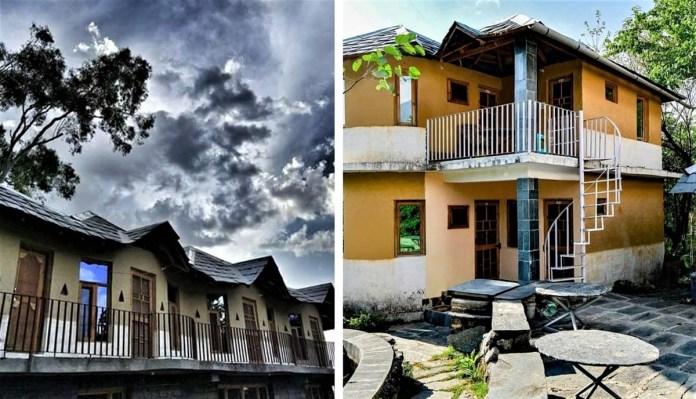 Do you ever feel like you have reached a dead end while sitting in your office cubicle? Admit it, we all feel that sometimes. And we all need some inspiration in our lives to keep us going, lookout for new ideas and find something exciting to do. So ladies & gents, if you are feeling us, it's time you take a break from your city life and head to this co-working & co-living space in Dharamshala. Cool concept, right? Ghoomaka, located in Rakkar village near Dharamshala is a simple yet beautiful space, where you don't just get to take a break from the busy city life. But you also get to ideate, get inspired, work and even network with other like-minded people- all in the lap of nature. Read on to know more about this amazing place!
The Unique Concept of Ghoomakad 

Image Source: Outlook


Image Source: ghoomakad.com
Ghoomakad is a co-working & co-living space that has all the wonders of nature as well as the comfort of modern amenities which you cannot imagine life without. It has a 20+ seater co-working studio with a high-speed internet connection and power backup. The place is a good mix of rural and urban, where you can take a break, stay for a few days/weeks, and work at your own pace.

Image Source: ghoomakad.com

Image Source: Nat Geo
We got in touch with the owner of this place, Mohindar Kumar. Talking about this unique concept, he said:
"I was always wanted to establish a community and co-working space so people can live in a socially, economically and culturally sustainable environment through eco-tourism".
Where to Stay?

Image Source: ghoomakad.com


Image Source: ghoomakad.com

Image Source: mylocaldost.com
Apart from the co-working studio, they have rooms made of mud, tents, treehouses for you to stay in. You will have access to basic facilities like WiFi and a balcony, where you can work peacefully. Nature walks and sightseeing are the added bonus!

What To Eat?

Image Source: ghoomakad.com


Image Source: ghoomakad.com
Ghoomakad has a multi-cuisine restaurant that uses freshly produced vegetables picked up from their own organic garden. So, if you are ordering red sauce pasta, the tomatoes used would be fresh and juicy! If you are someone who wants to get inspired, or are working on a new idea, then Ghoomakad seems like the perfect place to be at.
Where: Ghoomakad, VPO, Sidhbari, Dharamsala, Rakkar, Himachal Pradesh
Contact: 098822 26638
For more information, check out their website here
(Featured Image Source: facebook/ghoomakad)