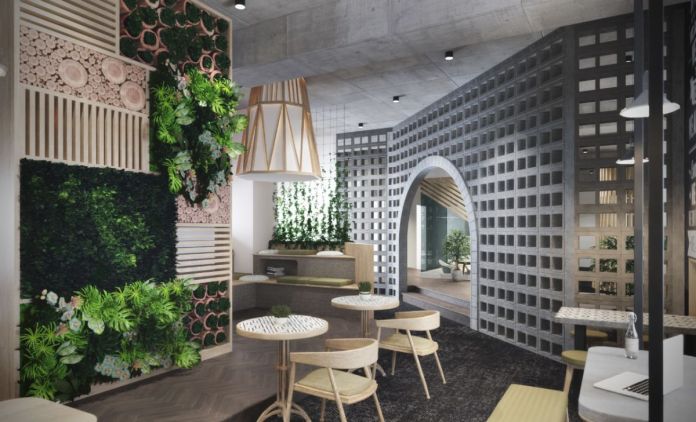 If you've lived in Delhi long enough, you'd know the entire city boasts of numerous historical forts and monuments, which are the crown jewel of the city! And while we all like to visit them over a weekend, how does working inside one sound? Confused? Well, Innov8, a co-working space, has converted one of the old forts into a co-working space in New Delhi. Yes! Just scroll down and look at the dreamy pictures of this gorgeous place. Now, who wouldn't want to work there!
What Is It?

Image Source: Behance


Image Source: Behance
Offices these days are going undergoing many changes in order to increase the productivity of the company and employees. Recently, Innvo8 opened its super cool workspace which is actually everyone's dream workspace! They have opened a co-working in a fort (LITERALLY!). It's called the Innov8 Old Fort in Saket area of South Delhi which is touted to be India's first co-working space to be opened up in a fort. 

Built-in an old fort style to bring in a perfect combination of old-world charm and modern design which makes it more unique. Working here will just add splashes to your viewpoint and working spaces.

Interiors Are WOW!

Spread across three floors, Innvo8 has all the modern interiors that'll make you admire the entire property. It's a 415 plus seater space which is a total blend of old-world charm and modern amenities, all under one roof.
Nestled amongst many of the historical sites in south Delhi, the arch-shaped patterns are prominently used to incorporate historic design elements with a neutral colour palette.

Image Source: Business Insider


Image Source: Business Insider
The entire workspace has swings for chairs, colourful walls with a neutral colour palette and comfortable sofas to sink in. The lighter tones of textures of wood along with add of flora within the space are giving the entire space a new look! You can book a meeting room at this space for an introductory price of Rs 600 per hour and get a dedicated desk for an affordable price of Rs 12,999 per month. Doesn't it sound like a dreamy workspace already?

It's Right Next To Saket Malls!

Located in the hearts of South Delhi, you can easily access the Select Citywalk DLF Place Saket and District Court Saket. You can shop at high-end brand stores like Hilton Garden Inn, Sheraton, TGI Friday's, Hard Rock, Zara, and Starbucks, etc. Isn't it the best place to work?

Image Source: Just Dial


Image Source: Just Dial
We are sure like us you also want to ditch your workplace and just head here, right? We suggest you book your spot at this artistic space RN!

Where: Saket District Centre, Next to Select City Walk Mall District Mall, Sector 6, Pushp Vihar, New Delhi
Contact: 099994 66688
Check Out Their Website Here
(Featured Image Source: innov8)