Living the Bachelor life away from home can be pretty stressful. Don't we all agree? There's just so much to handle that often single dudes don't get time to do up their bachelor pads. But come on, home is that one place where we spend most of our time, and it's our own comfort zone. So there's no doubt about the fact that a guy's bachelor pad must reflect his personality. Which is why we caught up with Delhi lad Shivang Kapoor, the founder of iRenovate.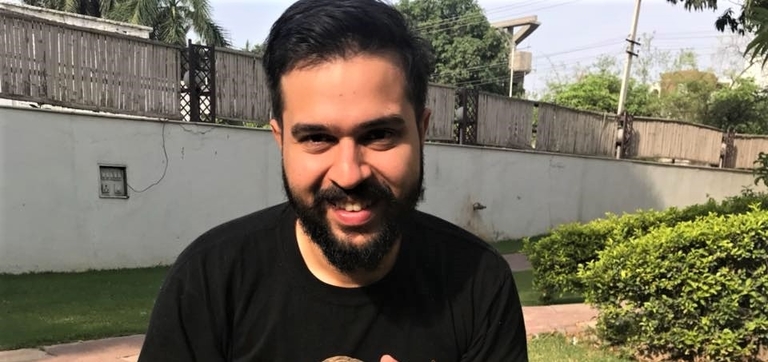 His company is one of the top interior renovators in the city. And we coaxed him into giving you all some amaze tips on how to jazz up a bachelor pad!
So, how did iRenovate begin?
The vision behind iRenovate was to ease the pain people feel while renovating their homes. Renovation is a very unorganized sector in India. So, we wanted to organize it and provide stress free solutions to clients.
What are the 3 top ideas on how bachelors can jazz up their homes? Some ideas which are super easy to implement yet really useful?

Bachelors can Jazz up their place with minimum cost very easily. Three best trends and accessories/tips if you ask me are:
i. Rustic/ distressed furniture – Adds a cool element to the room, brings a
very minimalist raw rustic aura to the place.
ii. Large sized mirrors – Use of large size mirrors is very underrated in our market. However, adding a larger than life size mirror at the entrance or even next to the dining table can really change the way your place looks. It gives the illusion of more space to your house.
iii. Lights with open Edison bulbs – Edison light bulbs look classy and not very jazzed up. Its the perfect way to decorate a living room.
What are the top 3 (home-related) techy items/gadgets that you feel are a must for every single guy in their home to make their life easier.
These days, there are many options available in the market. From Google Home to Echo Dot, there is no dearth of technology to make lives easier. My recommendations are:
i. Alexa – For a complete home automation system
ii. PS4 – Because young or old, there is no stopping them from video games
iii. A Good Entertainment system – A Marshall portable in my case. They are handy and have a terrific sound quality. In a lower range, you can also try JBL or Boat.
We all know setting up a kitchen is a hassle for single men (and women). Any particular tips on how to do up the kitchen?

A kitchen must be airy and more importantly it should be ergonomically right since you tend to move around a lot. It must have the right appliances within a workable distance from each other. Otherwise it gets very uncomfortable if you have to keep walking around.
What are the differences that you see when you are working for a family versus a bachelor house?

Well, I lived alone in a studio apartment in Dubai for over 6 years. I had minimal furniture, an open wardrobe and fridge with no food in it! Family homes focus more on squeezing in more storage as they have so much stuff to store. A bachelor home is all about making the place as 'Cool' as possible, be it with bizzare artwork or with extreme use of colours. Bachelors like their homes swanky and quirky.
Let's move to the most important part of the house- the bedroom! We assume since most bachelors love lounging around in the bedroom, how do you feel it should be done up for a single guy?

Firstly, a comfortable bed, and most importantly a good comfortable mattress is a MUST. Secondly, a compact TV+entertainment system is always good. Finally, for a cozy bedroom vibe, a corner lamp to setup ambient lighting and some open space with a soft rug to finish the room. It may seem a bit too much but trust me, it is going to charm all your house guests.
Do you have any particular tips on bathroom spaces?

There should be some civil expertise when it comes to a washroom and getting the setup right. It wont matter how beautiful the tiles are if the slope for water to flow is not right. The placement of a shower, the wash basin, everything should be in sync.
A lot of bachelors love throwing parties. So how can the living room be done up so that it's usable for parties as well as for spending some quality alone time.
Break up the space. Have nice comfortable sofas that are L-shaped preferably along with contrasting colorful chairs to lounge on. Use of rug or pillow throws over the sofas is really in-trend these days. The space should be comfortable, jazzy yet practical.
Although modern spaces don't allow i, but if someone has an open space- balcony or terrace, how can that be done up for a single dude?

I love to use plants within the house as well as in open spaces. I understand it is difficult to manage plants around the house due to their hectic lifestyle. It is therefore important to keep plants that are easy to manage. Plants like button cactus, palms don't require much maintenance and can survive with minimum water as well. One can also use a lot of artificial grass carpet along with vertical gardens to bring life to the place.
Lastly, any tips on you'd like to give the bachelors on doing up their abode?

Minimalism is the key, keep things which you absolutely need. Don't stuff the place too much with furniture. Use mirrors, plants to make the place airy which will bring positivity and make it welcoming. A bachelor's abode is no place for boring walls. Jazz it up for the party to continue.
So all you single dudes out there, we hope you were able to gather ample tips from here!
Feature image source: Danielhopwood