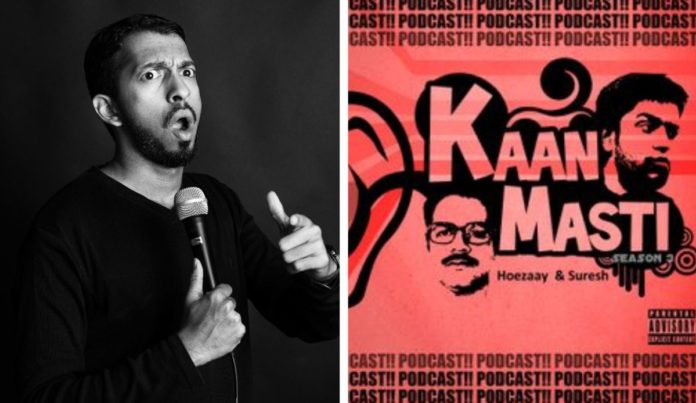 It's been almost two weeks (even more for some of us) since we all are at our homes, self-isolating, to save us from the deadly coronavirus spread. And at this point of time, even Netflix or Prime don't seem to help! So, if you feel you have exhausted all sources of entertainment, then you must delve into the world of podcasts. To uplift your mood, we have listed the coolest comedy podcasts to drive your blues away.
1. Kaan Masti
Image Source: YouTube


Image Source: YouTube
If you are looking for some uncensored banter, the Kaan Masti, featuring José Cavaco and Suresh Menon should be on top of your list. This comedy podcast is based on real-life, adult, private, working at a radio station and in-between work conversations of colleagues. Trust us, you don't want your mother walking into the room when you're listening to this one!
Where: Mixcloud
2. The Right Room
Image Source: Audio Boom

Image Source: Cloud Boom
The weekly podcast, The Right Room, is run by stand-up comedian, Rupan Paul. You will hear conversations with people whom he considers are inspiring, entertaining and accomplished in their fields. The guests include authors, comedians, filmmakers, actors, musicians and more. Also, he sometimes records an episode by himself! Trust us, these conversations are funny, inspiring and honest in total.
Where: Apple and Soundcloud
3. Sh**ged Married Annoyed
Image Source: Mirror

Image Source: Soundcloud
Hosted by married couple Rosie and Chris Ramsey, Sh**ged Married Annoyed podcast is all about relatable discussion and hilarious banter. It is engaging, a hilarious husband-wife duo that chats about relationships, life, parenting, in and around family life. But do you know the fun part? The only way their conversation gets interrupted is by their toddler. Each week the couple will answer questions from the public and a secret celebrity.
Where: Spotify and Apple
4. If I Were You
Image Source: YouTube


Image Source: YouTube
Tune in every Monday and listen to, If I Were You podcast by Jake Hurwitz and Amir Blumenfeld. It's a comedy advice podcast that offers advice in areas they're qualified to talk about and also not qualified to talk about. The show gives information based on their exploits, but it's mostly in their dun, comic way!
Where: Spotify
5. My Dad Wrote a Porno
Image Source:mydadwroteaporno


Image Source:mydadwroteaporno
It's a British podcast hosted by Jamie Morton, Alice Levine and James Cooper. The podcast revolves around a guy, Jamie, who discovers that his dad wrote pornography throughout his life as a hobby. Each of their episodes features Morton reading a chapter of his father's amateur series, along with the reactions and commentary of James and Alice. Trust us, no list is complete without a shout-out to My Dad Wrote a Porno.
Where: Apple and Stitcher
6. Never Not Funny
Image source: Laist


Image source: Laist
It's a weekly podcast hosted by Jimmy Pardo and co-host Matt Belknap. You can enjoy free-form conversations in an insightful and hilarious manner with this podcast. The topics discussed in the podcast range from pop culture to personal and exciting anecdotes to music. Do you know the best bit about this podcast? You will enjoy a segment called 'Judge Jimmy', where the cast settles a dispute submitted by a listener. Andy Daly, Sarah Silverman and Conan O'Brien are some of the famous guests to have been featured in this one.
Where: Apple and Stitcher
7. WTF with Marc Maron
Image Source: Parade

Image Source: wtfpod
Tune every Monday and Thursday to listen to WTF With Marc Maron. It is one of the most iconic comedy podcasts. Jim Norton, Ray Liotta are some of the celebrity guests that have been featured in this one. Often giving references to his own life, as well as happenings around the world, Maron's jokes are always on point. His honest and raw conversations with well-known personalities are still accurate, funny, and thought-provoking.
Where: Apple
8. Comedy Bang Bang
Image Source: Comedybangbang

Image Source: Twitter
If you are new to the world of comedy, then it is always going to start with oldie podcast. Hosted by comedian Scott Aukerman, Comedy Bang Bang podcast offers a mix of conversation and character work from today's comedians. Some of the guests who have appeared on the podcast are Andy Daly, Aziz Ansari, David Cross and more. Tune in RN!
Where: Apple and Stitcher
(Featured Image Source: podtail/soundcloud)