Are you one of those who are always on a lookout to try your hands on something exciting and unique? And if you are one of those who still have an eye for beautifully written notes and cards, then this might be interesting for you. In this self-quarantine time, how does the idea of learning the art of calligraphy sound to you? Oh yes, The Bombay Lettering Company have started with their virtual classes so that you can learn a new skill. Read on to know more.
What is The Bombay Lettering Company All About?
Started in October 2017 by Sanjana Chatlani, The Bombay Lettering Company is boutique calligraphy and lettering based design studio providing a range of workshops, products and services. Sanjana is a calligrapher and lettering artist based in Mumbai and specializes in traditional and modern handwritten calligraphy.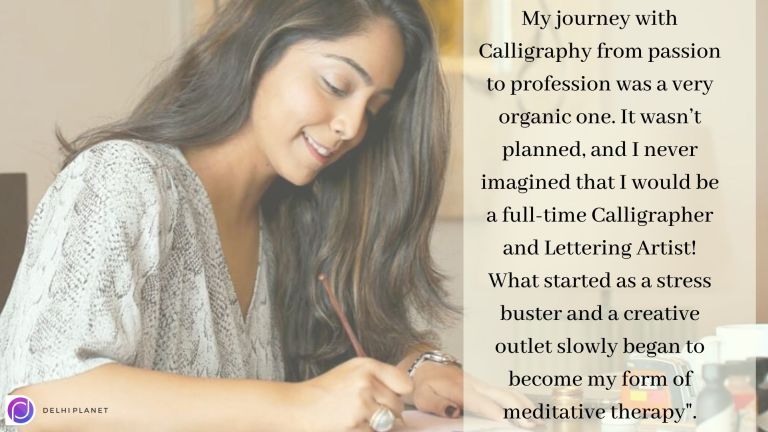 We spoke to Sanjana who shared how she started her business, "My journey with Calligraphy from passion to profession was a very organic one. It wasn't planned, and I never imagined that I would be a full-time Calligrapher and Lettering Artist! What started as a stress buster and a creative outlet slowly began to become my form of meditative therapy".
In today's digital era, calligraphy adds personal touch and warmth that is irreplaceable. The projects include handwritten ink on paper, logo designs, monograms, packaging elements, lettering on surfaces like wood, mirror, glass, acrylic and merchandise.
Image Source: Instagram/bombaylettering


Image Source: Instagram/bombaylettering
"I strongly feel that Calligraphy has made me a more calm and patient person over the years and this has had a direct impact on the way I handle day to day business situations and decisions as well. The calmness, patience and genuineness with which I work have definitely added to the micro-successes which eventually leads to a more macro sense of success", said Sanjana Chatlani
Brands They Have Worked With in The Past
Image Source: Instagram/bombaylettering


Image Source: Instagram/bombaylettering
Calligraphy is something very personal and unique in its way! Sanjana being the founder of this fantastic initiative has worked with clients like Michael Kors, AA Living, Vogue India, Bottega Veneta, Moet Hennessy, Taj Group of hotels, Priyanka Chopra and Nick Jonas' wedding and more.
Talking about her collaboration, she said "My most recent collaboration is with a 3D printing company where we've combined my art of calligraphy and the technology of 3D printing to create jewellery in the form of pendants. I'm now working with a fashion label on their newest collection with my calligraphy incorporated in their prints".
All About Their Virtual Classes
We know because of this Cornovaious outbreak, it seems impossible to step out as safety comes first. But who said you couldn't enjoy or learn a new skill at home. Sanjana conducts in-person workshops on Pointed Pen calligraphy across the country. So. far she has taught over 600 students across Mumbai, Delhi, Bangalore, Hyderabad, Chennai, and Kolkata.

Image Source: Instagram/bombaylettering


Image Source: Instagram/bombaylettering
For virtual in-person Pointed Pen calligraphy workshop, one should have already begun their journey in copperplate calligraphy or modern calligraphy (beginner or intermediate) and who would like to improve their skills. You will explore and practice the tools, and you will learn how to work with an Oblique calligraphy pen, a pointed nib and ink. You will begin with basic strokes, followed by the lowercase alphabet and ending with forming words. Trust us, it's going to be a fantastic online learning class. The online session if for 60-90 minutes, selecting your day according to your preference!
(Featured Image Source: Instagram/bombaylettering)