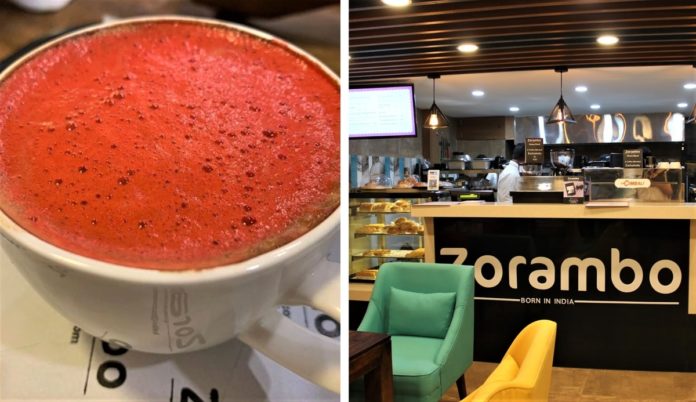 Don't we all have that one particular hangout spot where we always drop by with our friends every time we decide to head out and eat? But how about we tell you that there's a new cafe popped up in your favourite hangout spot- Gurgaon. Called Zorambo Born in India, the cafe has picturesque interiors and a co-working space. Not to miss is their amazing range of latte flavours! Read on to know more about this cute little cafe.
What's All The Fuss About The Place?

Image Source: Instagram/zoramboglobal
Zorambo is a 'caftaurant' or a cafe-cum-restaurant that has opened up recently in Gurgaon. This is a new eatery in the city that serves the purpose of both a cafe and a restaurant. Trust us, it is something which you shouldn't miss! First opened in London, and has one outlet in Wembley, and now making its second launch in Gurgaon. It's a one-of-a-kind experience where you will be treated with a range of delectable Indian dishes that are made using new and interesting cooking methodologies.

It's a Co-Working Space Too!

Image Source: Zomato


Image Source: Zomato
It's a   space with a limited seating area. It has comfortable couches which will make you feel as if you are chilling at your own place. The colourful chairs and walls will brighten up your mood and trust us the tiny little space will turn into your everyday hangout spot. Every nook and corner of the space is Insta-worthy and has amazing fun graffitis on the wall. 

If you are a bibliophile, this place is heaven as they have plenty of books. While you have ordered your favourite food, you can play some board games. Not to miss is that they have a separate floor for a co-working space. And guess what, they have a free Wifi!

Pink Latte, Rambo's Samosa And More

Image Source: Facebook/Zorambo


Image Source: Facebook/Zorambo


Image Source: Facebook/Zorambo
Their menu is incredible with all the quirky names! The food is the major highlight and you will find all fusion dishes with a wide variety of Indian dishes and beverages to choose from. If you a coffee lover like us then you should definitely try their Pink Latte and Red Velvet Latte. Once you here, then you should definitely try their Chicken Kurkure, P Cube Samosas, and Keema Kulcha. End your meal on a sweet note by ordering their yummy Hot Chocolate Fudge! 

So, if you happen to be in Gurgaon or want to work while chilling, then you should head to Zorambo Born in India.
Where: South City road II, Sector 49, D block market, Gurugram
(Featured Image Source: Times Food)